Sony's Midrange Xperia C5 Ultra and M5 Smartphones Come With Strong Cameras
Sony has unveiled the Xperia C5 Ultra and Xperia M5, two new midrange phones that are equipped with high-end camera specs to standout from the crowd. The new Xperia C5 Ultra has a 13-megapixel "PROselfie" camera on the front and rear of the six-inch display device. The Xperia M5 is a slightly higher-end midrange device, a five-inch display waterproof smartphone with a 13-megapixel front-facing camera and 21.5-megapixel main camera that Sony says will allow owners to shoot like a pro.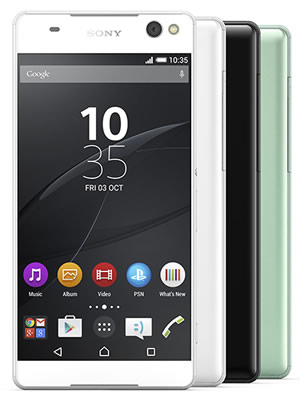 The Xperia C5 Ultra features an aluminium frame but otherwise comes with midrange specs, including a full HD display at 1920 x 1080 pixels, 2GB of RAM, 16GB of storage and a 2930 mAh battery. It's running on a 1.7GHz MediaTek chip and will ship with Android 5.0 Lollipop. LTE will be supported in some markets and the device will be available in black, white, and mint.
The Xperia M5's display and storage specs are same as the Xperia C5's, but it has 3GB of RAM and a larger 2600 mAh battery as well as a 2GHz 64-bit MediaTek Helio X10 octacore processor. It's also waterproof and dust resistant.
Both devices will ship with an already slim 16GB of storage, but only 10GB will actually be available for use. To compensate for this, both devices' uSD card will support up to 200GB of additional storage.
Sony hasn't revealed details about pricing but says the pair will be launched in some emerging markets countries from mid-August.