AMD Radeon Pro Solid State Graphics Combines Polaris GPU With SSD Flash Memory
AMD has announced at SIGGRAPH the Radeon Pro Solid State Graphics (SSG), a new Radeon Pro graphics technology, which has a full terabyte of SSG memory for very large dataset applications, enabling higher performance compared to existing GPU memory implementations. This card includes M.2 slots for adding NAND SSDs, with the goal of increasing the amount of local storage available to the video card.
The card utilizes a Polaris 10 GPU and includes 2 PCIe 3.0 M.2 slots for adding flash drives to the card. The GPU can use this additional storage in order to offer performance higher than typical professional graphics cards.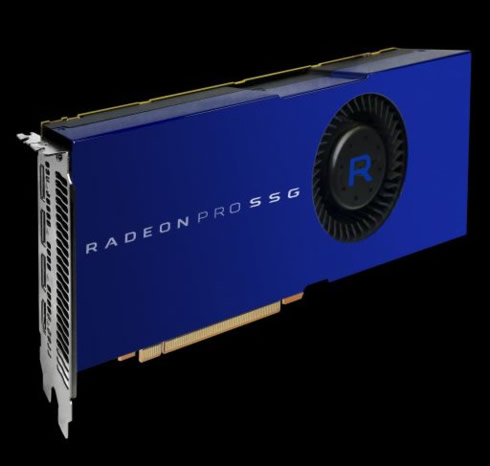 Pro SSG technology can enable the creation of real-time 3D images of complex structures in action - such as a beating human heart. In addition, creators will be able to play back, work with and scrub 8K videos real-time, at 90 frames per second.
"One of the most challenging constraints faced by GPU computing applications is the inability to access terabytes of data," said Raja Koduri, senior vice president and chief architect, Radeon Technologies Group, AMD. "Radeon Pro SSG is poised to not only speed-up processing for many applications with very large datasets, but also to enable new application experiences by utilizing data persistence of non-volatile memory. This will be a disruptive advancement for many graphics and compute applications."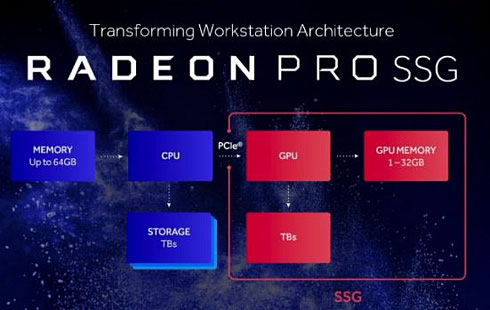 Without the memory architecture in Radeon Pro SSG, there is simply too much latency for acceptable performance from many applications that call on very large amounts of data. That latency arises when slices of data are processed individually and later merged, and when data is fetched from a disk drive or from a cloud service. However with Radeon Pro SSG, the data is held in a one terabyte frame buffer dedicated to the GPU, eliminating virtually all latency.
The Polaris based card is outfit with a PCIe bridge chip ? the same PEX8747 bridge chip used on the Radeon Pro Duo, ? with the bridge connecting the two PCIe x4 M.2 slots to the GPU, and allowing both cards to share the PCIe system connection. The prototype card is essentially a PCIe SSD adapter and a video card on a single board, with no special connectivity in use beyond what the PCIe bridge chip provides.
The SSDs themselves are a pair of 512GB Samsung 950 Pros, which are about the fastest thing available on the market today. These SSDs are operating in RAID-0 mode to provide the maximum amount of bandwidth.
To use the SSDs, applications need to be programmed using AMD?s APIs to recognize the existence of the local storage.
AMD will be selling developer kits ($9,999!)for the new product directly, with full availability set for 2017.
New FirePRo GPUs
Also at SIGGRAPH, AMD introduced the Radeon Pro professional graphics family:
Radeon Pro WX 4100 is designed for small form factor (SFF) workstations
Radeon Pro WX 5100 is ideal for real-time content engines
Radeon Pro WX 7100 is fully capable for design engineering and media and entertainment
The new Radeon Pro WX GPUs are based on the Polaris architecture and targeted at creative professionals.
At under US$1,000, the top-line Radeon Pro WX 7100 is "the most affordable VR-ready graphics solution," said Raja Koduri, senior vice president and chief architect of AMD's Radeon Technologies Group. That's cheaper than the FirePro GPUs, priced more than $3,000. The WX 7100 delivers 5.9 teraflops of double-precision performance, has 8GB of GPU memory, and can handle four 5K displays simultaneously.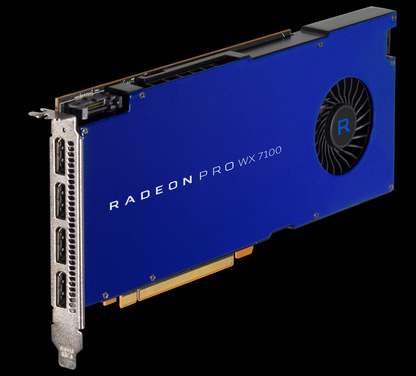 The other AMD GPUs include the mid-range Radeon Pro WX 5100 and the WX 4100, which is aimed at small desktops.
The WX 5100 can deliver 5.2 teraflops of single-precision performance and has 8GB of graphics memory. The WX 4100 peaks out at 2.5 teraflops of single-precision performance and has 4GB of graphics memory.
The GPUs will ship in the fourth quarter.