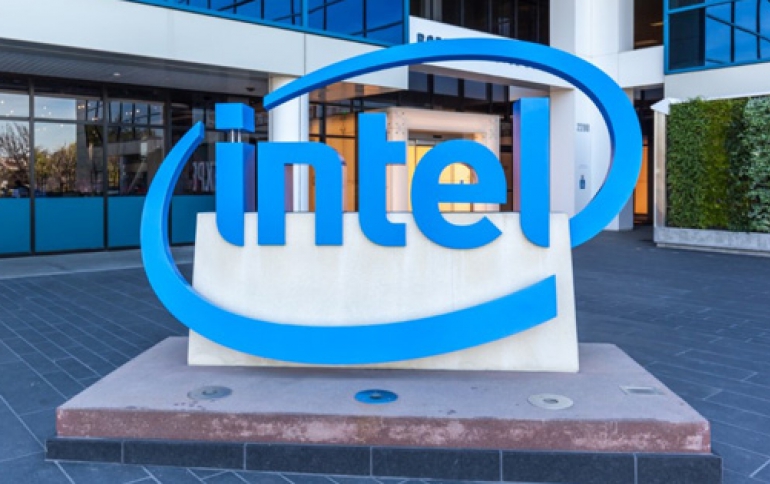 Intel Developer Forum 2016 Report
The 2016 Intel Developer Forum (IDF) kicked off today in San Francisco with an opening keynote by Intel CEO Brian Krzanich. Krzanich articulated the company's vision for the future of technology spanning virtual reality, autonomous driving, the industrial Internet, and the important role developers play in bringing this future to life. On stage, and in an editorial on Medium, Krzanich explained his vision for merged reality - a new way of experiencing physical and virtual interactions and environments through a suite of next-generation sensing and digitizing technologies.
According to Krzanich, "Merged reality delivers virtual world experiences more dynamically and naturally than ever before – and makes experiences impossible in the real world now possible."
Intel unveiled the Intel Project Alloy, an all-in-one virtual reality solution that features the compute and sensors integrated directly into the headset and leverages Intel RealSense technology. Project Alloy will be offered as an open hardware platform in 2017.
The company also introduced the new Intel Joule platform for the Internet of Things. This new high-end compute platform is capable of delivering human-like senses to a new generation of smart devices and is now available.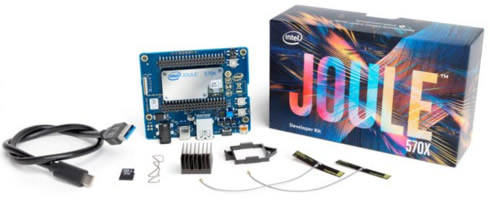 Intel Joule is a sophisticated maker board with an Intel RealSense depth-sensing camera targeted at Internet of Things developers, entrepreneurs and established enterprises. The platform is a high performance system-on-module (SOM) in a tiny, low-power package thus making it ideal for computer vision, robotics, drones, industrial IoT, VR, AR, micro-servers and other applications that require high-end edge computing.
Intel Joule is available in two models - 570x and 550x. The Intel Joule 570x developer kit is available for sale at the 2016 Intel Developer Conference in San Francisco, and will begin shipping in September through Intel partners.
Krzanich announced the availability of the Yuneec Typhoon H drone with Intel RealSense technology, the Intel Aero Platform Compute Board and the Intel Aero Platform Ready-to-Fly Drone.
Pre-orders are open for the Intel Aero Platform for unmanned aerial vehicles. Designed from the ground up to support drones, the UAV developer kit is powered by an Intel Atom quad-core processor. It combines compute, storage, communications and flexible I/O all in a form factor the size of a standard playing card. When matched with the optional Vision Accessory Kit, developers will have opportunities to launch sophisticated drone applications.
The Aero Ready To Fly drone is a fully-assembled quadcopter with compute board, integrated depth and vision capabilities using Intel RealSense Technology. Aero Ready To Fly Drone supports several "plug and play" options, including a flight controller with Dronecode PX4 software, Intel RealSense for vision and AirMap SDK for airspace services. The Aero compute board is available for $399 at click.intel.com.
The Yuneec Typhoon H with Intel RealSense Technology uses intelligent obstacle navigation to not only avoid objects, but also plot an alternative course around obstacles. It is available now for $1,899.
The Intel Euclid Developer Kit for researchers, makers and robotics developers, was also announced today. This device integrates sense, compute, and connect capabilities in an all-in-one candy bar size form-factor that gives developers the ability to quickly create applications with Intel RealSense technology.

Equipped with a RealSense camera, an Intel Atom processor, and wireless connectivity, the kit comes pre-installed with a utility application. This plug-and-play platform is ideal for researchers, makers and robotics developers.
Intel RealSense Robotic Development Kit: A compact AAEON UP board and an Intel RealSense R200 camera give developers the opportunity to build their own robot prototypes that can recognize objects or people and navigate an environment. It comes with Linux pre-installed and support for the Robot Operating System (ROS). It is available for purchase today at the IDF store, and online pre-orders are being taken with worldwide shipments starting next month.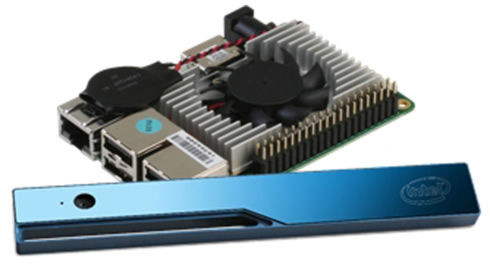 Intel RealSense ZR300 Development Kit: This new camera peripheral and development kit combines depth-sensing with high-precision motion tracking. Paired with the Intel RealSense SDK for Linux, it includes real-time visual-inertial odometry technology, which allows for autonomous mapping and navigation. It also has object and person tracking capabilities. The ZR300 is ideal for autonomous robotics, drones, virtual and augmented reality, and other uses. The developer kit is targeted for availability by the end of 2016.
Intel RealSense Camera 400 Series: The next-generation RealSense camera offers improved accuracy with more than double the number of 3D points captured per second and more than double the operating range compared with the previous generation. Coupled with support for indoor and outdoor uses, RealSense 400 will enable developers to create amazing applications.