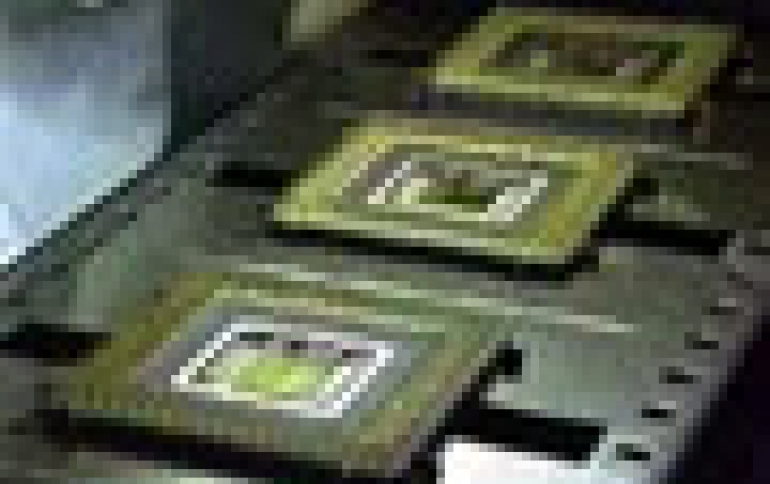 New AMD Manufacturing Chief Says New Chips on Track
AMD has made test chips using next-generation techniques and is on track to launch those products in the second quarter of 2008, the company's new manufacturing chief said. AMD, the No. 2 computer processor supplier behind Intel, also said it will hit a key production milestone in the next few months when output of chips using current state-of-the-art gear surpasses production of those made with older techniques.

Douglas Grose, who was just named senior vice president of technology development, manufacturing and supply chain, made the comments amid increased attention on AMD's and Intel's product roadmaps in light of a recent technology breakthrough allowing chips to get smaller and faster.

Grose joined AMD from IBM late last year and on Monday replaced Daryl Ostrander who was set to retire.

Intel, with its larger scale and financial power, has traditionally adopted new manufacturing techniques more quickly than AMD.

Both companies are making chips with circuitry etched at a width of just 65 nanometers, about 1,300 times thinner than a human hair, but Intel is expected to start selling chips with 45-nanometer circuits in the second half of this year.

Grose said AMD won't be far behind.

"Sixty-five (nanometers) is kind of old hat. The focus is on 45," Grose said in an interview with Reuters, adding that AMD's chip factory in Dresden, Germany was testing 45-nanometer chips.

"They are very much on or ahead of their schedule right now," Grose said. "We'll be producing early products probably in Q2 of 2008, with full production in the second half."

Grose also said AMD's 65-nanometer chips will outnumber those made with the older, 90-nanometer process in the second quarter. Such a "crossover," or point at which the majority of chips are made with the newer technology, is important because it points to improved overall efficiency.

Grose said AMD was still considering whether to use a new technique developed by research partner IBM in upcoming chips.

The technique, also achieved separately by Intel, helps ensure chips can continue to shrink by using a new material that stops electricity leakage. Intel said it will use the process in its 45-nanometer chips coming out later this year.

"It really is going to depend on what makes most sense and on our product roadmap. It could be late in the 45-nanometer timeframe or the 32 node application," Grose said.