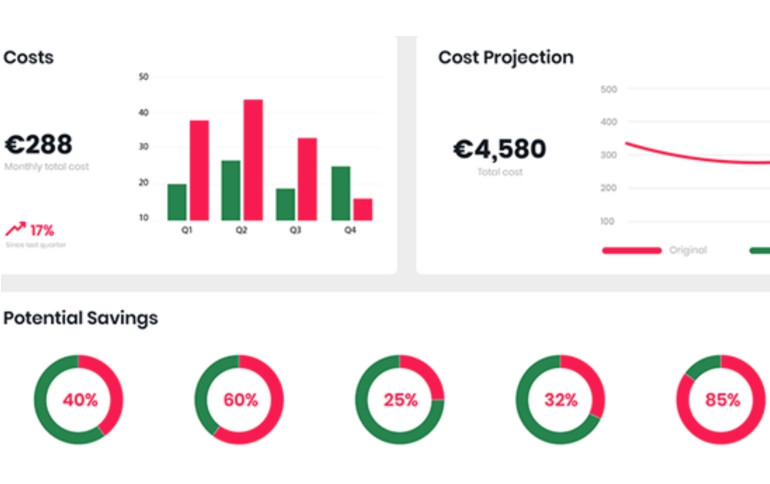 Portera launches redLine cloud monitoring tool to help IT companies optimise hosting costs
Technology consultancy and accelerator Portera has released a new cloud monitoring tool providing real-time cost reporting and recommendations to optimise cloud computing costs. Portera redLine delivers daily, weekly, or monthly usage reports comparing specifications to actual results so stakeholders in sectors such as IT can quickly identify any deltas or unexpected loads, enabling businesses to monitor, manage and optimise their cloud resources more effectively.
Cloud computing adoption rates have spiralled over the past five years, and so, too, have the costs due to the complex and dynamic nature of cloud services. The unpredictable expenses and variable costs make budgeting and cost management increasingly difficult to manage. With many opting for a pay-as-you-go pricing model that is easy to adopt, it quickly becomes less cost-effective as environments scale up and costs escalate rapidly, especially if there is limited visibility over resource utilisation.
However, Portera's new redLine tool has transformed this picture for its clients, delivering compound annual savings on like-for-like usage. This innovation was developed in response to common challenges experienced by clients, which required real-time cost reporting and recommendations to optimise usage.
Managing data across multiple cloud providers can lead to unexpected charges for data transfer, vendor lock-in, and difficulties in cost optimization. Underestimating storage requirements or failing to optimize resource allocation can result in unnecessary expenses. Furthermore, over-specifying and underutilizing resources can lead to inefficient spending.
It became apparent that clients were in an inflationary cycle that could be resolved through effective cost management strategies, continuous monitoring and leveraging tools to optimise usage. Portera redLine is an application that creates multiple reports for different Cloud platforms, including Cloud Platform, Data Platform, Virtual Data Center and Office365.
With this new tool in place, Portera's clients have seen reductions in hosting costs and greater awareness and ownership internally for their spend, plus improved budgeting and forecasting.
"By simply informing people on their usage, we've enabled our clients in areas such as IT to have greater ownership of their Cloud platforms and improved understanding of the immediate cost savings available - pushing back against the natural earnings model of the cloud providers," says Baris Kavlaki, Managing Director at Portera.
"Cloud computing has the potential to enable businesses to scale and adapt at speed, innovate quicker and become more agile. Effective utilisation is key to achieving that success and we work closely with our clients to ensure they see results from their investment."
For more information on Portera's redLine solution visit https://portera.nl/case-studies/cloud-computing-cost-optimisation/?utm_i...