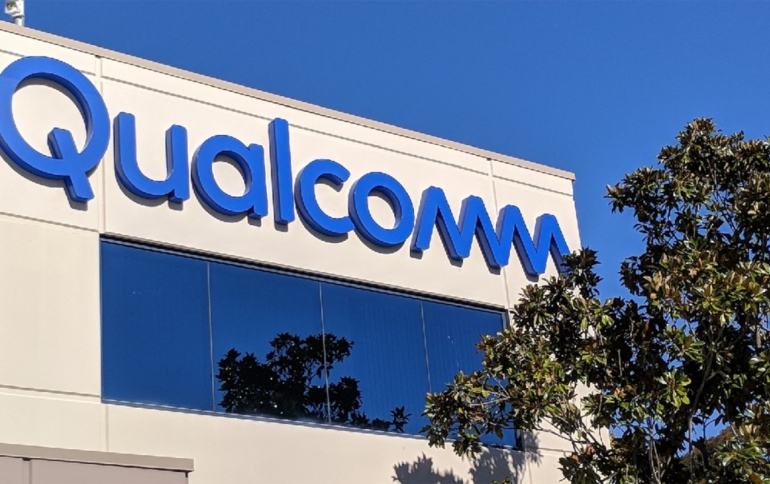 Qualcomm Wins U.S. Jury Trial Against Apple
A federal jury in the U.S. District Court for the Southern District of California on Friday awarded Qualcomm about $31.6 million in damages on its patent infringement claims against Apple.
The jury found that Apple iPhone 7, 7 Plus, 8, 8 Plus and X infringe two Qualcomm patents, U.S. Patent No. 8,838,949, and U.S. Patent No. 9,535,490, and Apple iPhone 8, 8 Plus and X infringe Qualcomm's U.S. Patent No. 8,633,936. The disputed patents are related to technology for graphics processing and battery power conservation used in smartphones.
Qualcomm last year sued Apple alleging it had violated the afformantioned patents. During Friday's jury trial, Qualcomm asked the jury to award it unpaid patent royalties of up to $1.41 per iPhone that violated the patents. And the jury agreed with Qualcomm.
Qualcomm claims that its patent portfolio provides significant value to smartphones beyond the basic ability to connect to a telecommunications network.
"Today's unanimous jury verdict is the latest victory in our worldwide patent litigation directed at holding Apple accountable for using our valuable technologies without paying for them," said Don Rosenberg, executive vice president and general counsel for Qualcomm. "The technologies invented by Qualcomm and others are what made it possible for Apple to enter the market and become so successful so quickly. The three patents found to be infringed in this case represent just a small fraction of Qualcomm's valuable portfolio of tens of thousands of patents. We are gratified that courts all over the world are rejecting Apple's strategy of refusing to pay for the use of our IP."
"Qualcomm's ongoing campaign of patent infringement claims is nothing more than an attempt to distract from the larger issues they face with investigations into their business practices in U.S. federal court, and around the world," Apple said. It declined to comment on whether it would appeal.
In 2016, Qualcomm halted quarterly royalty rebates it had been paying Apple, arguing that Apple had instigated antitrust investigations of Qualcomm and had lied to regulators.
Apple's Asian manufacturers stopped paying patent royalties to Qualcomm one year later.
Having no other option, Apple switched to Intel chips in its iPhones.
Apple has accused Qualcomm of using its control over 'standard essential patents,' which covers technology adopted by telecommunications providers and equipment makers, to extract excessive royalties for the entire patent portfolio, including non-essential patents, that it licenses to smartphone makers.
Qualcomm has lost billions of dollars in revenue after Apple's manufacturers stopped paying patent royalties. The chipmaker will try to recover its lost revenue next month in a second jury trial in San Diego.
Friday's case is part of a series of lawsuits around the world between the companies.
To date, Qualcomm has won sales bans on iPhones in Germany and China, though the Chinese ban has not been enforced and Apple has taken moves it believes allow it to resume sales in Germany.
Qualcomm also suffered a setback with U.S. trade regulators who found that some iPhones infringed one of the San Diego-based company's patents but declined to bar their importation into the United States, citing the damage such a move would inflict on rival Intel.