Samsung Adds Intelligence And Connectivity To Your Car With Samsung Connect Auto
Samsung Electronics announced at MWC its first solution designed that adds connectivity and intelligence to your car, the Samsung Connect Auto. The 4G LTE Samsung Connect Auto dongle plugs directly into the OBD II port underneath the steering wheel of a car. It uses real-time alerts to help users improve their driving behavior, including increased fuel efficiency, while offering a Wi-Fi connection to keep passengers online while on-the-go. The solution is kept secure using Samsung KNOX mobile security platform.
Samsung Connect Auto is baszed on the Tizen OS for interoperability. Samsung KNOX provides security from the hardware through the software levels, including applications. Developers can leverage Tizen and Samsung's Software Development Kit (SDK) to further evolve additional services. Samsung also encourages safe driving behavior by using geo-fencing and driver rating algorithms. In the event of an accident, emergency alerts notify the driver's contacts and accident concierge services are provided. A "Find My Car" app also helps in locating your car in real-time using LTE and GPS.
An LTE Wi-Fi hotspot enables multi-user internet access that lets passengers in the car stream content and play online games. Fuel efficiency analysis helps drivers consume less fuel through the use of proprietary algorithms that analyze miles travelled, time on the road and price per gallon.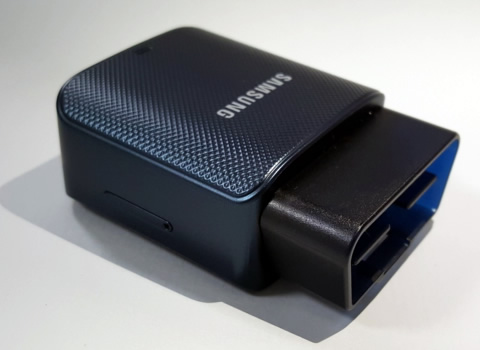 A virtual mechanic intelligently checks your car status from the on-board diagnostic port to recommend maintenance and repair services offered by a specialized network.
Drivers can leverage the solution's Usage-Based Insurance (UBI) feature by opting to share their vehicle data to receive insurance offerings.
For those professionals who are often on the road, journey logs automatically generate an email report to help users track expenses while traveling for work.
Companies currently participating as part of Samsung's connected car ecosystem include Amdocs, AT&T, AXA, Blink by Agero, China Unicom, Cisco, Crawford & Company, Ericsson, Europcar, HERE, IBM, Jasper, Oberthur Technologies, Openbay, Orange, Tantalum and Willis Towers Watson.
Samsung Connect Auto will initially be available in the second quarter in the U.S. AT&T will be the first wireless provider of the solution in the U.S.
Samsung Connect Auto will be on display at this year's Mobile World Congress.