Amazon's New Echo Adds a Touchscreen and Video Calling
Amazon.com launched Echo Show, a touchscreen device that will allow users to video call and watch clips from CNN, the latest in the company's series of successful Echo voice-controlled speakers.
The device will go on sale in June for about $230. It will feature Alexa, Amazon's voice-controlled aide, that can be used to play music, order an Uber or turn on the house lights.
The Echo Show features a seven-inch touch screen that can pull up calendar appointments, display music lyrics, play videos and a lot more. The debut follows last month's introduction of the Echo Look, which can evaluate a user's wardrobe.
Amazon has managed to outflank Google, which began selling its Home device two years after the Echo debuted, and Apple, which is still working on its own Siri-based version.
Amazon says the device will also play camera feeds from connected devices as baby monitors and camera-equipped door bells. Services that already connect to the Echo will be able to display information.
This is the first Echo speaker with a built-in camera. The five-megapixel sensor makes possible a new video conferencing service that Amazon is rolling out alongside the new hardware. Similar to Apple's FaceTime, the service lets people make video calls from one Echo Show to another, or between the Show and an updated Alexa app on a smartphone. The service doubles as an intercom, allowing a person to call an Alexa speaker in another room without a camera. Users can't currently make cell phone calls via the Echo Show.
The Intel-powered device has better sound than its predecessor, eight microphones instead of seven and can now connect directly to WiFi, not solely via the Alexa smartphone app. By pushing a button, you can disable the camera and microphones.
The new Echo will stream music from Amazon's Spotify and Pandora services.
In a recent research note, analyst Ming-Chi Kuo said that Apple may debut an Echo rival next month at the company's annual developer's conference.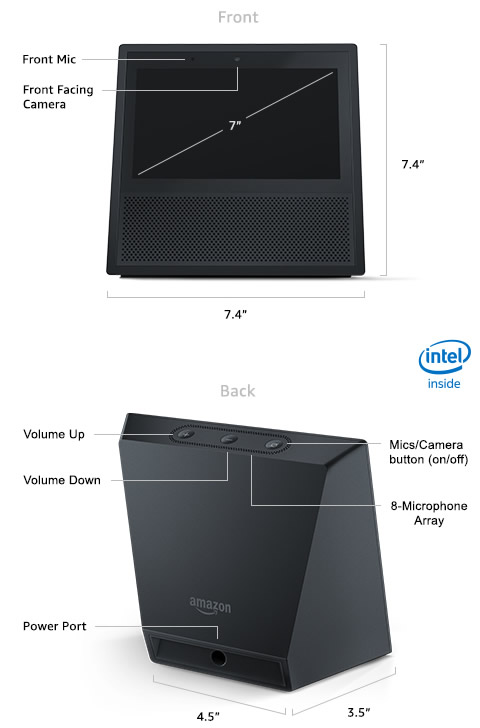 Technical details
Size
7.4" x 7.4" x 3.5" (187 mm x 187 mm x 90 mm)
Weight
41.0 oz. (1170 grams)
Actual size and weight may vary by manufacturing process
Display
7" touchscreen
Camera
5MP
Wi-Fi Connectivity
Dual-band Wi-Fi supports 802.11 a/b/g/n (2.4 and 5 GHz) networks. Does not support connecting to ad-hoc (or peer-to-peer) Wi-Fi networks.
Bluetooth Connectivity
Advanced Audio Distribution Profile (A2DP) support for audio streaming from your mobile device to Echo Show or from Echo Show to your Bluetooth speaker. Audio/Video Remote Control Profile (AVRCP) for voice control of connected mobile devices. Hands-free voice control is not supported for Mac OS X devices. Bluetooth speakers requiring PIN codes are not supported.
Audio
Dual 2 inch stereo speakers
Alexa App
The Alexa App is compatible with Fire OS, Android, and iOS devices.
Processor
Intel Atom x5-Z8350 processor
Warranty and Service
1-year limited warranty and service included. Optional 1-year, 2-year, and 3-year extended warranty available for U.S. customers sold separately.
Included in the Box
Echo Show, power adapter/cable (6 ft.), Things to Try card, and quick start guide.