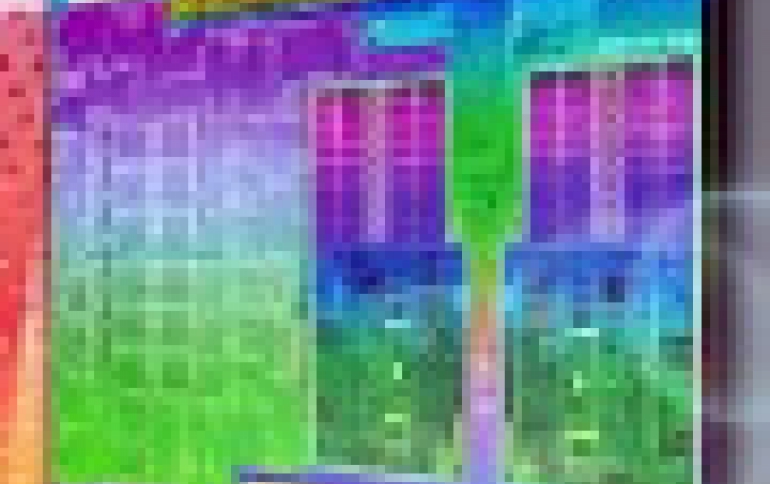 AMD Releases Second-Generation "Trinity" AMD A-Series APUs
AMD today announced the launch of its 2nd-Generation AMD A-Series Accelerated Processing Units (APUs) for mainstream and ultrathin notebooks, All-in-One and traditional desktops, home theater PCs and embedded designs. The 2nd-Generation A-Series APU, codenamed "Trinity," is a grounds-up improved design over the previous generation. New features of the product design include:

-- Double the performance per watt of the previous generation (Llano);

-- The AMD HD Media Accelerator with a new set of technologies designed to optimize video quality available with premium and Internet video content, and accelerate video file conversion;

-- An increase in CPU performance of up to 29 percent with higher processor speeds thanks to the next-generation AMD "Piledriver" CPU core with 3rd-Generation AMD Turbo Core technology, where power is dynamically shifted between the CPU and GPU depending on application needs, providing a more responsive experience that can boost CPU frequencies to up to 3.2 GHz;

-- AMD Radeon HD 7000 Series graphics for an increase of graphics performance up to 56% over the previous generation. Combined, the CPU and GPU cores deliver more than 700 gigaflops of computing performance

-- Up to 12 hours of battery life through CPU and GPU power enhancements.

Trinity can be set to run off as low as 17 watts, half the minimum amount possible using Llano.

While Intel has shifted to 3D transistors, AMD has opted for an alternative innovation. The "Piledriver" architecture of its CPU cores introduces an energy-saving technique called "resonant clock mesh technology" which allows it to "recycle" some of the energy consumed as it carries out calculations. According to AMD, it results in a reduction in total core power consumption of up to 10%."

Further power savings will be achieved by running more processes on the chipset's GPU which is the same "Northern Islands" design used in its standalone Radeon graphics cards. AMD claims that the component and the accompanying software drivers are superior to the equivalent products from Intel.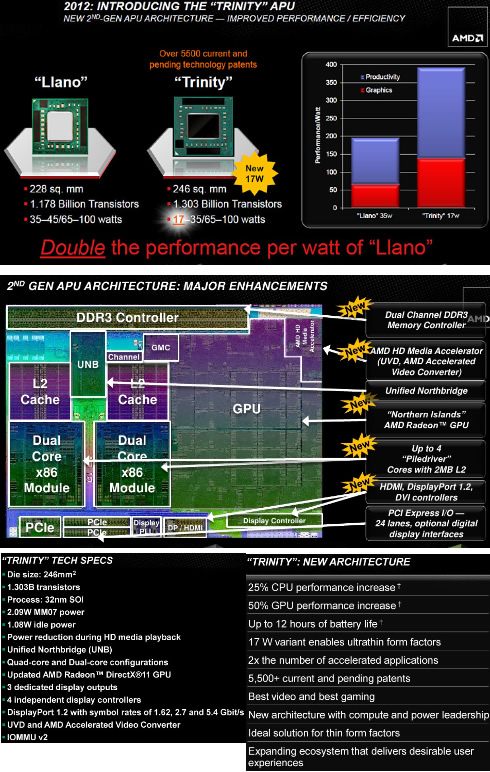 "The latest OEM notebooks, ultrathins, All-in-Ones and desktops based on the new AMD A-Series APU enable the best video and gaming experiences, highly responsive performance with AMD Turbo CORE, and accelerate an ever-increasing range of productivity and multimedia applications -- in sleek, stylish designs at price points that make sense," said Chris Cloran, corporate vice president and General Manager, AMD Client Business Unit. "Our 2nd-Generation AMD A-Series APU is a major step forward in every performance and power dimension, allowing users to enjoy a stunning experience without having to give up the things that matter to them most. This experience doesn't stop at mainstream notebooks. It carries over into affordable ultrathin form factors featuring the latest in AMD Radeon graphics."
Through plug-ins for Google Chrome, Firefox and Internet Explorer 9, the 2nd-Generation AMD A-Series APU make it easy for users to turn on AMD Steady Video technology.
Recent applications that have been optimized for use on AMD A-Series APUs include Adobe Photoshop CS6, WinZip 16.5 and VLC Media Player.
The 2nd-Generation AMD A-Series APU also delivers increased levels of performance, while consuming half the power as its predecessor.
These gains can be attributed to the new power-optimized "Piledriver" CPU core, as well as to AMD Start Now technology, which is designed to maximize system responsiveness by quickly entering and exiting low power states. With AMD Start Now, the computer resumes from sleep mode in as few as two seconds and boots to the desktop in as few as 10 seconds.
Users can expect to see ultrathin notebooks based on dual-core 17-watt and quad-core 25-watt AMD A-Series APUs.
AMD created the AMD HD Media Accelerator -- a set of technologies that enable the best video quality on a PC. Key features of the HD Media Accelerator include:
-- AMD Perfect Picture HD - An image, video processing and display technology that automatically makes images and video better with color vibrancy adjustments, edge enhancement, noise reduction and dynamic contrast fixes;
-- AMD Steady Video Technology - A technology that enables smooth playback of jittery video content with a single button click thanks to plug-ins for popular Web browsers and multimedia applications;
-- AMD Quick Stream Technology - A new technology that prioritizes video streaming on PC systems for a smooth, uninterrupted video stream;
-- True HD video chat with up to four people at once;
-- AMD Video Converter - A video compression engine for fast conversion and sharing of media files across multiple formats and devices;
-- Full decode support for H.264, MPEG-2, VC-1, MVC, DivX and WMV.
The 2nd-Generation AMD A-Series APU also offer an increase in graphics performance of up to 56% over the previous generation and support for:
-- AMD Eyefinity Technology - For the first time, this technology is available from an APU without the need for a discrete graphics card;
-- DirectX 11 graphics architecture and 1080p gaming;
-- AMD Radeon dual graphics support that delivers a performance boost of up to 75 percent when adding a discrete graphics card to the APU. The AMD Radeon dual graphics option also offers support for DirectX 9 for older game titles, and uses new AMD CrossFire Technology Profiles for easier updates.
Companies like Acer, Asus, HP, Lenovo, Samsung, Sony and Toshiba will release devices based on the 2nd-Generation AMD A-Series APUs and VISION Technology, beginning from today.
AMD A-Series Mainstream Notebook APUs
APU Model
AMD Radeon Brand
TDP
CPU Cores
CPU Clock (Max/Base)
AMD Radeon Cores
GPU Clock (Max/Base)
L2 Cache
Max DDR3
A10-4600M
HD 7660G
35W
4
3.2GHz/2.3GHz
384
686MHz/497MHz
4MB

DDR3-1600

DDR3L-1600

DDR3U-1333

A8-4500M
HD 7640G
35W
4
2.8GHz/1.9GHz
256
655MHz/497MHz
4MB

DDR3-1600

DDR3L-1600

DDR3U-1333

A6-4400M
HD 7520G
35W
2
3.2GHz/2.7GHz
192
686MHz/497MHz
1MB

DDR3-1600

DDR3L-1600

DDR3U-1333
AMD A-Series Ultrathin Notebook APUs
APU Model
AMD Radeon Brand
TDP
CPU Cores
CPU Clock (Max/Base)
AMD Radeon Cores
GPU Clock (Max/Base)
L2 Cache
Max DDR3
A10-4655M
HD 7620G
25W
4
2.8GHz/2.0GHz
384
497MHz/360MHz
4MB

DDR3-1333

DDR3L-1333

DDR3U-1066

A6-4455M
HD 7500G
17W
2
2.6GHz/2.1GHz
256
424MHz/327MHz
2MB

DDR3-1333

DDR3L-1333

DDR3U-1066