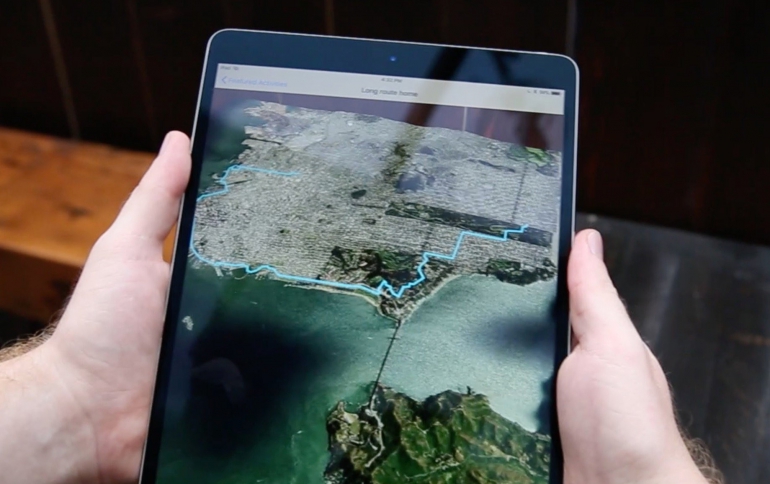 Apple Patent Desribes How AR Maps Can be Projected From an iPhone
The US Patent & Trademark Office published a patent application from Apple that relates to future being able to view Augmented Reality Maps on a tabletop or desk.
The patent, which was filed back in May 2016, shows an augmented reality viewing system that displays 3D flyover data from Apple Maps onto a desk or any other flat surface from an iPhone.
The proposed app's usage seems geared towards average consumers rather than a more advanced and complicated AR system.
Apple's invention provides for an augmented reality and/or virtual reality interface (e.g., in that movement of the device is used) that allows for interaction with a displayed map. The interface may be implemented in association with a map or navigation application. For example, the interface may be used by a tourist to interact with a three dimensional map of an unfamiliar city, without requiring fingertip manipulation on the display. The interaction may be made by physically moving the mobile device upon which the map is displayed. The physical movement of the mobile device may be determined using one or more sensors integrated into the mobile device. In addition or alternatively, the physical movement of the mobile device may be determined by consecutive images taken by the physical camera of the mobile device.
The feature would benefit tourists, as it seems Apple's own 3D Flyover data is required to generate the 3D environment.
Apple demonstrated a similar AR mapping system in 2017 with the opening of Apple Park Visitor Center.
Considering that this is a patent application, the timing of such a product to market is unknown at this time.