April Fool's day: Samsung, Google, Nokia, Sony
An exciting day for exeryone today: Samsung develops Smart socks and gloves, Gmail gets personaity, a Nokia 2000 model gets a 41-megapixel camera and Sony powers your gadgets using cakes and energy bars. Starting with the latter, Sony's latest fuel technology is the Power Food. It's a new way to keep your Sony gadgets charged anytime, anywhere without being constrained by traditional power sources. Now, the same types of fuel you use to power yourself – cake, cereal and energy bars – can be used to power your favorite electronics without hassle.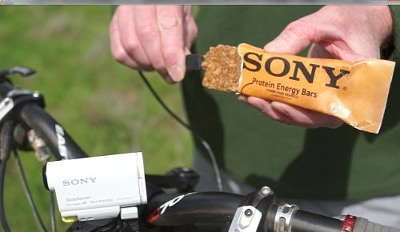 Sony tasked its engineers and culinary technicians to go where no consumer electronics brand has gone before – creating the first-ever power source that can re-fuel not only your electronics, but you as well. The result is the Voltaic Enzyme, a conduit that transfers the chemical energy of organic matter into your gadgets, as an innovative way to tap into the amazing energy of food to bring about the next step in electronic evolution. This vital component converts the energy stored in fats and sugars into a usable source of voltage for any device while enhancing the taste of our favorite foods.

All products are available starting today at Sony Stores and grocery stores near you.

Google also today introduced the shelfie. If you have logged on to your Gmail account you may have seen a special offer: "Introducing Shelfie: selfies with personality."

"Selfie custom themes are incredibly popular in Gmail and they just got better. With Shelfies (Shareable Selfies) you can set your own photo as a Gmail custom theme and share it with your friends so they can enjoy looking at you as much as you do."

Google added: "We think it's a tragedy that your handsome hair, luscious lashes and beautiful brows have been trapped in your own inbox. Until now, that is. Today, we're proud to free your selfies by launching Gmail Shelfie, the SHareable sELFIE."

You are free to create your own shelfie.

Google is also offering Google+ Auto Awesome, a new feature that adds fun surprises and celebrities to your photos. Now with Auto Awesome Photobombs, you too can get a celebrity photobomb.
Nokia is now offering a makeover for its Nokia 3310 phone that was initially released in the year 2000. Staying near-true to the original design, the Nokia 3310 with PureView will add a 41MP PureView camera with Zeiss optics and Xenon flash, and will run a modified version of Windows Phone 8 to fit the unique "ClearDiamond" three-inch touch screen.

To power the next-gen operating system and class-leading camera, Nokia engineers have achieved the unthinkable, scaling down a dual-core processor, 2GB RAM and 32GB of on-board storage into a case that mimics the original size (113 x 48 x 22mm) and weight (133g).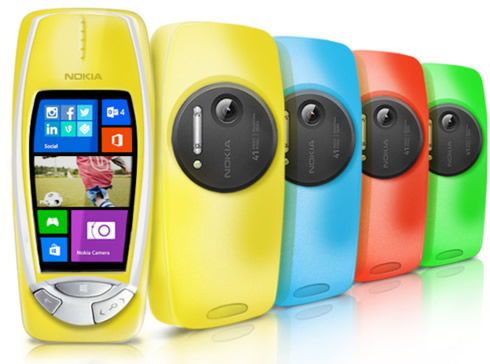 A side-mounted MicroSD card slot offers additional storage expansion. The first devices will rollout with 3G connectivity while LTE-equipped devices will follow later in the year.
And Samsung finally introduced Samsung Fingers, its first all-over-hand wearable device featuring a flexible Super Emo-LED for the technology-sensitive consumer. Samsung Fingers, Samsung's first wearable glove, adds convenience and attention to everyday life with features tailored to help you better feel life.
Samsung Fingers is the slimmest (0.2mm) and lightest (1g) wearable glove by Samsung and comes with a wide 3 inch flexible UHD Super Emo-LED display. Combined with an advanced 16 megapixel camera, Samsung Fingers offers the best-looking selfies you get your hands on. Samsung Fingers also supports the latest, fastest networks including 5G and Wi-Fi 902.11wz so you can keep in touch with the latest. Boost your creativity with dedicated features such as Finger Painter and S-tut.

With a simple and down-to-earth user interface, users can easily create a new way to use their own hands.

When a user is too engaged in a conversation with a person to add a third person into a communication, the user can have the person talk to the Samsung Fingers while the user enjoys ongoing conversation uninterrupted. Samsung Fingers will record and save the third person's content, so that it can be viewed later at will.

When an object or other matter is placed on the Samsung Fingers, the super flexible and sensitive Emo-LED display and its sensor recognize it and give the user related information such as the status of the object and recommendation on what to do with it.

The TermoPad manipulates the potential energy and kinetic energy of an object, (or thermal energy), to ensure the ideal temperature of the product as long as they have it in the hand (and the ThermoPad is activated). Users no longer have the risk of drinking a cup of room temperature coffee.
Voice & Snap AMP (VSA) enables users to efficiently utilize their physical energy and reduce fatigue from trying to get attention. When Voice and Snap Amp is activated, users can increase the volume of their voice or snapping to the point where it overwhelms other people, much like a vuvuzela.

The device can be charged using solar power by conveniently and elegantly raising your hand towards the sun. It is one of the most eco-friendly ways to charge a wearable glove.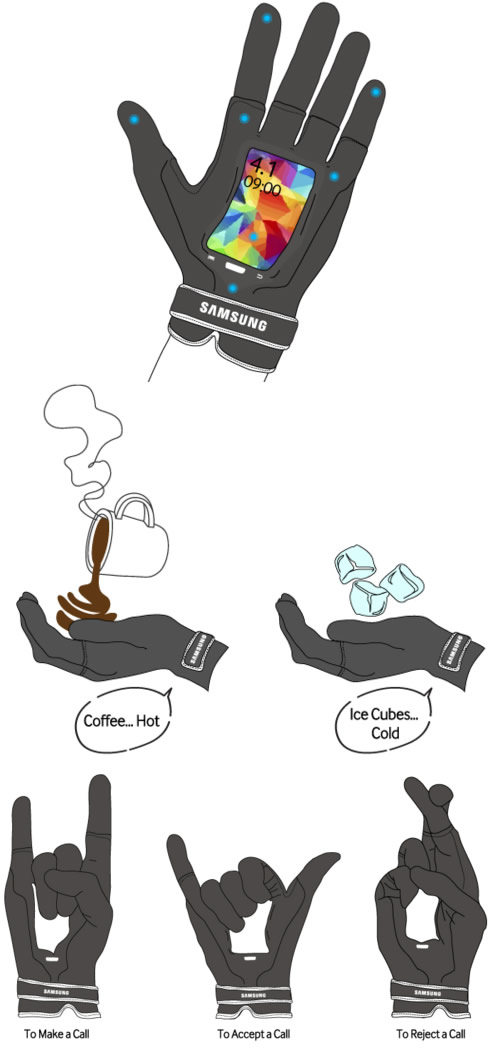 The new Samsung Fingers supports gyro, voice and gesture recognition sensors, which enable many unique functions. The advanced gesture recognition is designed to play a vital role in how users interface with the device, making all daily routines revolutionary with various input and control features.

The device also notifies users of incoming calls, texts and ChatON messages, emails and other alerts of the like. Through a combination of more than 25 appropriate finger gestures, users can discretely accept or blatantly ignore those messages.
The built-in speaker and mic of the Samsung Fingers is capable of auditory reproductions. This feature is activated when you pull a designated finger of Samsung Fingers. When the appropriate gesture is made, it is able to reproduce the sound of flatulence. This feature is highly recommended for users under 10 years old or who desire to be alone in his or her surroundings.
Not inspired by a certain super hero who was bit by a crawling creature and shoots webs out of his palm, S Lasor sets up perfectly for the next generation of display technology for wearable gloves. By simply stretching his arm out while holding his third and fourth finger against his palm and keeping the rest of the fingers straight, users can project his current display on the Samsung Fingers to a wall or pretty much any object with a surface.
Happy April Fool's day!