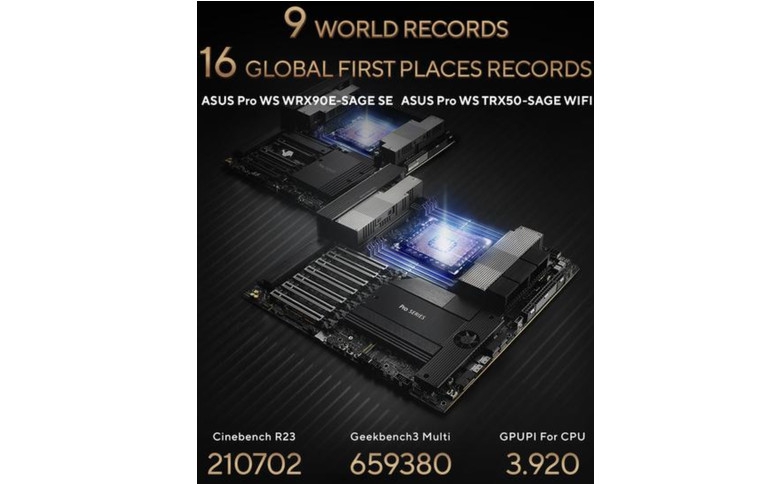 ASUS Breaks Overclocking Records: 9 World Records, 16 Global First Places
ASUS today announced that an international group of elite overclockers has set nine world records and achieved sixteen first-place finishes in a variety of performance benchmarks with ASUS Pro WS WRX90E-SAGE SE and ASUS Pro WS TRX50-SAGE WIFI workstation motherboards. The motherboards leveraged AMD Ryzen™ Threadripper™ PRO 7000 WX-Series and AMD Ryzen Threadripper 7000 series processors which featured up to 96 cores and 192 threads. The group of overclockers included Der8auer, Elmor, Massman, OGS, Safedisk, Seby and Shamino.
Ready for CPU and memory overclocking
For AMD Threadripper 7000 series workstations and high-end desktop (HEDT) models, AMD offers CPU and DRAM overclocking options. To fully leverage the performance of the AMD processors, ASUS has incorporated an innovative dual power supply design on Pro WS WRX90E-SAGE SE and Pro WS TRX50-SAGE WIFI motherboards. Along with robust power delivery and advanced cooling modules, these boards exhibit rock-solid stability during overclocking.
Hardware switches and optimized BIOS options on the motherboards provide overclocking enthusiasts with greater convenience when pushing their systems to the limit. The comprehensive synergy of EXPO and ECC R-DIMM further combines exceptional performance with outstanding stability, setting a new standard for workstation and high-end desktop computing.
Exceptional thermal management, remarkable power advancement
ASUS Pro WS WRX90E-SAGE SE and Pro WS TRX50-SAGE WIFI motherboards have established numerous world records and secured global first places in overclocking due to their exceptional design and robust power delivery systems. Both motherboards are equipped with massive VRM heatsinks made of extruded aluminum, featuring a finned design that effectively draws heat away from the MOSFETs and chokes. This design is complemented by the presence of two fans on either side of the CPU socket, which create a steady stream of cool air to further divert heat from the motherboard, ensuring optimal thermal management during high-performance tasks.
The Pro WS WRX90E-SAGE SE motherboard stands out with its highly capable VRM, consisting of (16*2)+3+3+3 power stages. This configuration provides the substantial power and efficiency required by top-end processors.
Similarly, the PRO WS TRX50-SAGE WIFI motherboard is designed to handle powerful processors, featuring an overclocking-ready VRM with (18*2)+3+4+4 power stages. This robust power design is capable of delivering ample power for demanding applications and extreme overclocking scenarios.
Expert overclockers are impressed
Leading experts in the world of overclocking have shared their experiences and insights on the exceptional performance of the ASUS Pro workstation series motherboards. Their testimonials highlight not only the technical prowess of these motherboards but also their ability to push the limits of what's possible in high-performance computing.
Safedisk stated, "The Pro WS WRX90E-SAGE SE delivers remarkably stable performance at high frequencies, thanks to its 32 (16x2) power stages and dual power supplies. I'm genuinely impressed."
"After pushing the ASUS Pro WS TRX50-SAGE WIFI to its limits with a 64-Core AMD Ryzen Threadripper under liquid nitrogen," said Der8auer, "I was struck by its exceptional performance. Achieving memory frequencies over 6000 MHz, even amidst the harsh LN2 conditions, while running RDIMM ECC, was a testament to its outstanding memory and CPU capabilities."
He added, "With the ASUS Pro WS TRX50-SAGE WIFI, you can tailor your TRX50 platform precisely to your needs. The high-end VRM remains cool in every scenario, even under high CPU overclocking, laying the foundation for optimal results in both ambient and daily overclocking. I appreciate that the ASUS Pro WS TRX50-SAGE WIFI features two voltage rails and allows for individual CCD clocking. This enables fine-tuning of the CPU to suit various applications at the highest speeds."
More information is available at https://press.asus.com/news/asus-breaks-overclocking-records-with-wrx90-...