Asus Introduces New Tablets
Those who love to read on the go may be interested in Asus' new Eee Reader DR900 and the Eee Note digital notepad EA-800.
The new ASUS Eee Reader DR900 has a 9-inch screen, it is less than 10mm thick and its weigh is 440g. It comes with 2GB of internal storage (expandable via SD Card) and can store up to 5,000 ebooks, while its two-week battery life is long enough to read 20 novels back-to-back between recharges. This low power consumption is possible because the Eee Reader's SiPix electrophoretic display only uses power to change its image, not to maintain it. Asus says that page turns are virtually instant and the monochrome image is as crisp as ink printed on paper. Better still, the screen stays clear even in broad daylight.
The Eee Reader's 9-inch touch-screen also removes the need for a physical keyboard and delivers a simple user interface.
A webKit-based browser and built-in Wi-Fi are available, while 3G is optional. A text-to-speech feature supports for 23 languages.
ASUS's second device announced today is the Eee Note digital notepad EA-800? a slim and lightweight handheld tablet device with ensitive handwriting input.
Designed for easy handwritten input using the supplied stylus, the Eee Note has an 8-inch glass touch-screen with a matte finish that mimics the smooth feel of paper. The sensitive digitizer captures every stroke of the stylus with accuracy on the 2450 DPI screen for pixel-perfect renditions of everything from notes to sketches. Images are displayed in 768x1024 resolution in monochrome, and the non-backlit display stays clear even in broad daylight.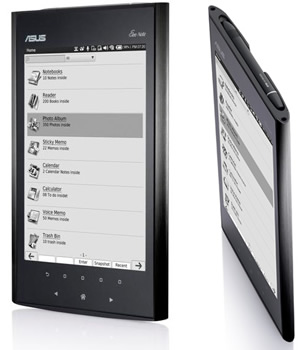 Up to 10,000 ebooks can be stored in the Eee Note?s 4GB of internal memory, which can be further expanded using the external micro SD Card slot. A wide range of ebook and document formats is supported including PDF and ePub.
The integrated 2 megapixel digital camera and voice recorder also allow other types of material to be captured with ease and a wide array of built-in document templates.
With MP3 music files also supported, this means the Eee Note is as capable of playing music and audio books, while the built-in Longman dictionary, calculator and sticky note applications help cut down desktop clutter.
Although capable of carrying a complete, personally annotated library within its slender 520g frame, the Eee Note also provides access to online resources like Wikipedia and ebook retailers via internal Wi-Fi. PC connectivity comes courtesy of a micro USB port, and built-in EverNote support (www.evernote.com) also makes two-way synchronisation with other computers in the cloud a cinch. The long 13.5-hour battery life also means the Eee Note can last through even the longest days between recharges.
Specifications:

Eee Reader DR900
- Operating System: Linux
- Display: 9" diagonal Sipix Electro-Phoretic Display 1024 x 768 pixel resolution
- Touch Screen
- WLAN: 802.11b/g Wi-Fi
- Wireless Data Network: 3G Optional
- Storage: 2 GB (internal), Support Micro SD Card for SDHC (expansion)
- Audio: 3.5mm stereo audio jack, Built-in stereo speakers
- Input / Output: Micro USB connector Port x1 (USB 2.0), Micro SD card slot x1, 3.5mm Earphone Jack x1
- Battery:
Read on a single charge for up to 4 days with wireless on. Turn wireless off and read for up to 2 weeks
Charge time: Fully charges in approximately 4 hours via the included power adapter. Also supports charging from your computer via the included USB 2.0 cable
- Dimensions: 222*161*9.7 mm
- Weight:
440grams without built-in 3G
473grams with built-in 3G
- Accessories: Power adapter, USB 2.0 cable, book cover
- Supported Formats: PDF, TXT, ePub, HTML, FB2, ZIP/CBZ (JPEG, GIF, PNG, BMP), MP3
Eee Note EA800
- Operating System: Linux
- Display Size: 8", 3:4, Resolution: XGA, 768x1024, 64 grayscale, Hardness: 3H, designed for pen, Anti-Glare
- Touch Screen:
Touch pen: 256 levels pressure to express different words weight, Resolution: 0.01mm (2540dpi), Accuracy: ±0.4mm with pen vertical / ±3mm with pen tilt 50 degree
- WLAN: 802.11b/g
- Storage:
ROM: 4GB
External: Micro SD card slot avaiable, support SD/SDHC (expansion) up to 16GB
- Camera: 2 mega pixel
- Audio:
Speaker: mono 1 Watt
Microphone: high-sensitive
- Input / Output: micro USB Port x1, Micro SD card slot x1, 3.5mm Earphone Jack x1, Wacom touch
Buttons: Home/Page Turn/Five button function
- Battery: 3700mAh
Continuously Reading and Writing:
Wireless off: 13.5 hours
Wireless on: 10 hours
Standby: 10 days
- Dimensions: 139 x 222.4 x 11 mm
- Weight: 520g (without leather cover)
- Supported Formats:
Directly support :PDF, ePub, MP3 , JPEG, BMP, GIF, PNG
Support txt, doc, docx, xls, xlsx, ppt, pptx (Automatically save as PDF/ePub while importing via PC tool)