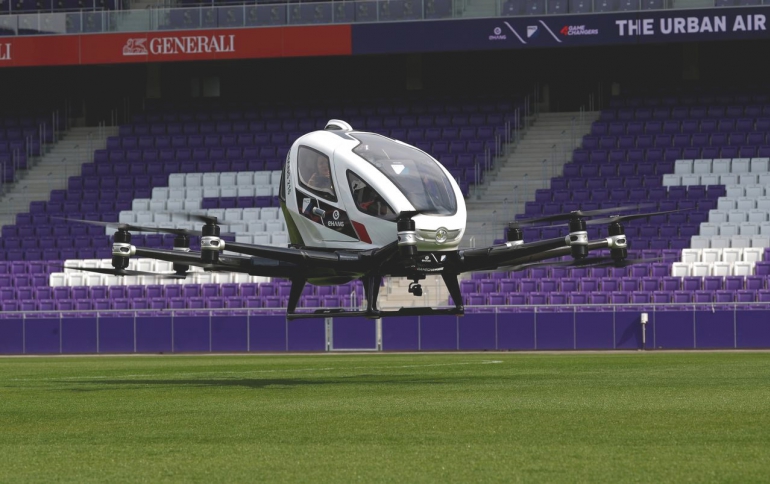 FACC and EHang Demontrate Autonomous Air Taxi in Vienna
The Austrian aerospace group FACC and its Chinese partner EHang, showed off their pilot-less "flying taxi" for the first time in Europe on Thursday.
The Chinese technology firm first made headlines back in 2016 after it unveiled the Ehang 184, a one- to two-seater fully-electric VTOL in a video on its YouTube channel that has been watched one and a half million times to date.
The company has now developed a two-seater VTOL called the Ehang 216. The test flight of Ehang 216, a two-seater autonomous aerial vehicle of drone maker EHang, was succesfully completed in Vienna, Austria April 4, 2019.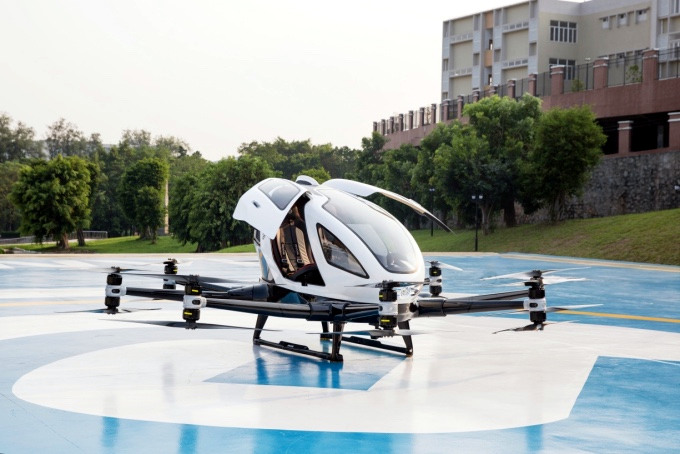 Using its 16 propellers, the slim drone took off above the pitch at Vienna's Generali Arena and performed circles before it landed a few minutes later.
The plane weighs 340 kg (750 pounds) and can seat two passengers. It can fly at up to 150 km per hour (90 mph) for almost half an hour, FACC Chief Executive Officer Robert Machtlinger said. "It can travel between 50 and 70 kilometers depending on the payload." It is ready for mass production, said Derrick Xiong, co-founder of Chinese drone maker EHang.
FACC has entered into a strategic partnership with EHang on the development of autonomous air vehicles (AAV) designed for individual air mobility around smart cities.
EHang is the inventor and expert for all questions relating to autonomous air mobility, particularly with regard to connectivity and software solutions. FACC supports high-tech hardware with development, certification, production and worldwide aftermarket services.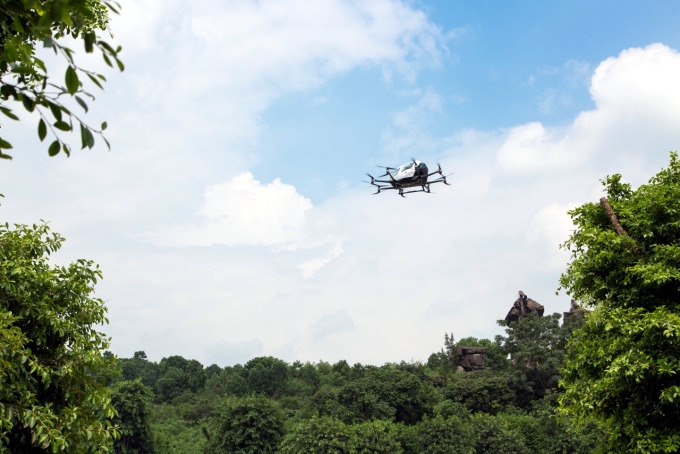 FACC and EHang have also agreed to work with industry partners, politicians and aviation authorities to implement the mobility solutions in airspace. It is also planned to accelerate the design of the framework conditions and regulations for individual air mobility and, subsequently, the creation of a test field in Austria.
FACC says it has already received several thousand orders for the 300,000 euro ($336,000) drone, with the highest demand in China.
Competitors working toward offering autonomous flying cars early in the next decade range from aerospace giant Airbus to Uber, and AeroMobil.