Google To Release Lightweight Version of Android Pie for Entry-level Smartphones
The recently announced Android 9.0 Pie is currently available only for Pixel and the Essential PH1 phones, but the Go edition of Android Pie is also coming soon, promising to bring improvements to cheap smartphones.
Google has announced its Go edition of Android Pie, the follow-up on the first Oreo Go edition for phones with as little as 512MB of RAM.
Android Go is part of Google's effort to convince feature-phone owners to switch up to an Android smartphone and expand Google's mobile reach. The Go edition also came with Google apps such as such as Data Saver, the Files Go file-sharing app, YouTube Go, and a Go version of Google Assistant, as well as Find My Device and Google Play Protect.
Google promised that the Go edition of Android Pie 9.0 will be available this fall, which is also when Google aims to release the full version of Android Pie to devices in its beta program from HMD/Nokia, OnePlus, Sony, Oppo, and Essential.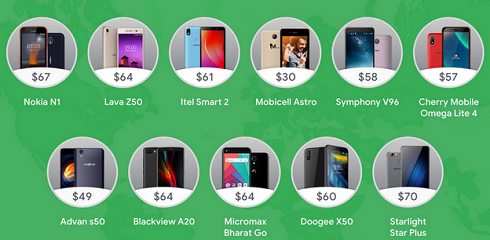 The key improvements in this version of Android Go include an extra 500MB of available storage out of the box, faster boot times, the addition of verified boot, and a dashboard for keeping an eye on data usage.
Google says it's "fully redesigned" its Go edition Google apps. YouTube Go should also use less data and features a gallery mode for downloads. Maps Go is getting navigation with turn-by-turn directions for all modes of transport and walking. Files Go, as Google revealed in June, is capable now of file transfers at 490Mbps.
Google said that more than 100 manufacturers plan to release Go edition phones by the end of 2018, presumably with Android Pie Go.