Intel Outlines Next Generation of Experiences At 2016 Intel Developers Forum Shenzhen
The 2016 Intel Developers Forum in Shenzhen, China, opened April 13 and Intel's executives talked to developers about PCs, 3D XPoint, mobile devices, drones, robots and IoT devices. At the keynotes delivered by Ian Yang (Intel Corporate vice president and president of Intel China), Diane Bryant (senior vice president and general manager of Intel's Data Center Group) and Navin Shenoy (corporate vice president and general manager of Intel's Client Computing Group,) Intel tried to encourage developers and hardware shops in the alleys of Shenzhen to experiment with PC, mobile and now, IoT ideas.
Ian Yang described Intel's view of the future of computing and Intel's innovation, collaboration and commitment to the China ecosystem. Yang announced the "Makers Go Big" initiative aimed at fostering the maker ecosystem in China. As part of the initiative, Intel will continue to invest in the Intel Mass Makerspace Accelerator Program and continue to support and partner on the China-U.S. Young Maker Competition. Building off the excitement for the "America's Greatest Makers" television program, Ian also announced it is exploring local partners to produce "China's Greatest Makers" to showcase and inspire inventors across China.
Yang also announced the Intel RealSense Robotics Developer Kit that offers the ability to more easily build robots equipped with computer vision. In addition, a new Intel Aero Platform for UAV enables developers to bring sight, sound and motion-sensing capabilities to drones.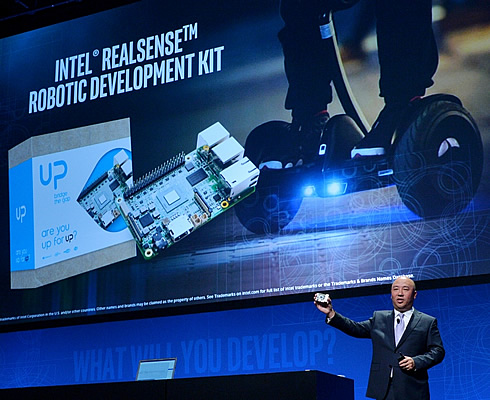 At the center of both development kits is the RealSense 3D camera, which can recognize objects and determine their size, shape and contours.
The Robotic Development Kit can be ordered from Intel's website for US $249 and it will ship later this quarter. It includes a credit-card-sized board from Aaeon with an Intel Atom x5 Z8350 CPU, integrated graphics, 4GB of DDR3 RAM, 32GB of storage, an HDMI slot, Gigabit Ethernet, two USB 2.0 ports, a USB 3.0 port, 40-pin GPIO port, a camera interface and an eDP slot to connect a display.
The Aero Platform will have a flight controller, accelerometer, pressure sensors and programmable GPIOs. It will also have modules to support communications, storage, depth and vision capabilities. It will run on an Atom quad-core processor and be available in the second half 2016. Further details and price of the developer hardware will be available at a later date.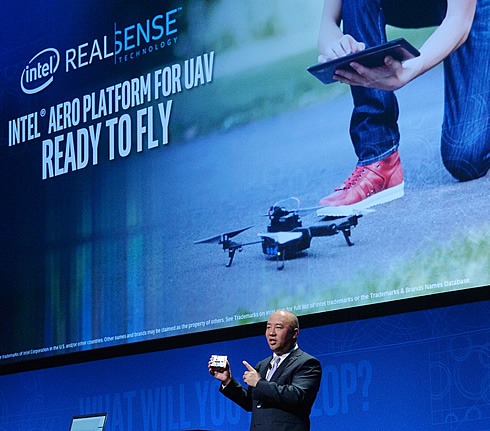 Intel also announced key software tools for its existing developer boards and SDKs. A software kit for the Curie wearable development hardware will allow developers to exploit USB and Bluetooth Low Energy features.
In addition, Intel unveiled an experimental RealSense Cross Platform API, which will offer tools for camera capture and "high-level vision functionality." That could aid robots and drones with image recognition. It will work with Linux, Mac OS X and Windows.
Navin Shenoy demonstrated Intel's Compute Stick with RealSense technology that delivers a full PC experience in an extremely portable and compact form factor. The small device features a F200 RealSense camera on its front side, Micro HDMI and USB ports on the rear, and it is powered by Intel's sixth-generation Core m processor.
Intel also disclosed plans to release a new generation of Pentium and Celeron chips, code-named Apollo Lake, in the second half of this year.
The chips will appear in low-cost laptops and desktops, and are based on a new, low-power CPU architecture code-named Goldmont. Future Atom chips will also be based on Goldmont.
A follow-on to Intel's Cherry Trail and Braswell platforms, Apollo Lake features improved processor and graphics performance, and longer battery life.
Intel will also be shipping new Core chips based on a new Kaby Lake architecture in the second half the year.
In addition, several brand vendors including Huawei, TCL, Samsung Electronics and India-based Micromax, showcased their latest 2-in-1 devices. The competition in the 2-in-1 device market is expected to grow in 2016 as more China-based white-box makers are developing new 2-in-1 products with Intel's assistance.
Intel also talked about its highly anticipated plans to deliver its 3D XPoint and 3D NAND products.
Rob Crooke, on stage talked about Optane technology and perform the first public demonstration. Optane, also known as 3D XPoint, promises DRAM-like performance with flash-like data storage retention. The new memory promises to turn your computer into an instant booting device like a tablet or cell phone. The technology will also significantly increase random performance.
Crooke described Optane as "the biggest single advancement in memory in over 20 years." He showed identical desktop computers performing a simple file copy. The setup tasked a PC with a traditional NAND-based SSD to write a 25GB video file to an external Thunderbolt 3 enclosure with another NAND-based SSD in it. Up against it was a computer copying the same file from its internal Optane-based SSD to a Thunderbolt 3 enclosure with another Optane-based SSD in it.
The Optane-equipped PC finished the task in about 15 seconds, while the NAND-based SSD took another 45 seconds or so. The Optane PC basically hit speeds of almost 2GBps during the process.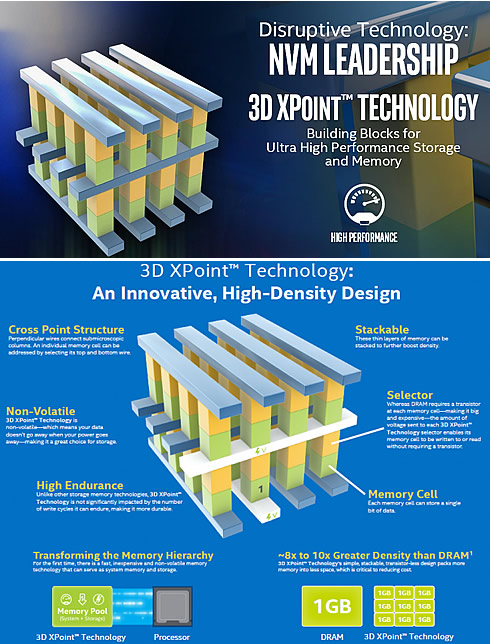 Both Micron and Intel has not disclosed how exactly 3D XPoint works. Unlike NAND, 3D XPoint uses no transistors. A memory cell representing one bit is paired in a column with a selector cell. Wires criss-cross these columns in both directions. To select just one cell in that array, one wire on top is selected, and another on the bottom is selected. A write or read on each bit of data is performed by varying the voltage to it.
The future plan is to use Optane for system "memory" although it will first appear in SSDs when thay hi the market later this year.
Crooke also talked up the company's 3D NAND product. Intel said its 3D NAND will be able to squeeze 384 billion bits in a single die. That means, Intel can now squeeze 1TB of storage into a 1.5mm-thick drive that can go into laptops and tablets. For traditional 2.5-inch drives in a desktop or larger laptop, the company will be able to pack up to 15TB of data.