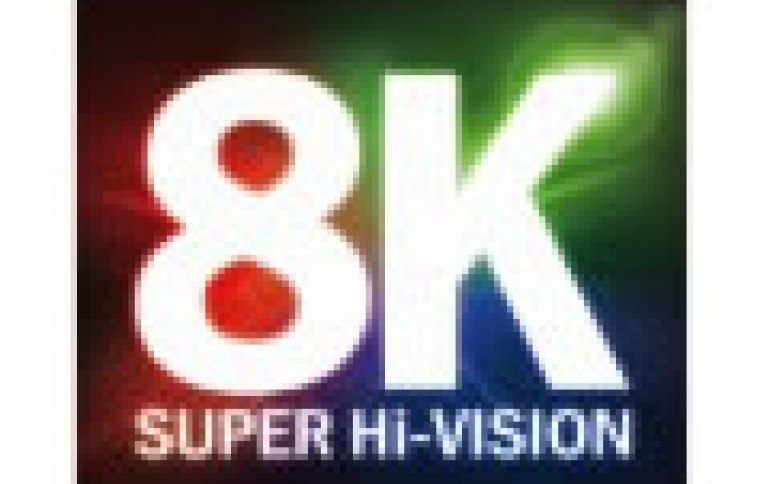 NHK Showcases Advanced 8K Content and Production Equipment
NHK is presenting the progress it has made towards the satellite broadcasting of Super Hi-Vision content (8K) at 2016 NAB Show, the world's largest annual trade show for broadcasting technologies. NHK plans to start testing satellite broadcasting of Super Hi-Vision content on August 1 in line with the national roadmap for 4K and 8K broadcasting.
The Full-featured 8K (8K resolution, high dynamic range, 120Hz, 12-bit depth gradation, wide color gamut) production equipment will be a particular highlight for showing the evolving performance of 8K.
NHK is developing an 8K laser projector, which promises to project 350-inch 8K images with minimal blurring during motion and vivid colors. The 8K projector will be fed with full-featured 8K content shot by a new 8K camera.
NHK has also developed a portable camera capable of shooting full-resolution 8K images. It uses a 60-fps, 133-megapixel single-chip color image sensor and remains compact in size, as it uses no prisms in order to separate red, blue and green lights. The camera weighs approximately 6 Kgr.
Specs
Imaging System: Single-chip color imaging
Image Sensor: 133-megapixel CMOS, 15,360 horizontal x 8,640 vertical
Image Signal Pixels: 7,680 horizontal x 4,320 vertical each for R,B,G (Full Resolution RGB 4:4:4)
Frame Rate: 60 frames/second, progressive
Resolution Limit: 4,320 TV lines
Head Weight: Approx. 6 kg, less than 1/7 th of conventional three-chip 8K full-resolution cameras
Optical Size: Equivalent to 35 mm full-size photograph (43.2 mm diagonal)
High Dynamic Range (HDR) refers to technology for expanding the brightness range that can be shown on a TV screen. NHK has developed the Hybrid Log-Gamma (HLG) system for HDR TV, which is compatible with conventional TV formats. NHK and BBC have jointly developed the HLG system.
An 85V HDR 8K liquid crystal display will be also exhibited. The display features an integrated speaker system capable of reproducing 22.2 multichannel sound even from a decreased number of speakers. NHK has developed the display in collaboration with Sharp.
NHK has also developed 8K mobile production units. The SHC -1 and SHC-2 units will be used for 8K satellite broadcasts.
The SHC-2 unit is compatible with full-resolution 8K signals using a newly developed IP interface forthe switcher with an eye towards expanded future use.
NHK says that the mobile units can be used for large-scale coverage with simultaneous use of up to 10 cameras, 4 recorders/players, and 4 slow-motion units.
These twin mobile units will be used for the production of 8K program this summer during the Rio Olympic Games.