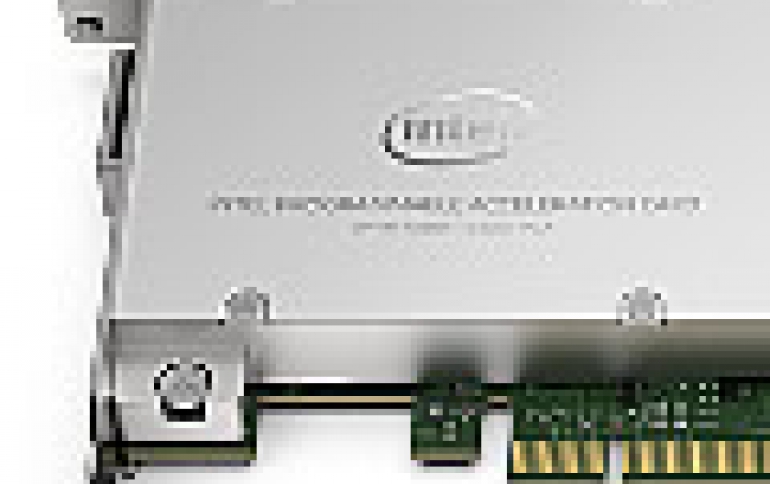 Intel Releases Hardware and Software Platform for FPGA Acceleration
Intel has announced a hardware and software platform solution to enable faster deployment of customized field programmable gate array (FPGA)-based acceleration of networking, storage and computing workloads.
Complex data-intensive applications are pushing the boundaries of data center capabilities. Intel says that the FPGA-based acceleration exploits massively parallelized hardware offloading to maximize performance and power efficiency of data centers.
The new solution abstracts consists of three major elements:
FPGA acceleration platforms that operate with Intel Xeon CPUs
The Acceleration Stack for Intel Xeon CPU with FPGAs that provide industry standard frameworks, interfaces and optimized libraries
Market-specific solutions
The first in a family of Intel Programmable Acceleration Cards is the Intel Programmable Acceleration Card with the Intel Arria 10 GX FPGA enabled by the acceleration stack.
The Intel Programmable Acceleration Card with Intel Arria 10 GX FPGA plugs into a server to accelerate workloads. This PCIe-based FPGA accelerator card offers both inline and lookaside acceleration. This acceleration stack provides a common developer interface for both application and accelerator function developers, and includes drivers, application programming interfaces (APIs), and an FPGA interface manager. Together with acceleration libraries and development tools, the acceleration stack saves developer's time and enables code re-use across multiple Intel FPGA platforms. The card can be deployed in a variety of servers with its low-profile form factor, low-power dissipation, and passive heat sink.
Intel Arria 10 GX FPGA (hardware)
10AX115N2F40E2LG
High-performance, multi-gigabit SERDES transceivers up to 15 Gbps
1150K logic elements available (-2L speed grade)
53 Mb of embedded memory

8 GB DDR4 memory banks with error correction code (ECC) (2 banks)
1Gb Mb (128 MB) Flash

PCIe x8 Gen3 electrical, x16 mechanical
USB 2.0 interface for debug and programming of FPGA and Flash memory
1X QSFP with 4X 10GbE or 40GbE support
Low profile (½ length, ½ height)
Standard and low-profile bracket
Software
Acceleration Stack for Intel Xeon CPU with FPGAs
FPGA Interface Manager installed
Intel Quartus Prime Pro Edition software
Acceleration Stack for Intel Xeon CPU with FPGAs
Intel FPGA SDK for OpenCL
This new platform approach enables Original Equipment Manufacturers (OEMs) to offer Intel Xeon processor-based server acceleration solutions.
The Intel Programmable Acceleration Card with Intel Arria 10 GX FPGA is sampling now and is expected to be broadly available in the first half of 2018.