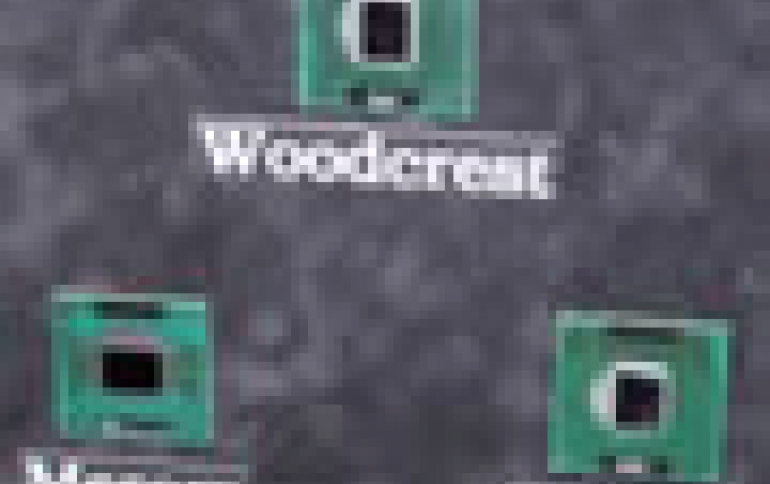 Intel's Conroe Chip Due July 27
Intel will launch its next-generation "Conroe" chip for desktop PCs on July 27, marking the company's second step to recover from slumping sales with new products. Intel also plans to launch its dual-core Itanium chip for high-end servers, code-named "Montecito" on July 18, and has already begun shipping them to computer vendors.

Intel plans to introduce more than 10 new chips over the next 30 to 60 days. The chips will include a standard desktop version of Conroe -- officially the Core 2 Duo -- as well as an extreme edition for gamers and other combinations of features and prices.

The Conroe chip will be available to consumers almost immediately, since Intel has already begun shipping the processor to certain channels and manufacturers. Intel will reach full production within 30 days.

The Core 2 Duo chips enable those platforms by delivering a collection of features that Intel calls "Star T's." These include include 64-bit computing, virtualization, active management, I/O, while hyperthreading will come later.

Intel's first step to recuperate from sluggish sales came last month, when it unveiled the Woodcrest chip for servers -- officially the Xeon 5100. The company also plans to launch its Merom chip for mobile notebooks in August. Conroe, Woodcrest and Merom are built with the company's new Core microarchitecture, the successor to the Netburst design that produced the Pentium line.

As it prepared to battle Intel in the marketplace, chip-making rival AMD insisted it would stick to its schedule for releasing new chips, and would not cut prices on current chips.

"We have been watching the competitive situation very closely, but it will not have an impact on our ability to deliver value to the market," said David Schwarzbach, division manager for the desktop group at AMD.

AMD launched its 4x4 platform for gamers in June, and plans to release its dual-core Athlon 64 X2 in the second half of 2006. In the longer term, the company will launch quad-core chips in 2007, and continue its support for multithreaded applications.

"The future is a multitasking and multithreaded world; we would even say a mega-tasking and mega-threaded world," Schwarzbach said.

Market watchers will soon have more data to make their choice between Intel and AMD chips. Intel is expected to lift an embargo on July 13, allowing PC vendors to release the results of their benchmarking studies between Conroe and AMD's Athlon 64 FX-62.