Japan Wants to Send a Toyota Vehicle to the Moon
The Japan Aerospace Exploration Agency (JAXA) and Toyota Motor agreed today to study the possibility of collaborating on international space exploration.
As a first step, JAXA and Toyota agreed to further cooperate on and accelerate their ongoing joint study of a manned, pressurized rover that employs fuel cell vehicle technologies. Such a form of mobility is deemed necessary for human exploration activities on the lunar surface. Even with the limited amount of energy that can be transported to the moon, the pressurized rover would have a total lunar-surface cruising range of more than 10,000 km.
The concept proposal for the pressurized rover being studied by JAXA and Toyota has the size of two microbuses, measuring Length: 6.0 m X 5.2 m X 3.8 m (L x W X H). The provided living space is 13m3 and it is capable of accommodating two people (four people in an emergency).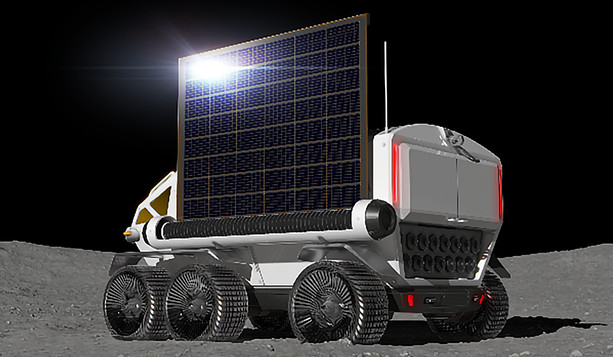 The rover will use solar arrays and fuel cells to generate and store power. It will land on the moon before a human expedition arrives, and drive to meet them. The project calls for the rover to be used in four other exploration areas, so it will have to move around on its own to meet arriving astronauts.
To achieve the goals of exploration of the mon and Mars, coordination between unmanned missions, such as the recent successful touchdown by the asteroid probe Hayabusa2 on the asteroid Ryugu, and manned missions, such as those involving humans using pressurized rovers to conduct activities on the moon, is essential.
"At JAXA, , we are studying various scenarios as well as technologies that will be applied to specific space missions. Manned, pressurized rovers will be an important element supporting human lunar exploration, which we envision will take place in the 2030s. We aim at launching such a rover into space in 2029m" said JAXA Vice President Wakata.
"Lunar gravity is one-sixth of that on Earth. Meanwhile, the moon has a complex terrain with craters, cliffs, and hills. Moreover, it is exposed to radiation and temperature conditions that are much harsher than those on Earth, as well as an ultra-high vacuum environment. For wide ranging human exploration of the moon, a pressurized rover that can travel more than 10,000 km in such environments is a necessity. Toyota's 'space mobility' concept meets such mission requirements. Toyota and JAXA have been jointly studying the concept of a manned, pressurized rover since May of 2018," he added.
"Fuel cells, which use clean power-generation methods, emit only water, and, because of their high energy density, they can provide a lot of energy, making them especially ideal for the project being discussed with JAXA," said Toyota Executive Vice President Terashi.
The announcement comes less than a week after Tesla co-founder Elon Musk's SpaceX docked a craft at the International Space Station.
China is also ramping up it own space ambitions, thanks to an annual budget of $8 billion — second only to the U.S. Following a world-first landing on the far side of the moon in January, the world's No. 2 economy is also making plans for a solar power station in space and a Mars probe is likely before the end of this decade.