Lenovo's New Ultraportable Laptop Is Thinner Than MacBook Air
Lenovo has jumped on Intel's "Ultrabook" bandwagon, announcing a new IdeaPad on Thursday that the company said is thinner than Apple's celebrated MacBook Air. At IFA 2011, Lenovo released the three new luxury laptops, the IdeaPad U300s Ultrabook, and the U300 and U400 laptops.
The spectacularly slim U300s Ultrabook, made possible with Intel, is featuring up to 2nd generation Intel Core i7 processor with Intel Turbo Boost Technology 2.0, and boots up in as little as 10 seconds with Enhanced Experience 2.0 RapidDrive SSD technology. The U300s has a 13.3" ultra-slim 16:9 widescreen HD display, 4GB DDR3 memory and up to 256GB of SSD storage.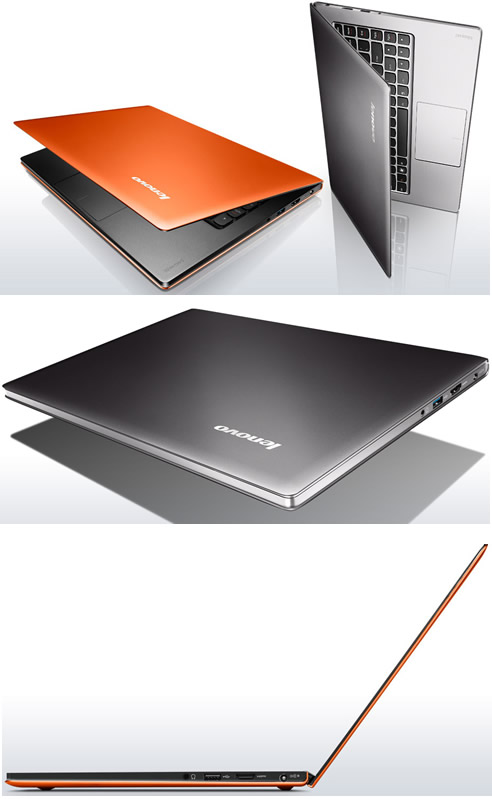 At just 0.6 inches (14.9mm) thick and 2.2 pounds weight, the U300s is built from a single-piece aluminum shell to create a sleek and lightweight product weighing in at less than three pounds. The 13-inch MacBook Air is 0.68 inches thick and weighs 2.96 pounds.
Other smart technologies include the Breathable Keyboard, an Intel Advanced Cooling Technology that allows air to flow in through the keyboard and out of the sides and rear hinge. This design removes the need for vents on the underside of the notebook.
The U300s provides up to eight hours of use or 30 days on standby. And with Lenovo RapidCharge its battery can be charged to 50% capacity in just 30 minutes.
Also included is Bluetooth, high-speed 802.11n Wi-Fi, USB 2.0 and USB 3.0 connectors, as well as an integrated 1.3M (720p HD) webcam.
IdeaPad U300 and U400 Ultraportable Laptops
The IdeaPad U300 and U400 are stylish, ultra-slim laptops. They come with 2nd generation Intel Core processors and feature boot up times of under 17 seconds thanks to optional RapidDrive SSD technology. The U300 features a 13.3" HD display while the U400 has a 14" HD display and AMD Radeon HD5470M 1GB graphics. Both models can be specified with up to 8GB DDR3 memory, up to 1TB HDD storage and up to 256GB SSD storage. The U400 also has an integrated slot-loading DVD-RW drive.
The battery on the U300 lasts for up to six hours of productivity and up to seven hours on the U400. Both models also feature the same Breathable Keyboard technology as the U300s.
The IdeaPad U300s, U300 and U400 all feature HD graphics support, a HDMI output and integrated stereo speakers with SRS Premium Surround Sound. Plus, you can bring computer content to life-sized magnitude wirelessly on a big screen from the U300s Ultrabook or the U300/U400 ultraportables with Intel Wireless Display (WiDi) Technology.
The U300s and U400 start at $1199.99 and $849.99, respectively. They will be sold in November 2011.