Lexar Professional 1800x microSDXC 64GB UHS-II review
3. Summary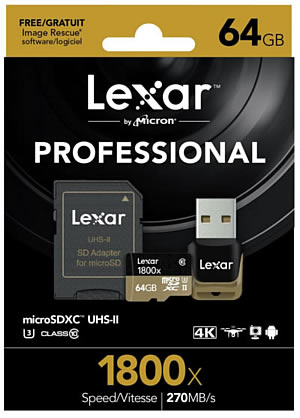 This small Lexar Professional UHS-II offers a solid performance, although we couldn't see this card come near the listed specifications. Using the included USB 3.0 adapter, the card reached sequential read and write speeds of 190-200/MB/s and 170-185 MB/s , respectively. That's definitely not slow, but we expected a bit more.
The build quality and overall package you get with the Lexar is great and above any other offerings. You get a two very convenient adapters to help when you use your 4K camcorder, mobile device, or your PC, in order to easily upload, download, erase and delete the files you want.
It is also bundled with free Image Rescue that provides an extra layer of peace of mind and reliability if you ever need to recover lost video and photo files. This latest iteration product from Lexar storage is also backwards compatible with UHS-I type (slower) devices and will perform at the maximum read/writes for your UHS-I devices.
The Lexar Professional 1800x microSDXC 64GB UHS-II card reasonably priced at $99.95.