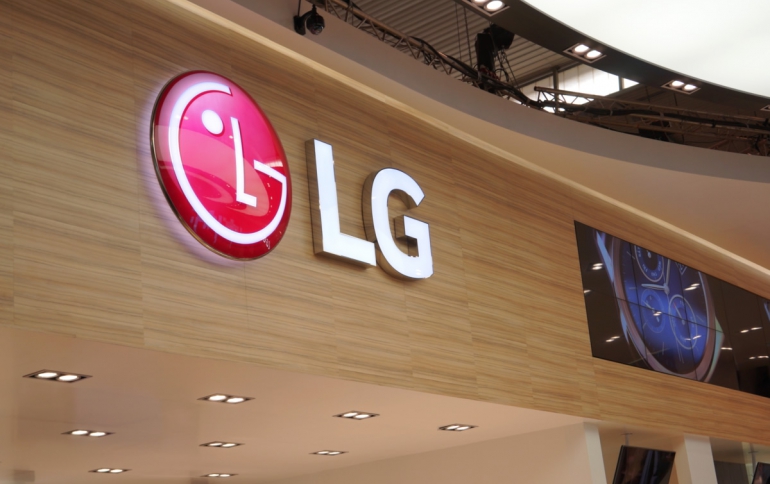 LG Display Unveils New Wallpaper OLED Panel
LG Display plans to dominate the global display market by offering new organic light-emitting diode (OLED) products, such as the new detachable OLED panel that sticks to the wall. The company on Tuesday held a media event in S. Korea where it showcased a 55-inch wallpaper OLED panel, which was just 0.97 mm thick, weighted 1.9 kg and could be easily be stuck to a wall with a magnetic mat. The new product is far slimmer compared with LG Display's existing flagship 55-inch OLED panel that is 4.3 mm thick.

LG Display also showcased a convex OLED panel that is mainly used for digital signage for large-scale outdoor advertising.
Yeo Sang-deog, the head of LG Display's OLED division, vowed to ramp up OLED production from the third quarter of this year to a substantial level that can meet clients' demand.
LG Display also plans to introduce an OLED panel as big as 99 inches within this year, the executive said. The company has released its 55-inch, 66-inch and 77-inch OLED models earlier in the year.
It will also continue to upgrade its plastic OLED technology in the small- to mid-sized segments, such as transparent displays and rollable and flexible displays to be used for wearable devices or vehicle dashboards, according to Yeo.

OLED panels are considered the next-generation displays as they do not use bulky backlight, making them slimmer and much brighter than LCD panels. However, OLEDs are more expensive than LCDs, so both LG and its chief local rival Samsung Display have chosen to additionally enhancethe picture quality on LCD-based panels such as those with quantum dot and UHD technologies.
Yeo said LG could also team up with local suppliers and materials providers to cut the costs of OLED panels. He urged Samsung Display and Samsung Electronics to join the so-called "OLED alliance" to, together, push the industry to the next level.
"If Samsung asks us for collaboration in OLEDs, then we will positively respond as LG Display needs big players such as Samsung to construct a new ecosystem in the industry," Yeo told reporters.
Samsung Group's technology affiliates earlier agreed with their LG counterparts to end legal disputes in consumer electronics and displays in which they had been involved.