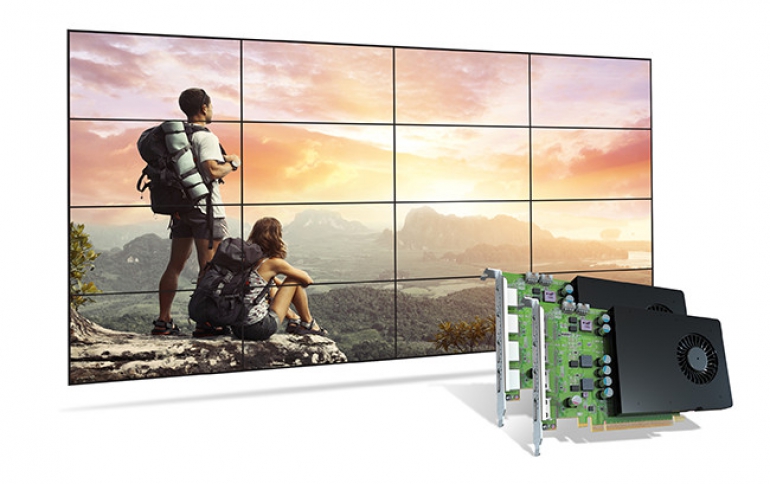 Matrox Introduces The D-Series Graphics Cards for Video Walls
Matrox announced the Matrox D-Series, a new family of multi-display graphics cards designed to power video walls in commercial 24/7 environments.
These new single-slot graphics cards drive up to four 4Kp60 displays and can be combined to output up to 16 x 4K monitors for high-density video walls.
Leveraging a custom-built NVIDIA Quadro embedded GPU, D-Series delivers smooth video playback and graphics performance on up to four high-resolution HDMI or DisplayPort displays. OEMs, system integrators, and AV installers can also combine up to four D-Series cards via board-to-board framelock cables, to drive up to sixteen synchronized 4K displays. In addition, D-Series offers HDCP support for playback of protected audio and video content from HDCP-compliant devices, as well as Microsoft DirectX 12, OpenGL 4.5, and OpenCL 1.2 support to run the latest professional applications.
D-Series works with Matrox's video wall portfolio. Pair D-Series with Matrox Mura IPX capture and IP encode/decode cards for exceptional multi-channel 4K and Full HD capture, streaming, and recording support, and/or combine with Matrox QuadHead2Go multi-monitor controllers to power up to 64 1920x1080p60 displays from one system.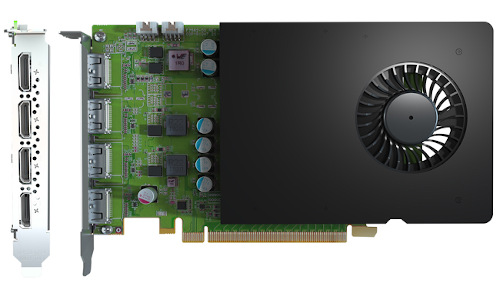 D-Series includes the Matrox PowerDesk desktop management software. Users can select from a variety of tools—including stretched or independent desktops, clone mode, pivot, bezel management, edge overlap, and more—to easily configure and customize multi-display setups. Additionally, the Matrox MuraControl video wall management software provides users with a platform to manage video wall sources and layouts either locally or remotely, and in real time.
Matrox D-Series quad-monitor graphics cards, in both DisplayPort (part number: D-1480-E4GB) and HDMI (part number: D-1450-E4GB) SKUs, will be available in early Q2 2020.
Part number
D1480-E4GB
1450-E4GB
Bus type
PCIe 3.0 x16
Video output connectors
4x DisplayPort 1.4
4x HDMI
Number of video ouputs
4 per card
Maximum resolution
4x 5120x3200 @ 60Hz
4x 4096x2160 @ 60Hz
Memory
4 GB GDDR5
HDCP compliance
Yes
Board-to-board framelock
Yes
Supported graphics standards
DirectX® 12.0
OpenGL® 4.5
OpenCL™ 1.2
Multi-stream audio
4 audio streams (through DisplayPort)
4 audio streams (through HDMI)
Independent desktop mode
Yes
Stretched desktop mode
Yes
Clone mode
Yes
Pivot mode
Yes
EDID management
Yes
Bezel management
Yes
Edge overlap
Yes
Cooling
Active
Power consumption
47 W
Dimensions
Length: 7.928" (20.137 cm)
Height: 4.999" (12.697 cm)
Regulatory compliance
FCC (US) Class B, CE (European Union) Class B, RCM (Australia/New Zealand) Class B, KC (Korea) Class B, ICES-3 (Canada)
Environmental compliance
EU RoHS, China RoHS, REACH
Warranty
3 years
Matrox PowerDesk for Windows
Yes
Operating systems
Microsoft® Windows® 10 (64-bit)
System requirements
Single available PCIe x16 lane, 4 GB of system memory
Optional hardware
Board-to-board framelock cable (CAB-FL-F)
Board-to-board framelock cable (CAB-FL-F)
Secure cable solution (SK-SLNC-4)