Qualcomm Accelerates XR Headset Development with the new Qualcomm Snapdragon XR2 5G Reference Design
Qualcomm Technologies, Inc. unveiled a new extended reality (XR) reference design headset based on the Qualcomm Snapdragon XR2 Platform.
The reference design simplifies complex technologies and enables Qualcomm's customers to bring the next generation of augmented reality (AR), virtual reality (VR) and mixed reality (MR) devices to consumers and the enterprise in 2020.
Powered by the Snapdragon XR2 Platform, the reference design has 2x the CPU and GPU performance, 4x more video bandwidth, 6x higher resolution and 11x AI improvement compared to Qualcomm's current XR platform. The reference design supports up to seven cameras. It features two internal cameras, one for each eye to support eye tracking. It also includes four external cameras, two RGB cameras for MR experiences and two for head tracking which can also be used to generate accurate depth maps.
The Snapdragon XR2 reference design delivers an end-to-end XR over 5G solution with the Qualcomm Snapdragon X55 5G Modem-RF System to allow OEMs to develop 5G XR devices for global networks. With native support for 5G mmWave and sub-6 GHz, the reference design has been tested and validated over Ericsson's 5G infrastructure. Ericsson's 5G platform includes dual mode 5G Core in a distributed cloud and radio networks catering to the needs of the low latency applications and supporting many business models such as private networks and public mobile networks over a specific network slice. With the distributed compute framework that unlocks boundless XR, on-device processing can now be augmented with compute at the Multi-Access Edge Computing (MEC) via a 5G connection, or on a nearby PC using a 60-GHz wireless connection.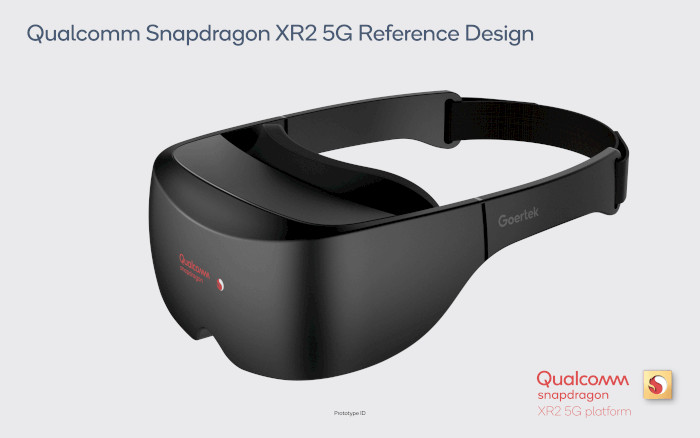 In addition to components, the reference design includes an IR emitter for hand tracking and head tracking with simultaneous localization and mapping (SLAM) to coexist. Other feature enablements include 3D audio and voice commands and 2Kx2K per eye dual panel LCD support. The reference design has embedded the Atraxa electromagnetic tracking technology from Northern Digital Inc. (NDI) that enables accurate, low latency 6DoF controller and peripheral device tracking without line-of-sight restrictions. Compatibility with embedded eye tracking from Tobii includes Tobii Spotlight Technology for foveated rendering which helps optimize system resources.
Goertek developed this VR form factor of the reference design to enable global manufacturers to quickly scale and build AR, VR and MR devices for commercial use.
Qualcomm Snapdragon XR2 Platform
The Qualcomm Snapdragon XR2 Platform unites Qualcomm's 5G and AI technologies with the company's XR technology to usher in a new era of mobile computing. This platform unveils custom features and boasts multiple firsts that can be scaled across augmented reality (AR), virtual reality (VR) and mixed reality (MR).
The Snapdragon XR2 Platform takes a leap in core GPU processing by supporting 1.5x the pixel rate and 3x the texel rate for efficient, high graphics rendering. XR specific features like foveated rendering with eye tracking and enhanced variable rate shading for smoother refresh rates help render heavy workloads, while maintaining low power consumption. The Snapdragon XR2 display panel offers up to 3K by 3K resolution per eye at 90 frames per second (fps) and is the first XR platform to support 8K 360o videos at 60 fps.
The Snapdragon XR2 introduces support for seven (7) concurrent cameras and a custom computer vision processor. Multiple concurrent cameras enable real-time and highly accurate tracking of the head, lips and eyes together with 26-point skeletal hand tracking. Computer vision provides efficient scene understanding and 3D reconstruction.
The Snapdragon XR2 Platform has also a custom built always-on, low power Qualcomm Hexagon DSP to support hardware accelerated features like voice activation and
Multiple Snapdragon XR2 features have been improved using AI, including visuals, interactivity and audio in order to immerse users in a smarter reality. The Snapdragon XR2 Platform is the first XR platform to support 5G connectivity.