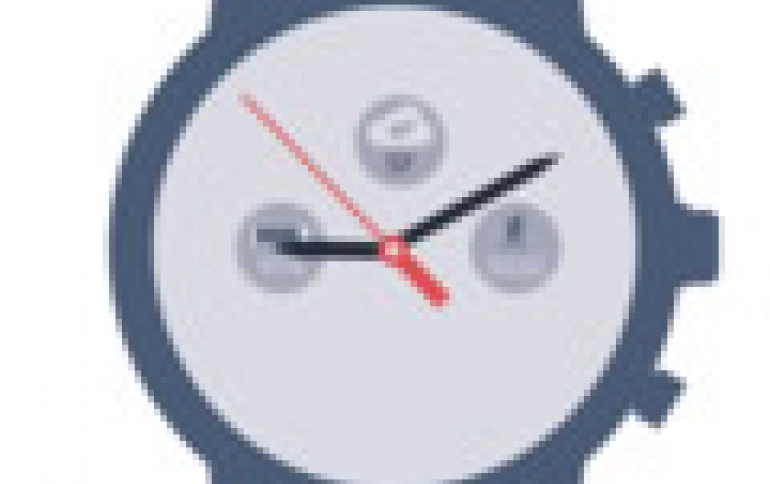 Qualcomm Snapdragon Wear 3100 Platform Supports New Ultra-Low Power System Architecture for Smartwatches
Qualcomm launched the next generation Qualcomm Snapdragon Wear 3100 Platform for smartwatches to extend battery life. The new 3100 chipset debuts two days before Apple is expected to announce a new version of its Apple Watch.
The platform is based on a new ultra-low power system architecture designed to deliver "a rich interactive mode, new personalized experiences, and extended battery life," according to Qualcomm. The official launch, at an event in San Francisco, was supported by Google, who discussed the evolution of the Wear OS by Google software platform.
Snapdragon Wear 3100 is based on a new ultra-low power hierarchical system architecture approach. In this architecture, quad core A7 processors, an efficient integrated DSP, and a new ultra-low power co-processor work in conjunction with each other.
The new co-processor, the Qualcomm QCC1110, has been designed from the ground up and is at the heart of the Snapdragon Wear 3100 platform. It is incredibly small at ~21mm2, is optimized for ultra-low power operation, and acts as a powerful companion to the main processor, contributing to better audio, display, and sensor experiences for smartwatches. The co-processor also integrates a deep learning engine for custom workloads, such as keyword detection, and is extensible over time.
Additionally, the Snapdragon Wear 3100 platform includes a new wearable power management sub-system (PMW3100) to support lower power and higher integration, brings in a new DSP framework to support next generation sensor processing in an open execution environment, and implements a new dual display architecture to support the hierarchical approach. The 4G LTE modem is paired with new high-performance Gallium Arsenide power amplifiers, which helps to increase power efficiency in smartwatches.
The 3100 host processor fits in a 10 x 10-mm package stacked with up to 1-GByte LPDDR3 memory. It supports a flash eMMC module of 8 Gbytes or more.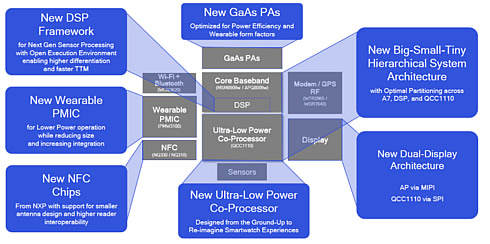 By offloading the display and sensor processing from the A7 processors to the ultra-low power co-processor, the new smartwatch platform supports new experiences: "The Enhanced Ambient Mode," "Dedicated Sports Experiences," and "Traditional Watch Mode."
The Enhanced Ambient Mode helps the smartwatch to meet consumer desires for a fashion watch by supporting a smooth second hand, up to 16 colors, live complications and improved brightness.
The Dedicated Sports Experiences is designed to allow active users to go for an ultra-marathon, swim long distances, bike for miles, or hike the mountains with GPS and heart rate turned on for the duration.
The Traditional Watch Mode is designed to make it possible for consumers to continue to enjoy their watch for extended periods of time.
The platform is also designed to help reduce power usage in areas such as low power modes, GPS/location batching, per minute/second clock updates, sensors processing, MP3 playback, and Wi-Fi/Bluetooth voice queries. This results in typical battery life day of use improvements ranging from 4 to 12 hours compared to the previous Snapdragon Wear 2100 platform, depending on display type, battery capacity, and device configurations. The new Personalized Sports Experiences keep GPS and heart rate monitoring on for the duration of the activities and is designed to deliver up to 15 hours battery life (calculated based on typical 450mAh sports watch battery). The Traditional Watch Mode, great for traveling, supports an impressive week-long battery life to the smartwatch by switching to this mode from the Wear OS by Google experience and is designed to allow consumers to enjoy basic watch functions for an extended period.
Power savings come mainly from hosting basic watch functions on a new 40-MHz Arm M0 chip running at 0.6 V in a homegrown software environment described as a basic scheduler. In sleep mode, the 21-mm2 QC1110 draws just 130 µA, compared to about 1.2 mA for a typical Cortex-A7 used to run Wear OS.
Fossil Group, Louis Vuitton, and Montblanc plan to launch products based on the Snapdragon Wear 3100 platform.
The Snapdragon Wear 3100 platform comes in three variants targeting Bluetooth and Wi-Fi tethered smartwatches, GPS-based tethered smartwatches, and 4G LTE connected smartwatches. The platform is in mass production and shipping today.
Qualcomm counts among its smartwatch customers Asus, Huawei, LG, and more than a dozen fashion watch vendors. It expects to add new names to its list with the 3100, which is shipping now and should be in consumer products for the holiday season.
Last year, Apple's success - in part with its first models with built-in LTE - pushed it into the lead in the overall wearables market.
Apple shipped about 17.7 million smartwatches last year of a total wearables market estimated at 115 million units, according to International Data Corp. Xiaomi and Fitbit were in a near tie for second place, shipping more than 15 million units each, including smartwatches, fitness trackers, and other devices.
Samsung runs a distant second to Apple with smartwatches based on the Tizen OS. Qualcomm claims that its chips run 80% of Wear OS devices, which trail Apple and Samsung in smartwatches.