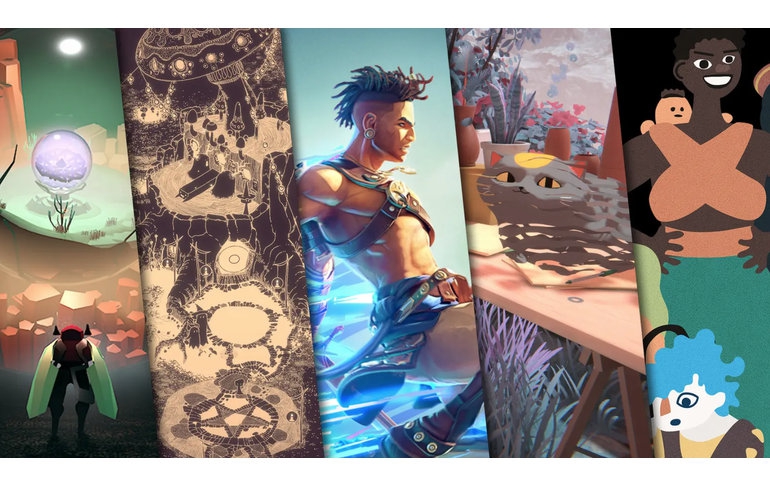 Summer Game Fest 2023: Hands-on highlights with 8 upcoming PlayStation titles
This year's Summer Game Fest hosted tons of new gaming faces. Between all the familiar friends and new arrivals showcased, there's almost an overwhelming amount of new titles to be excited about coming to PlayStation. Whether you're looking for an indie fix or a new spin on an old icon of the industry, here are some of the games we got our hands on that you'll want to keep an eye out for.
Viewfinder
A picture is worth a thousand words and may just be the doorway to even more paths. In Viewfinder, you find yourself in a mysterious world with nothing but pictures found and taken along the way to guide you. But these pictures have properties allowing them to be placed anywhere and traversed through. You'll be tasked with using the images to make your way through various puzzles in ways that only your mind can limit you.
Take an image of a hallway and place it on the roof to have items fall on top of you. Or maybe take an image of a building and place it sideways to make a bridge across a fatal pit. And with so many art styles spanning a simple child's crayon drawing to classic pixel art, there's tons of eye candy to take in and use to your heart and eyes' content. Arm yourself with your camera on July 18, 2023.
Hauntii
If unique visuals are your thing, then Hauntii is a must-add to your wishlist. Play as the adorable ghost, Hauntii, and travel the simplistically-styled beautiful world of Eternity. This twin-stick shooter takes the genre in a more relaxing direction, allowing you to explore its contemporary world at your leisure. As you explore, you'll learn to possess various items and creatures to solve puzzles and fight back against enemies while collecting keys to unlock the past of Hauntii. Travel the world of Eternity and beyond when Hauntii releases in 2024.
Thirsty Suitors
Thirsty Suitors takes three genres and mixes them together with charming writing, fashionable visuals, and a very relatable story. Play as Jala as she deals with family issues, her superpowered exes, and internal issues in the most videogame way possible: rack up skateboarding trick points, battle enemies turn-based JRPG style, and complete cooking game challenges. The genres blend seamlessly together, with every aspect of the game contributing not only to the experience point system but to capturing a fully-realized life.
Cocoon
Venture into a world full of techno-organic spectacle. Cocoon is a game that will entice each of your senses while pulling you into its speechless yet powerful lore. Enter a puzzle game where your ability to leap between worlds is the key to everything. Tasks require you to use power orbs to activate systems of the alien biomes and teleport to and from different maps on the fly. Along the way, these orbs unlock more of your powers, allowing you to take on the many larger-than-life alien bosses you'll encounter on your journey. Cocoon will take you to its extraterrestrial world later this year.
Saltsea Chronicles
After the world floods, its inhabitants have adapted, becoming sea sailing adventurers. You take the helm of Captain Maja and their crew in this visual-novel adventure title. Saltsea Chronicles takes you to a world stylistically inspired by children's storybooks but with writing that any adult looking for an in-depth tale can enjoy. Different pathways and potential crewmates will appear during the drama-filled adventure across the seven seas, and it's up to you whether you interact with them or not. But you don't have to leave them completely out of the picture, as Saltsea lets you rewind back to previous unexplored possibilities so you can experience all this relaxing yet mysterious and thought-provoking title has to offer.
Prince of Persia: The Lost Crown
Prince of Persia: The Lost Crown is a fresh take on Ubisoft's most classic title. Movement, combat, and exploration work in tandem in this title, as Sargon, the title's new main character, make use of them all while exploring Mount Qaf to save Prince Ghassan. Sargon has the ability to dash on land and air, combo using various sword techniques, and control time, displacing himself while attacking and moving to repeat the move again. Combining all these techniques makes The Lost Crown an experience that will test your hands, react to enemy patterns, and defend against environmental traps. Discover the secrets of Persia on January 18, 2024.
Sonic Superstars
Speaking of fresh takes on classic titles, Sonic Superstars returns the blue blur to the world of 2D platforming. But he isn't alone this time, and neither are you. Not only can you play as Sonic, Tails, Knuckles, and Amy, each sporting their own special abilities, but you can also play simultaneous co-op with them all, a first for the series. Making its series debut is also the new mechanic of Chaos Emeralds, giving characters extra powers such as skills that turn them into water which makes it possible to traverse up waterfalls, or the ability to summon an army of clones to defeat every enemy on-screen. Did we mention that this classic title is going to feature nothing but new zones as well? Sonic runs its way to the PlayStation with Sonic Superstars in late 2023.
Foamstars
Square Enix's new IP, Foamstars answers the question, "To foam or not to foam?" This game takes the hero shooter genre in a different direction by making the weapon of choice for each character a whole lot of foam. But what truly sets it apart is the strategies this foam presents. The more of the map you cover with your bubbly mess, the more you can quickly travel, whether running, surfing to finish off a downed enemy, or sneaking underneath shark-style. You can also stack foam, changing the lay of the land by creating giant towers and fortresses to take more defensive positions. Along with multiple characters, all with varying move lists, Foamstars becomes a sandbox of a competitive team shooting experience that presents players with tons of playstyles and more fun than you can blow a bubble at. Foamstars is coming to PlayStation 4 and PlayStation 5.