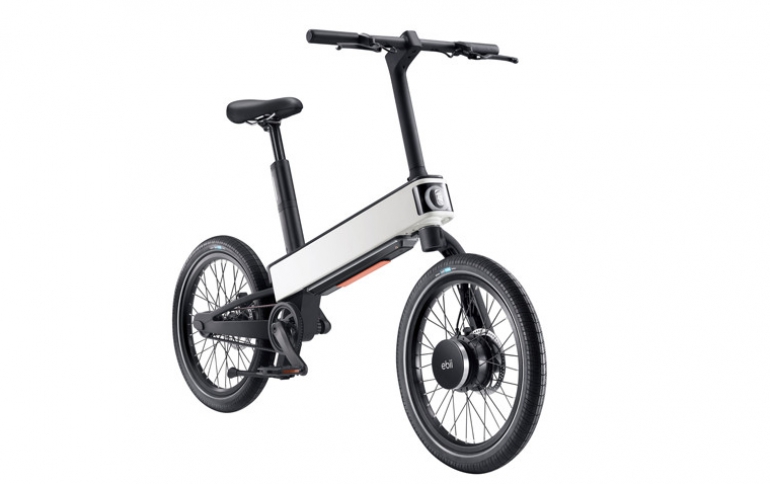 Acer Enters E-bike Market with AI-driven "ebii"
Acer today announced the Acer ebii, an AI-driven single-motor e-bike that utilizes an intelligent vehicle control box that houses everything you need for an enjoyable and effortless ride. ebiiAssist automatically adapts to route conditions, pedaling power and rider preferences for a smoother journey. Its long-lasting battery, smart safety features, and minimalistic lightweight design enable users to navigate through the city streets in style and comfort with ease, while leaving a smaller carbon footprint.
"The all-new Acer ebii delivers on our commitment to sustainability via technology and creative design, further driven by the desire to enhance user's mobility and experiences," said Jerry Kao, Co-COO, Acer Inc. "As urban commuters search for convenient, safe, and greener options, the Acer ebii's AI assistance and innovative safety features empower them to go further, faster."
"Acer's debut into the e-bike market brings together work from Acer's subsidiaries, like MPS Energy's power system and Xplova's cycling computing," Kao added. "The cornerstone of the ebii's design is the intelligent vehicle control box, which powers and directs the bike's myriad of functions from one center of operations." 
Modular E-bike Architecture Made Possible Via Intelligent Vehicle Control Box
The Acer ebii sets itself apart with its signature modular architecture that fits the battery pack and control box into a single compact intelligent vehicle control box. Its innovative design enables easy charging and battery transport, simple upkeep, and stress-free upgradability in a sleek and efficient design.
The wheel set at the motor position has a strong single-sided fork design and a highly-efficient 250/350 W motor with 48 V CAN bus and 40 Nm torque performance, enabling assisted riding of up to 25 kilometers per hour, and can be configured as a front, center, or rear hub according to the rider's needs.
Acer ebii
Equipped with Smart Features for Adaptive Riding Experience
The bike's AI-powered ebiiAssist function adapts to the rider's pedaling power, riding conditions, and preferred level of assistance, while intelligently adapting over time for a more personalized experience. During rides, the controller leverages its AI technology to automatically adjust motor output to provide effortless riding based on users' pedaling and route environment.
The ebii's AI also harnesses big data and collects user insights through the ebiiGO companion app. Riders can connect their phone to their e-bike via Bluetooth, then use ebiiGO to check recommended routes, battery life, riding speed, auto-unlock settings, and more for greater control over their urban adventures. They can also access ebiiRide, an adaptive mission control app that works with ebiiAssist to ensure riders never run out of power on the road. ebiiRide offers three modes for users to choose from to suit their riding preferences; Eco Mode for power-saving, My ebii Mode for smart balance, and Boost Mode for speed and motor output adjustments based on the current road conditions and distance to the destination. 
Long-lasting and Removable Battery
The ebii comes with a durable and removable battery that can run for up to 110 km and charges up to 100% battery life in just 2.5 hours, while AI-optimized power distribution helps extend the battery life to support a full day's ride. It is built with a high-integrity design from MPS Energy, which uses a unique cell layout and holder for greater charge protection and safety. The fast-charging battery has also gone through rigorous testing and certification approvals to ensure maximum reliability and security.
Users can easily remove the battery pack which can function as a portable charger for other devices. A thoughtfully-designed handle can also be attached to the battery to conveniently carry it on the go. Riders can also check the battery's power supply via ebiiGO or the handlebars' smart LED display for various alerts such as remaining travel time. 
Worry-free Riding with Safety Features
E-bike riders can now face the roads confidently as the Acer ebii is armed with a suite of advanced safety features. The ebii's headlight and taillight automatically illuminate in the dark, with additional lighting under the vehicle control box to increase visibility during nighttime riding. The ebii is also equipped with a Rear Collision Warning radar sensor mounted under the seat to alert the rider of motorists or objects approaching from behind. The crash detection and e-bike health status notification feature also provide riders with greater peace of mind and improves trip planning during their travels.
Visionary, Lightweight Design
Weighing just 16kg, the ebii's sturdy and compact aluminum alloy frame is optimized for a stable and nimble riding experience. Its understated yet eye-catching look is marked by smooth edges and a cool matte white finish. The semi-transparent headlight also adds to the ebii's modern visual identity, while the LED display, located at the center of the handlebars, clearly shows essential information for riders when navigating to their destinations. 
Hassle-free and Sustainable Maintenance
The ebii's airless tires are safe for high-speed riding as they are made with multilayer foam inserts installed to recreate the feeling of moving through the wind and eliminating the worry of flat tires. Designed with sustainability in mind, the flat-free tires are also made from closed-loop recyclable materials. The e-bike's strong durability is reinforced with a rust-free, carbon belt drive that requires no lubrication for maintenance. Its removable battery pack provides added convenience and efficiency to riders, allowing them to seamlessly swap batteries on-the-go and conduct upgrades without having to replace the entire bike structure. 
Exact specifications, prices, and availability will vary by region. To learn more about availability, product specifications and prices in specific markets, please contact your nearest Acer office via www.acer.com.