Acer Unveils e-book, New Aspire All-in-one PCs and Notebooks, the Revo Family and Stream Multimedia Smartphone
Acer has updated its Aspire series of products with the Aspire Z5710 all-in-one PC, the Aspire 5745P notebook, announced the high-end Acer Stream smartphone, the Acer LumiRead e-reader and the Revo family of home multimedia products.
New Aspire products
The Acer Aspire Z5710 All-in-One PC combines performance, entertainment and sleek design with multi-touch functionalities and an aluminum case. It has a 58.4 cm (23") display with Full HD (1920x1080) resolution, Dolby Home Theater v3 with 5.1-channels HD surround sound support.
Other features include a slot-in optical drive, multi-in-one card reader, HDMI port and optional TV-tuner.
The Aspire 5745P is a 40 cm (15.6") HD LED-backlit touchscreen notebook. It is powered by an Intel CPU, premium graphics and DDR3 memory. A cinema-style sound is enabled by Dolby Home Theater v3 sound enhancement.
Acer Stream smartphone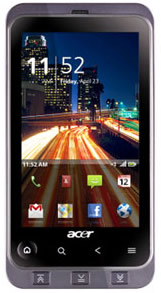 Acer Stream is a high-end multimedia smartphone, optimized for watching movies, listening to music and enjoying web browsing like at home.
Elegant and minimalist in design, Acer Stream is made from highly resistant materials. Users can enjoy smooth animations and fine graphics: surf between photos and video thanks to the fluid 3D interface and unlock the phone by a 'peeling' gesture, assure a cool but very functional detail. Information can be read straight from the lock screen widget.
Main features of the new smartphone include a touch screen with Amoled technology with 1.67 million colors, and a 3.7" WVGA display with a contrast of 2000:1. Connectivity options inlcude 3G+ for streaming: HSDPA 7.2 Mbps in download, Bluetooth and WiFi n.
The phone is running on Android version 2.1, it is powered by Qualcomm's Snapdragon 1GHz processor and has 512 MB RAM. It has 2GB of internal Flash memory and a micro-SD card slotsupporting up to 32GB.
Multimedia features, enabling the recording of HD videos up to 720p. UPnP technology enables content sharing with other devices. Furthermore, a 5MP photocamera and integrated GPS system allow photos and videos to be geotagged. Last but not least, you can connect the Acer Stream to your home TV with HDMI port.
The phone's status bar appears with a tap as a divider between logical spaces. It shows all the essential information, providing shortcuts to most frequently used settings and its position allows an easy access to the settings or notifications.
The top part of the Home screen has been dedicated to applications history, with the benefit of reducing complexity and providing significant cues for navigation.
Apps can be moved around from one page to another or easily uninstalled by simply dragging them to the bin.
A customization page accessible from the Home screen to enablel users to tailor their smartphone through wallpaper and sound personalization.
Stream also features three types of predictive keyboards, a smart dialer and a redesigned contacts list.
And for music addicts Acer Stream features Spinlets, a free streaming service that lets users browse and listen to major music labels and record companies for great music and instantly post what they find to their favorite Social Networking sites.
Acer Revo Family
The Acer Revo family includes Acer Revo multimedia center, Acer RevoView media player and Acer RevoCenter, a home storage appliance.
Acer Revo is an all-in-one multimedia. Slim and elegant, it can be operated through a wireless remote control. The RevoPad allows easy media control and navigation through a double functionality: a touch-sensitive backlit QWERY keyboard, that turns into a multi-gesture touchpad simply with a click. Acer Revo comes equipped with Acer clear.fi console, which offers easy file sharing among any DLNA devices at home though easy drag-n-drop.
Acer RevoView is a compact HD media player that can be connected directly to your TV, without need of complex set up, plus rear and side ports allow easy connection to surround sound speaker systems. The remote control combined with the friendly UI to provide easy access, browsing and playing of your media library. The Acer RevoView can play content from a host of devices: USB, HDD, storage cards, optical disc, and UPnP mass storage media. What?s more, the easy swappable hard disk drive can be easily changed to play a different set of media and can be shared with the 2010 Aspire M Series desktop PC and Acer RevoCenter.The HDMI port enables high-definition 1080p video and music playback. Flickr and Picasa photo slideshows can be also enjoyed on a big screen.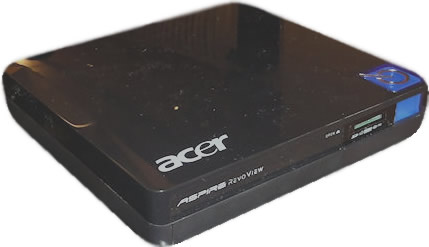 The Acer RevoCenter is a compact and quiet home appliance that lets you store, protect and share your growing digital library with family and friends. Thanks to UPnP support all connected devices can access all media contents stored in the large hard disk space.
And what?s more, with the Acer RevoCenter you can stream digital media content to multiple applications or DLNA compliant devices. Up to four hotswappable Serial ATA hard disk drives offer plenty of space for your ever growing collection of pictures, movies, videos, games and documents. The Acer RevoCenter can be remotely accessed so you can connect to your server anytime, anywhere and upload or download files. Storage space can be increased by simply adding internal or external hard disk drives, while PC and file backup along with a smart recovery process make sure your files are safe and sound.
Pictures, video or data files can be easily uploaded to the Acer RevoCenter directly from your portable devices. All you need to do is connect the device through the USB port and press the one-touch backup button. Data is automatically sorted and stored by file type into folders of your choice.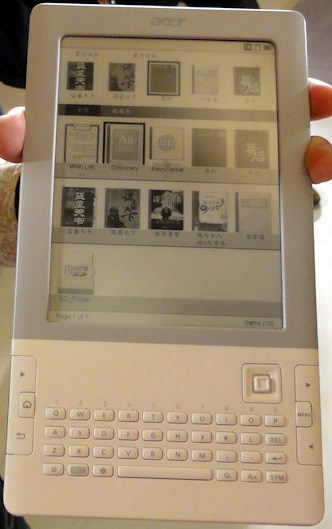 Acer LumiRead e-reader
Acer has also developed the LumiRead e-reader. The Acer LumiRead is DLNA compliant, therefore capable to access Acer clear.fi and share contents like eBooks and audio-books.
It offers wireless or 3G (with module) connectivity to access eBooks from Barnes&Nobles, the German Libri.de,the Chinese Founder as well as French and Italian ebooks.
Acer LumiRead comes with 6-inch display, it?s only few millimeters thick and permits to carry an entire library of up to 1,500 books in just a handful of grams. With non-glare, no backlit e-Ink display, it delivers a paper-like reading experience, even under bright sunlight.
The eReader is equipped with 2GB flash memory, which can be also expanded just by adding a MicroSD card. An ISBN scanner allows to scan ISBN codes so you can create your own wish-list and search on supported online libraries and book stores. LumiRead also has a QWERTY keyboard as well as an autolayout feature that automatically adjusts the content according to the format. It supports various formats, multiplying users choices, and most popular DRM (Adobe and OMA2.0).
Last but not least, Acer LumiRead features a built-in Internet Browser.
Acer also introduced a 7-inch tablet PC based on a processor from Qualcomm and Android OS. It is expected to hit the market in the fourth quarter of 2010.