1. Features, specifications
Akasa's debut in the Power Supply Unit (PSU) market is the Freedom Power series of PSUs, which is rated at 80Plus. Today we have in our hands the 750W version of Freedom Power PSUs, which features a typical efficiency of 92.25%. High efficiency combined with Active PFC reduces energy cost without compromising the performance. Low-energy waste means the PSU is producing less heat and therefore it needs less cooling and works quieter.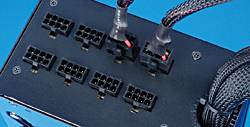 Akasa says that the Freedom Power 750W PSU provides up to 750W of power 24/7.
The provided 12V (up to 720W) provided output is balanced over six 12V rails. With six PCIe 2.0 connectors available, this PSU is capable of supporting systems with triple top-end VGA cards.
The PSU has a modular cable design with common connectors for easy cable management. Each of the eight modular cables has identical PSU connectors and can be plugged to any free port on the PSU backplate.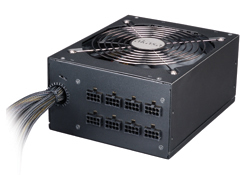 All cables are fully sleeved and a cable management kit is provided for even further airflow enhancement.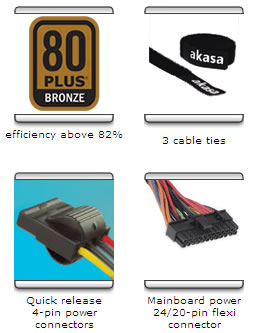 All three primary load bearing cables (main 24-pin motherboard, ATX12V CPU and single branch of PCIe) are hard-wired (fixed) to provide a balance between the consistency of standard PSU and convenience of modular cables.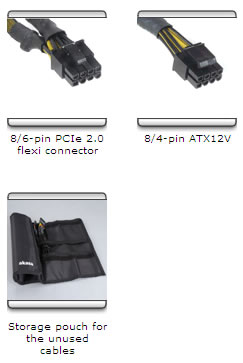 - Features
Typical (50% load) efficiency of 92.25%
750W continuous power
80PLUS BRONZE certified
Modular design for easy cable routing and minimal airflow restrictions
Innovative modular cable design with common connectors
All cables fully sleeved for tidy look system builds
Six +12V rails with total max output of 720W
24/7 dependable power
Energy saving Active PFC
Up to six PCIe 2.0 connectors for multiple GPU support
Intelligent auto fan control for ultra quiet operation
Super quiet 140x140x25mm fan
110 – 240V AC auto sensing and switching
Three years warranty
- Technical specifications
Application
Full range 750W (Real Power) PSU
Designed for
AMD and Intel systems
Form factors
Intel ATX 12V 2.3 design guide
EPS 12V 2.92
ATX 2.2 ATX 12V
Dimensions
150x180x86mm
Efficiency
Always > 84%
Fan
140 x 140 x 25mm
Fan speed
700-1600 RPM
Bearing type
Dual ball bearing
Ventilation
Honeycomb vent structure
Color
Satin Black
PFC
Active (99%)
Mainboard power
1 x 24/20 pins
8/4-pin ATX12V
1
8/6-pin PCIe 2.0
4 (3 detachable)
6-pin PCIe
2 (1 detachable)
SATA
12 (detachable)
Floppy
1 (detachable)
Molex (4 pin)
8 (detachable)
Cables finish
Black Mesh Sleeve
AC power input range
100V to 240V
Protection
Over Power/Voltage/Current/Temperature short Circuit
Product code
AK-PSS075FGM-BK