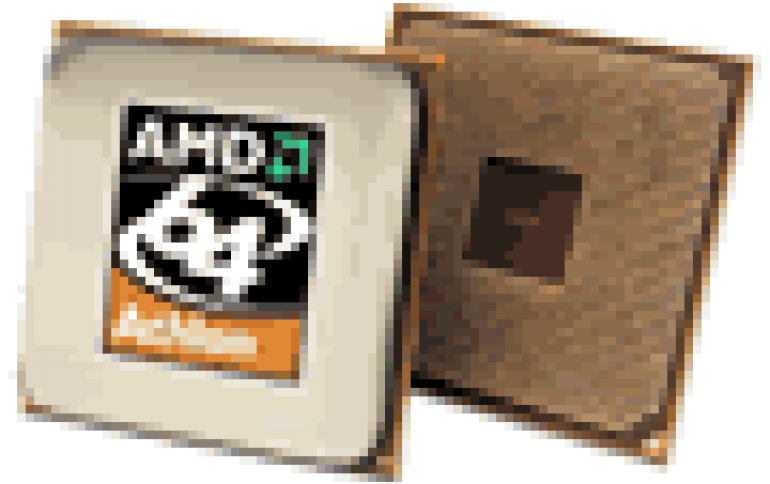 AMD Athlon 64 X2 Dual-Core Hit the Shelves
AMD has chosen Computex, Taipei, to officially announce the availability of the AMD Athlon(TM) 64 X2 dual-core processor. he AMD Athlon 64 X2 dual-core processor is designed for desktop and desktop-replacement notebooks, delivering performance improvements of up to 80 percent on select digital media and productivity applications compared to single-core AMD Athlon(TM) 64 processors. The AMD Athlon 64 X2 dual-core processor will be supported by leading OEMs including Acer, Alienware, HP and Lenovo, as well as more than 40 leading system-builder partners worldwide.
In addition, AMD 64 dual-core will be supported by numerous motherboard manufacturers. AMD Opteron(TM) and AMD Athlon(TM) 64 X2 dual-core processors are designed to work cooperatively with existing AMD64 939- and 940-pin processor-based motherboards with a BIOS update. The company has partnered with ABIT, Albatron, AOpen, Arima, Asrock, ASUSTeK Computer Inc., Biostar Group, Chaintech, DFI, Elitegroup Computer Systems (ECS), Epox, FIC, Foxconn, GIGABYTE, IWILL, MSI, Quanta, Sapphire, Shuttle, Soltek, Supermicro Computer, Inc. and Tyan Computer Corporation.
Dual-core CPUs allow users to work on multiple programs at once, while also running background applications like anti-virus software, spyware filters, firewall software, and music.
According to AMD, the first dual-core processor performance benchmarks have already yielded powerful results. Digital media applications can see an average of a 34 percent increase compared to similar single-core AMD Athlon 64 processors, while overall productivity benchmark results can see a 22 percent average increase.
The availability of the AMD Athlon 64 X2 dual-core processor follows the introduction of the dual-core AMD Opteron(TM) processor, the first x86 dual-core processor for the server and workstation markets. AMD will be showcasing AMD Athlon 64 X2 dual-core processors at Computex in the AMD booth (TF1L, Hall 4).
Pricing and Availability
The AMD Athlon 64 X2 dual-core processors 4800+, 4600+, 4400+ and 4200+ are priced based on performance at $1001, $803, $581 and $537, respectively, in 1,000-unit quantities. For pricing details, please visit:
http://www.amd.com/pricing
.