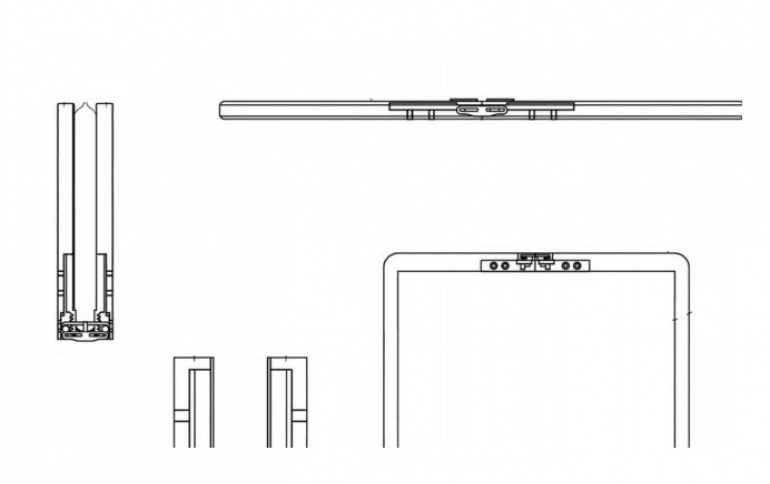 Apple Patent Shows A Folding Phone Featuring a Hinge
A patent that desribes an electronic device may have a flexible display and a hinge mechanism ahs been awarded to Apple.
Filed with the USPTO in 2016, the is related to devices with flexible displays and hinge mechanisms that would prevent creasing issues similar devices (foldable phones) have suffered from. Movable flaps would prevent unsightly marks by keeping the device in a semi-curved state when shut.
Here is the patent's abstract:
An electronic device may have a flexible display that overlaps an axis. The display may be supported by a housing. The housing may have first and second portions that rotate relative to each other about the axis. The housing may be placed in an unfolded configuration to support the display in a planar state. The housing may also be placed in a folded configuration by rotating the first and second portions relative to each other. A hinge mechanism may be used to ensure adequate separation between the first and second portions when the housing is bent. Movable flaps may be retracted when the housing is bent to create room for a bent portion of the display.
Huawei, Samsung and Lenovo were among those to release foldable devices in 2019, to varying levels of success.
Apple has probably been assessing flexible displays for years behind closed door and it comes as no surprise it is trying to do something different. The company has filed a a series of patents over the past five years related to foldable devices. However, relasing a foldable iPhone featuring a hinge may not exactly fit into Apple's tradition for innovative designs.
The Motorola Razr was among the first foldable devices to avoid the pitfalls of creasing, with its innovative design that pulls the display at each of its corners like a piece of cloth. However, reviews have complained that smartphone "creaks" when bent.
And Samsung's Galaxy Fold, the first of its kind to hit the market, was struck by host of teething problems last year.
And Huawei's Mate X has not fared much better with critics, with many complaining about creasing and interface issues.
Recent leaks suggest that Samsung is preparing to unveil a new folding phone next Tuesday.