Apple Releases New Mac Mini and iPod Hi-Fi
The Mac Mini that comes in two new versions based on Intel Core Duo and Intel Core Solo processors and the new iPod Hi-Fi home stereo were revealed by Apple on Tuesday. The medias were invited the "Think Secret" meeting at the headquarters of Apple in Cupertino, California where chief executive Steve Jobs showcased new releases.
The new Minis will be in the same design and form as the current Minis but will include new things such as an infrared sensor for Apple's Front Row home media center controls.
The new Minis are already available, and will come in two flavors. The basic one is the 1.5GHz Intel Core Solo processor, with 512MB RAM,60GB HD. It will sell for $599.The second one will deliver a 1.67GHz Intel Core Duo processor, 80GB HD SuperDrive and will be sold at $799.
Both units come with the following standard features:
OS X Tiger, iLife 06, Apple Remote, Front Row, Airport Extreme, Bluetooth, DVI Video Out (not Dual-Link), 4 x USB, 1 x FireWire, Gigabit Ethernet.
Along with the new Mac Minis, Apple is also introducing Bonjour technology, which will allow the Mini to automatically connect with any other Mac or Windows machine on the network that is running iTunes, and sync music on the fly. This way, if a new Mac Mini is connected to a home theater, it will be able to stream music over from another PC.
For more information on the Mac Mini visit
Apple
.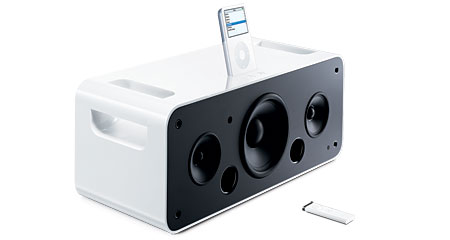 The new iPOD Hi-Fi is a compact home stereo system that consists of three speakers. It allows the a user to slide its iPod into the built-in Universal Dock to turn on and tune in to digital music and the iPOD can be charging simultaneoulsy.
The iPOD HI-FI is sold at $349. For more information on the iPod Hi-fi got to
Hi-Fi
.