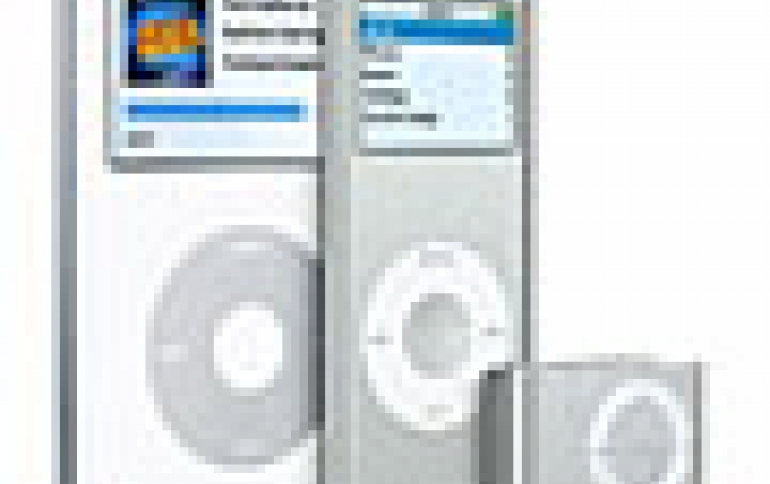 Apple Sells Films at iTunes Online, Grows iPod Line
Apple Computer fired a much-anticipated salvo in its battle to rule personal entertainment by announcing online sales of Walt Disney Company movies. In a trademark theatrical presentation in San Francisco, Apple chief executive Steve Jobs also unveiled beefed-up versions of its popular iPod MP3 players with brighter screens and longer battery life.
"Today we are making more than 75 films available online and we will be adding more every month," Jobs said during a press event in a performing arts center.
The films were from Disney, Pixar, Touchstone and Miramax film studios, said Jobs.
Disney bought Pixar this year in a deal that resulted in Jobs getting a seat on Disney's board and becoming its single largest shareholder with a stake of about seven percent.
"At the end of the day it is a lot of names, but it is all Disney," Silicon Valley analyst Rob Enderle of Enderle Group said of the iTunes movie service.
"The fact they didn't have any more could be indicative of a problem with other studios."
New films would be available online for 12.99 dollars the same day of their release in DVD format, Jobs said. The price would rise to 14.99 dollars after the first week.
Films from the library would sell for 9.99 dollars each.
"These are great films," Jobs said as he showed clips on a screen behind him. "iTunes now has movies integrated on the home page."
Jobs also did something usual for Apple by giving a "sneak preview" of a device they plan to release early next year to complete the home entertainment picture.
"There is one last thing," Jobs said, eliciting chuckles for his trademark move to save a surprise for the end of a presentation.
"We usually keep things pretty corralled, but in this case we think it completes the story."
Jobs then previewed a computer box code named "iTV" that plugs into a television. The iTV device links wirelessly to home computers.
Pictures, music, video or movies downloaded onto a computer would be routed into television or stereo systems connected via iTV.
"Pretty much whatever kind of setup you've got, iTV fits in," Jobs said. "Now, you can get great content online. It's playing now on a computer near you. You can play it on an iPod near you and it is coming to a TV near you."
Apple planned to price iTV at 299 dollars, Jobs said.
New iPod, Nano and Shuffle
Jobs kicked off the presentation by unveiling new iPod, Nano and Shuffle MP3 players with upgraded performance and lower prices.
Apple's new iPod would feature 60 percent brighter screens, battery life of as long as three and a half hours, software that eliminates gaps between songs intended to be played back to back, and games.
A 30 gigabyte version of the new iPod would sell for 249 dollars and an 80 gigabyte version for 349 dollars, Jobs said.
"We are going to make it affordable and accessible to even more people," Jobs said.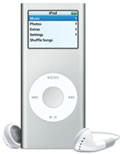 Jobs showed off "a whole new Nano designed from the ground up, made of aluminum and even thinner" than its predecessor.
The new Nano and iPod models have instant search and quick scrolling functions as well as upgraded headphones, Jobs said. The device features a 1.5-inch color LCD display and its brightness has been improved by 40%. Its resolution is the same as the previous model, at 176?132.
Nanos were available in two, four and eight gigabyte models and priced at 149 dollars, 199 dollars and 249 respectively, according to Apple.
"This is double the storage for the same price," Jobs said of the new Nano.

Jobs whipped from his pocket a shrunken Shuffle that begged comparison to a postage stamp with a headset. The device lacks of an LCD dispaly and is actually a very small digital audio player, supporting reproduction of MP3 (8-320Kbps), AAC (8-320Kbps), WAV and AIFF audio formats. The Shuffle price was 79 dollars, Jobs said.
Jobs gave the audience a tour of the new generation iTunes Seven online store software, which was tailored to more easily find shows, movies and songs.
Apple was expected to introduce online movie sales with selection on par with iTunes music menu; an iPod with a large screen for film viewing, and "iTV" type hardware for sale by the Christmas holiday.
Microsoft was likely to up the ante in the coming weeks by coming to market with a "Zune" brand online content store and MP3 player with an oversize screen, analysts said.