Asus And Acer Showcase First Windows 8 Tablets At Computex
Acer and Asus have their fitst Windows 8 tablets at the Computex trade show on Monday in Taiwan. These include tablet that sits in a dock for everyday "computing" with a mouse and keyboard, but als pops out for use as a tablet touchscreen. Starting with Asus, the company is showcasing the Asus Transformer AiO, a Windows 8/Android (dual-boot) all-in-one system, which comes with a detachable monitor that becomes a 18.4-inch 1920 x 1080 tablet. The device uses ARM processor for booting under Android OS and Intel Core i7 CPU for Windows 8. Switching between the to OS can be easily done by touching a button.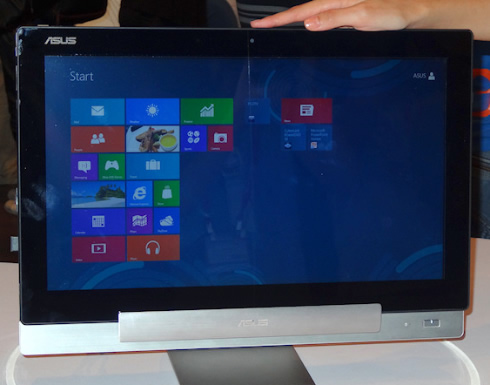 Asus has also on display the Tablet 600, a 10.1-inch 1,366 x 768 (Super IPS+) laptop when ocked with its keyboard/touchpad that becomes a Windows 8 tablet. The device is powered by an Nvidia Tegra 3 quad-core processor, it has 2GB of RAM and includes a radio for NFC. The Windows RT tablet is due to arrive early in 2013.
The Asus Tablet 810 is powered by an Intel Atom processor and comes with a 11.6-inch 1,366 x 768 Super IPS+ dipslay. The tablet is also equipped with an 8-megapixel camera with LED flash in the rear along with a 2MP camera in front. It also has 2GB of RAM, 64GB of storage, 802.11b/g/n, Bluetooth 4.0, USB x 2, NFC, built-in accelerometer, gyroscope, electronic compass, and GPS.
Asus'new Transformer Book line includes devices that transform to Windows 8 tablets available in 11.6-, 13-, or 14-inch screen sizes. When docked, the displays become laptops powered by Intel's latest Core processors (Ivy Bridge) and have discrete graphics. The displays are full HD (1,920 x 1,080), and they boast 4GB of RAM, either solid-state or hard-disk storage and 5-megapixel rear cameras.
Last but not least, the Asus "TAICHI" is a device that can be used either as a notebook PC or as a tablet. The hybrid device looks at first glance like standard thin-and-light laptop. But the outside of the display is actually a second, touch screen display. When the laptop is closed and the outer display is activated, it looks and operates like a tablet PC. When the laptop is open and the outer display is activated, two people can view the same desktop image even when they're sitting on opposite sides of a desk.
Available in 13.3" and 11.6" versions, they come with full-hd LCDs and touchscreens in both sides. The Taichi runs on Windows 8 OS and Intel's latest Core microprocessors.
Acer is also shocasing the Iconia W700 and W510 tablets, both pop out of keyboard docks, morphing from laptops into Windows 8 tablets.
The ICONIA W510 evolves the computing experience with three different modes of touchscreen operation, while the ICONIA W700 is is a Windows 8 tablet with the added versatility of a cradle.
The most unique part of the W510 tablet is the tri-mode, allowing users to touch, type and view. Aside from the conventional tablet mode, it can be used in productivity mode. A detachable keyboard dock can be connected to the tablet for optimal typing as well as extending the battery life up to 18 hours. Rotating the tablet 295 degrees allows it to be used in presentation mode, watching a video, browsing a webpage or viewing a PowerPoint presentation.
The W700 has a full HD display, three USB 3.0 ports, an HDMI jack and a Thunderbolt port. It also has a 5MP camera in back and a front-facing camera as well. The tablet connects to the dock via Bluetooth.
In addition, the W510 has Always On, Always Connect technology, and a 10.1-inch touchscreen, providing a wider viewing angle. It is an everyday tablet with convertible function. The Iconia 510 also includes slots for a SIM card and microSD as well as ports for micro USB and HDMI.
Acer's W700 comes with a multipurpose cradle that allows for several viewing options. When using it in landscape, it can be tilted up to 70 degrees, or 20 degrees for touch. Furthermore, it can be used vertically like a portrait for easy browsing and reading. The W700 also has three USB 3.0 ports for expansion.
The W700 is equipped with an 11.6-inch Full HD touchscreen as well as Dolby Home Theater.
Acer also said it would remain closer Intel, even though Microsoft also embraces rival ARM for its new Windows 8 operating system. The company has no plans so far to launch non-tablet devices using ARM designs.
Acer said prices for these new gadgets would be announced after the launch of Windows 8. But in a powerpoint at the presentation it said the touch ultrabook would range from $1,799, significantly higher than the non-touch ones currently in the market.
Acer also announced two new Windows 8 all-in-one (AIO) PCs: the Aspire 7600U (27-inch) and the Aspire 5600U (23-inch).
The spire 7600U supports up to 64-point simultaneous touch from all angles, enabling use by multiple users at once. It features 0 to 90 degree viewing and swivels at four sides when laid flat. It is just 35 mm thin and delivers Full HD visuals and Dolby Home Theater surround sound.
The Aspire 5600U is the thinnest AIO available and features an ergonomic touch design and can tilt from 30 to 85 degrees for enhanced single-user comfort. It's designed for use as an everyday family-hub that presents Full HD visuals and Dolby Home Theater Surround Sound along with powerful graphics.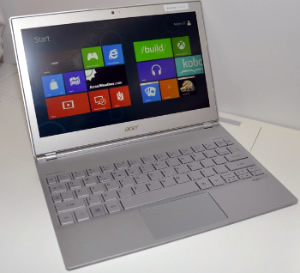 Acer has introduced its newest premium Windows 8 Ultrabook devices - the Aspire S7 Series. Available in two sizes, 13.3-inch and 11.6-inch, they feature a sleek aluminum metallic unibody design. The larger model additionally sports a glossy, sculpted glass cover.
The 13.3-inch model offers up to 12 hours of battery life, while the 11.6-inch model can run for up to 9 hours.
Acer's S7 Series also features a light-sensing keyboard, which automatically detects changes in lighting conditions and adjusts the keyboard backlight brightness.
Both will be powered by Intel's the ultra-low Ivy Bridge CPUs, will come standard with a Thunderbolt, a Micro HDMI output and USB 3.0 ports. Their release date is scheduled for the third quarter of 2012.