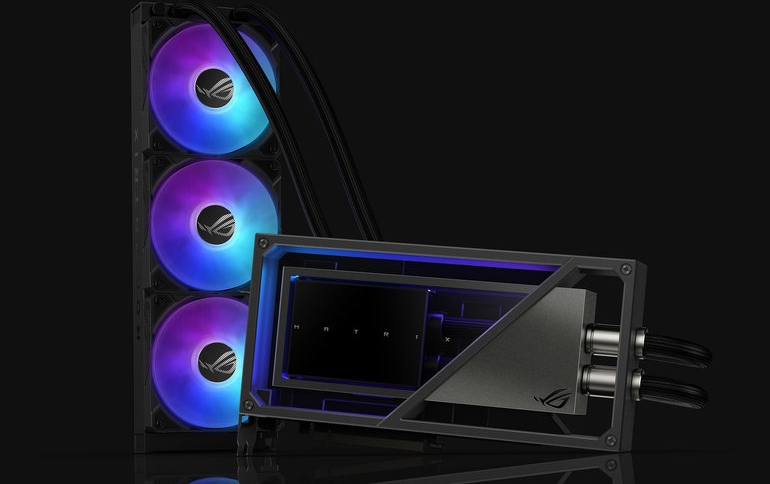 Asus announces ROG Matrix GeForce RTX 4090 and Strix Scope II 96 Wireless Gaming Keyboard
ASUSRepublic of Gamers (ROG) announced the ROG Matrix GeForce RTX™ 4090, which offers the highest out-of-the-box boost clocks of any RTX 4090 in the world. In addition, the ROG Matrix GeForce RTX 4090 features an ROG first: liquid metal thermal compound on a graphics card. Featuring a custom-engineered cold plate that captures heat not only from the RTX 4090 GPU die, but also from the VRMs and memory chips, this card has even more headroom to push its clocks higher, for longer, allowing ROG to bin only the absolute best dies for this showpiece graphics card. 
The pinnacle of gaming power
Liquid metal is an incredible thermal interface material, producing much lower temperatures when compared head-to-head with traditional thermal pastes. It does, however, have one significant challenge: it's electrically conductive. When applied improperly, it has a chance to make contact with exposed components and risk a short circuit. But building on years of expertise with liquid metal in the ROG laptop division, ASUS has an exclusive production process that can safely harness the power of liquid metal while still allowing for vertical GPU mounting.
By applying a UV resin above the surface-mounted capacitors that border the GPU die, and then adding two additional protective layers between the die and the main PCB, ASUS has ensured that the ROG Matrix GeForce RTX 4090 can leverage the incredible thermal transfer inherent to liquid metal with no risk of leakage. After perfecting these protective mechanisms, it was time to introduce liquid metal to the ROG graphics card lineup — and of course there was no better option than the legendary Matrix family. Users can learn more about liquid metal here. 
Heavy metal
Liquid metal is excellent, but it is just one element of the full solution that the ROG Matrix GeForce RTX 4090 uses to keep temperatures and noise levels low. Enter a custom, extra-thick 360 mm radiator, backed up by a trio of ROG MF-12S ARGB fans. These daisy-chainable fans snap together with a magnetic connector that links the fans and transmits control signals and power. Installation and cable management will be a breeze since users will only need one cable for all three fans, and they will end up with effortlessly synchronized ARGB lighting effects, too. With high-static pressure and airflow, these fans are able to keep the ROG Matrix GeForce RTX 4090 operating at just 60°C under its 450-watt TGP (total graphics power), with a fan RPM of under 1000.
Most AIO liquid-cooled GPUs, including the ROG Strix LC line, require a small fan on the card itself to keep surface-mounted components cool, in addition to the fans mounted to the radiator that keep the GPU heat itself under control. The custom full-coverage cold plate on the ROG Matrix RTX 4090, however, eliminates the need for an auxiliary fan, as it makes contact with all of the heat producing components on the PCB, allowing the radiator to cool the entire card on its own. A customized and more powerful pump feeds the radiator with more coolant than any of our previous designs, keeping the ROG Matrix GeForce RTX 4090 running at peak efficiency at all times. 
Stunning metal design
The ROG Matrix RTX 4090 features an incredibly bold and modern design, with the GPU frame and housing built entirely out of metal. Sporting the first use of indirect ASUS Aura Lighting, the ROG Matrix GeForce RTX 4090 also boasts a 'hollow' chamber, with the main cold plate, circuit board and pump shroud protected by a larger aluminum frame. Bold ROG branding adorns the card, with lightbars in the central cavity and across the top of the card. A stainless steel backplate keeps the card secure whether users prefer to mount traditionally or vertically to showcase its true beauty. The ROG Matrix RTX 4090 sports a single 12VHPWR cable, and the fan power cable is hidden in the main cooling tubes, ensuring that cable management is a breeze. 
Custom GPU Tweak III software
The ROG Matrix RTX 4090 does not just feature one-of-a-kind hardware, it also supports custom-built software features. Most GPUs will feature a temperature sensor on the GPU die and also have one on the memory, allowing for a basic look at the heat of a system. ROG went above and beyond with additional sensors across the VRMs, chokes and power input circuity. That data feeds into the new Thermal Map feature in the ASUS GPU Tweak III app to give a detailed breakdown of how a card is performing thermally in real time. This utility also supports Power Detector+, a feature that allows the card to detect any anomalies all of the six power pins individually from the 12VHPWR cable. If a fault is detected and a user needs to reseat the power cable, they will know immediately. The ROG Matrix GeForce RTX 4090 also includes a new Mileage feature, which tracks card use at different power levels, letting users keep an eye on what kind of load they have used the card for, across multiple game sessions.
As a flagship card, the ROG Matrix RTX 4090 features a Dual BIOS switch, allowing users to seamlessly switch between Quiet and Performance modes. Produced with the ASUS Auto Extreme manufacturing process, the entire circuit board is soldered in a single, fully automated pass, reducing costs and eliminating the need for harsh cleaning chemicals in between solder passes. The ROG Matrix GeForce RTX 4090 is built with the highest quality components, ensuring peak performance for the life of the card.
 
ASUSRepublic of Gamers (ROG) announced the Strix Scope II 96 Wireless gaming keyboard. Offering outstanding versatility, this compact keyboard features a 96% layout that retains all of the function and number keys found in a standard 100% keyboard, packed  in a space-saving design. Gamers can pair the Strix Scope II 96 Wireless with up to three devices via Bluetooth®. Users also have the option to use RF 2.4 GHz with ROG SpeedNova wireless technology and Omni Receiver, or a wired USB connection. Pre-lubed, hot-swappable ROG NX Snow mechanical switches provide fast actuation, refined and linear keystrokes, and improved key stability. Built-in sound-dampening foam and a switch-dampening pad absorbs pinging noises and echoes to improve acoustics of the keyboard. Typing feel is exceptional as well, with pre-lubed, low-friction keyboard stabilizers enabling smoother keystrokes and stability for longer keys. The switches are topped with durable ROG PBT doubleshot keycaps or UV-coated ABS keycaps that offer premium feel and shine resistance. The Strix Scope II 96 Wireless will soon be joined by the Strix Scope II and Strix Scope II RX full-size gaming keyboards. 
Exceptional typing experiences
The Strix Scope II 96 Wireless is the first 96% ROG keyboard to incorporate ROG NX Snow mechanical switches that utilize plastic composites to provide ultrasmooth keystrokes. The top housings of the switches are made of polycarbonate (PC), while the stem and bottom housings are made of polyoxymethylene (POM) composite and POM respectively. The walled stem of each switch enhances key stability and prevents dust intrusion. The switches are specially tuned and pre-lubed at the factory to ensure solid keystrokes and "thocky" sound. Plus, the switches are topped with durable ROG PBT doubleshot keycaps or UV-coated ABS keycaps that offer premium feel and shine resistance. If preferred, gamers can swap and install their preferred switches for a customized feel.
Other enhancements include silicone dampening foam for the bottom housing, along with another layer of dampening above the printed circuit board assembly and integrated switch‑dampening pads underneath the switches to improve keystroke acoustics.
The Strix Scope II 96 Wireless Keyboard includes a multifunction button and scrolls for media playback, volume, and keyboard lighting. Plus, the F1–F5 keys are pre-programmed as hotkeys for Xbox Game Bar and recording functions.
Versatile tri-mode connectivity
ROG SpeedNova wireless technology offers over 1,500 hours of stable, uninterrupted near-zero-latency gameplay in 2.4 GHz RF mode (with RGB and OLED off). The ROG Omni Receiver enables multiple wireless connections with compatible devices with a single USB dongle, without compromising performance. Gamers can also use Bluetooth to connect to three devices simultaneously, or charge while playing in wired USB mode.