1. Introduction
01 - Asus P5AD2-E Premium - Introduction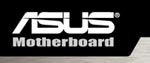 There is not much that we can say about Asus that hasn't already been said. It's been in the industry for a long time, manufacturing quality-based products. In 2003, Asus sold 5,000,000 motherboards which means one out of every 5 desktop computers was built using an Asus motherboard.
For this review, AsusTek has provided us with one of the most full-featured motherboards we've ever seen, the Asus P5AD2-E Premium for LGA775 socket-type processors.
The P5AD2-E is designed on a black PCB where its colorfull components create a very impressive result.
Northbridge/Southbridge
The northbridge on the P5AD2 is powered by Intel's latest chipset, the 925XE. The chipset is located under a black copper heatsink and is responsible for the board's support for the LGA775 Pentium 4 CPU, dual-channel DDR2 memory architecture and PCI Express x16 graphics card interface.
The Northbridge
In turn, the southbridge chipset which manages the USB, serial, audio, IDE and ISA I/O, is managed by Intel's ICH6R chipset.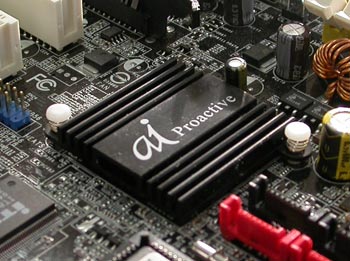 As part of Asus' noiseless design philosophy, the two chipsets need no fans for cooling.
Packaging
The packaging for the P5AD2-E is similar to all other ai Proactive boards. The ai Proactive logo is splashed across the front of the black and silver coloured box.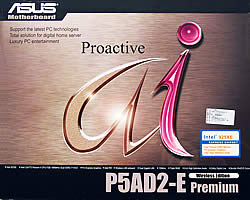 As you open the box, you will notice one thing: The board ships with a lot of accessories. If you forget how the contents were laid out in the box, you will surely have a hard time putting them back in and then closing the box.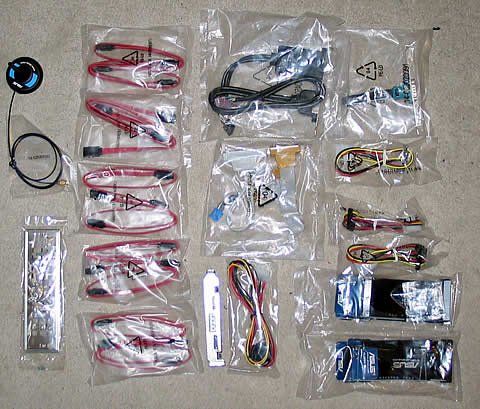 Accesories:
1 x Wireless LAN antenna (optional)
1 x 2-port IEEE1394b / 1-port RJ45 module
10 x Serial ATA cables
1 x SATA Extension module for external devices
4 x 2-port SATA power cable
1 x 2-port USB2.0 / Game module
1 x COM Port module
2 x UltraDMA 133/100/66 cable
1 x IDE cable
1 x FDD cable
1 x I/O Shield
User's manual
Software included:
InterVideo WinDVD Suite (OEM version)
Asus Drivers CD
ASUS PC Probe
ASUS LiveUpdate Utility
Anti-virus software (OEM version)