AUO Debuts 5-inch Full HD OLED
AU Optronics will showcase a 5-inch Full HD OLED smartphone display with a resolution as high as 443 ppi at China Information Technology Expo & China Optoelectronics Display Expo 2013 (CITE & CODE 2013) in Shenzhen from April 10 to 12. The exhibition highlights also include the 5-inch FHD OLED panel, a lineup of smartphone applications with high resolution and super narrow bezel panels ranging from 5" to 5.7", the 10.1" AHVA tablet display, and the 65-inch and 55-inch UHD 4K LCD TV panels. For public information displays, AUO will showcase the 55" switchable mirror display and the 65" hybrid transparent display for vending machines. Furthermore, AUO will also exhibit One-Glass-Solution (OGS) touch solutions.
AUO's 5-inch FHD OLED smartphone boasts the world's highest resolution. The OLED panel is made by the fine shadow mask process and its resolution reaches 443 ppi. It not only features low power consumption, and high picture quality, but is also equipped with high contrast, high brightness, fast response time, and free viewing angle.
In terms of LCD smartphone panels, AUO will unveil a series of display applications ranging from 5 inches to 5.7 inches, adopting AHVA technology with LTPS production process, or Hyper LCD technology. These panels are equipped with full HD resolution or HD720, and wide viewing angles. In particular, AUO's 5-inch Full HD AHVA Mobile Display has full HD resolution of 443ppi (1080x1920). The design of super narrow bezel with a mere 1mm-width from display area to touch panel border maximizes the display area available, making image and video viewing area larger in frame size.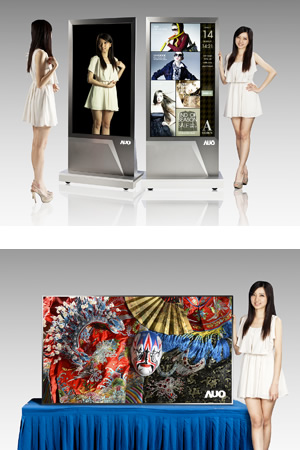 AUO is also the development of UHD 4K display technology, the hottest trend in the TV display market. The 65-inch and 55-inch UHD 4K TV panels that will be demonstrated in the exhibit feature a quad-HD resolution of 3840x2160. Among them, AUO's 65-inch UHD 4K panel equipped with pattern retarder 3D presents even more vivid and higher quality 3D images.
The commercial applications of public information displays are becoming more diverse. AUO will demonstrate various applications, including digital signage, transparent cabinet showcases, mirror displays, and transparent displays for vending machine in the exhibition. The 55-inch Switchable Mirror Display can show Full HD advertising information and images. Its touch function allows users to freely choose the content they wish to view. Users can browse the latest merchandise information during clothes fitting when the panel is switched to a full-length mirror function.
Moreover, AUO will also showcase its 65-inch Hybrid Transparent Display for smart vending machines. Its panel transparency and color saturation can be adjusted based on store owners' demands for highlighting product features to make the multimedia contents displayed clearer. This Hybrid Transparent Display also has built-in touch functions and interactive games. It could be further applied to displays of home appliances in the future, or shop windows.
AUO has made an accomplishment in the development of touch total solutions. The company's One Glass Solution Touch integrates the cover lens and sensor glass into the ultra slim and light modules. The direct bonding manufacturing process has simplified the production procedure of the integration of touch structure, panel and backlight to provide slimmer and lighter, high optical and anti-glare performance modules. In addition, AUO will introduce its 11.6-inch display panel for ultra notebook application with OGS Touch and AHVA technology. The thickness of its touch panel is only 0.7mm making it much thinner and lighter.
More exhibition highlights include AUO's in-cell touch panel technology and curved displays for slot machines.