Best Tech to Watch the Super Bowl
The biggest pop-culture event in America is almost at our doorstep. Come February 12th. It is FOX's turn to broadcast the final of the National Football League, an event that will transpire at State Farm Stadium in Glendale and will likely get viewed by over one hundred million Americans. Variety is reporting that the Bowl is riding high on the momentum of the NFL regular season ratings and that its 2023 number should be well north of one hundred million viewers, etching close to 2017 territory when this game notched an audience of 111 million.
Anticipation is buzzing as Super Bowl weekend is here, with advertisers debuting their planned commercials early on YouTube, queso, nachos, and taco recipes getting sizable traffic online, and articles that provide some tips to bet on the Super Bowl are also blowing up. Thus, if you fall into those awaiting the championship game with bated breath but cannot afford to make the trip to Arizona, or do not want to watch it in a social setting, here are some pieces of tech that can enhance your home viewing experience.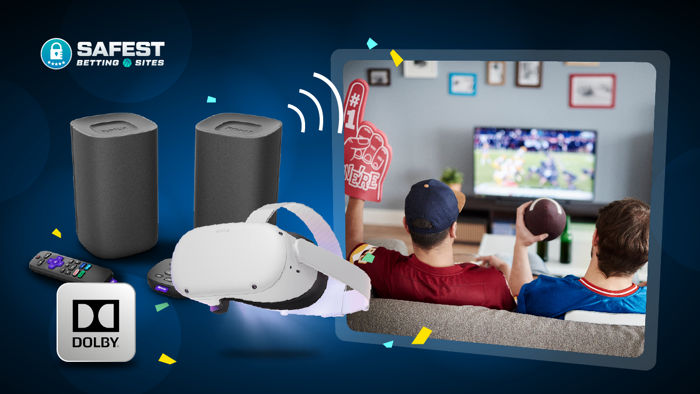 Virtual Reality Options
Yes, you can watch select football games in VR. Concerning the Super Bowl, the option first became available in 2016, when NextVR cut a deal with the NFL to capture three NFL games using different camera angles, plus the finals, and offer these to owners of virtual reality headsets. In 2023, football and VR fanatics can soak in the atmosphere at State Farm Stadium through the FOX Sports VR app available on Oculus.com. It supplies a novel way for NFL followers to get a whiff of the action when the Chiefs and Eagles hit the field.
According to almost everyone, the headset on the market that provides the best price-to-quality ratio is the Meta Quest 2 device. It can get purchased for $399 for its lowest-grade version at most retailers. And please note that this is a standalone device. That means that users do not need a desktop computer to hook it up to.
You Can Watch the Bowl on a Console
If you are considering purchasing a video game console or upgrading to a new model, know that you can watch the conclusion of the 2022/2023 NFL season through higher-end gaming devices. No one should have problems streaming the Bowl on their PS4, PS5, or any Xbox (One/S/X) through services like Hulu Live TV. YouTube TV (with its Base Plan) is another option for console viewers, as it provides Ultra HD resolution. Though, for FOX in 4K, everyone must pay a $20 add-on fee. So, keep that in mind. SlingTV and fuboTV also have FOX and can get played through consoles.
Affordable Quality TV Sets
Without question, the best TV one can buy for sub-$300 is one in the TCL 4 Series, preferably the S455 2022. It ranks as an entry-level 4k TV that runs the latest Roku interface. It may have low peak brightness and not feature properly calibrated colors, but for its price point, it has decent reflection handling and a terrific native contrast in deep blacks. Another pick in the same cost category is the Insignia F50 QLED. It is a rudimentary display, but it boasts decent black uniformity and quantum dot technology.
For those with deeper pockets, the Hisense U6H is an excellent choice, and for people with more than a grand to blow on a TV, the LG 65C2PUA offers superb value for its cost of around seventeen hundred.
Soundbars on a Budget
Few individuals choose to splurge on a premium soundbar. It is not that this tech is not worth it. It is just that it chiefly gets seen as an excess.The Vizio M Series M512a-H6 is a top pick for those who want an affordable alternative, easily purchasable from BestBuy and Amazon. The Vizio Elevate is a stunning mid-range bar, and the Samsung HW-1930B is for those who know what audio quality brings to the table.
Cool LED Lights for Your Home Entertainment System
Virtually everyone that knows their stuff agrees that Govee Wi-Fi TV LED Backlights with Camera is the best overall LED set for TV viewing. The best light bar comes from Philips. It is the company's Hue Play White & Color Smart Light. TV watchers that do not want to break the bank should opt for the Luminoodle Color Bias Lighting and look into the Sengled 12.12 FT Smart Backlight if they can.
Get a Metaverse Boost
You do not need any extraordinary tech to access a metaverse platform. A recent study showed that 58% of Super Bowl viewers would be interested in a virtual shared-space experience. The NFL has taken note of this fact, and this year, it is hosting its first-ever Bowl Metaverse concert in Roblox. It won't be soon before these digital venues have running sportsbooks akin to Bovada. They already have casinos, with gambling as one of their prime enticement factors.