Chip Sales Slipped in November
Global semiconductor sales once again increased on an annual basis in November, but posted a month-to-month decline for the first time in nine months.
The three-month rolling average of chip sales for November totaled $41.8 billion, according the the World Semiconductor Trade Statistics organization. The total represents an increase of 9.8% compared to November 2017, but a decline of 1.1% compared to October.
While semiconductor sales growth has moderated somewhat in recent months, the three-month average of chip sales has increased in every month this year. Sequentially, sales have increased on a month-to-month basis in every month since February, when sales declined 2.2% from January due to typical seasonality.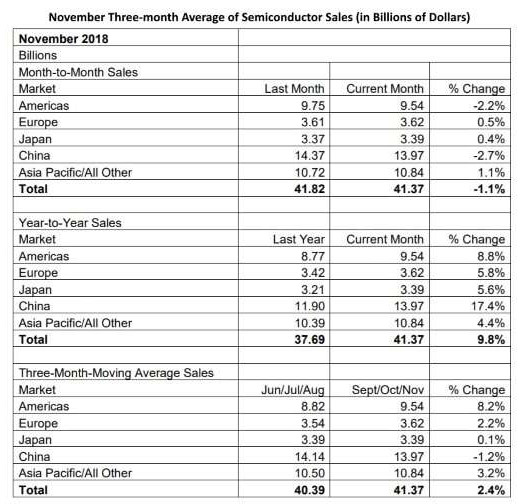 The WSTS is forecasting record chip sales of $477.9 billion this year, which would represent an increase of 15.9% compared to 2017, when industry sales of $412.2 billion set an all-time high.
Sales increased on month-to-month basis across all regions in November, led by China's 17% growth, WSTS said.