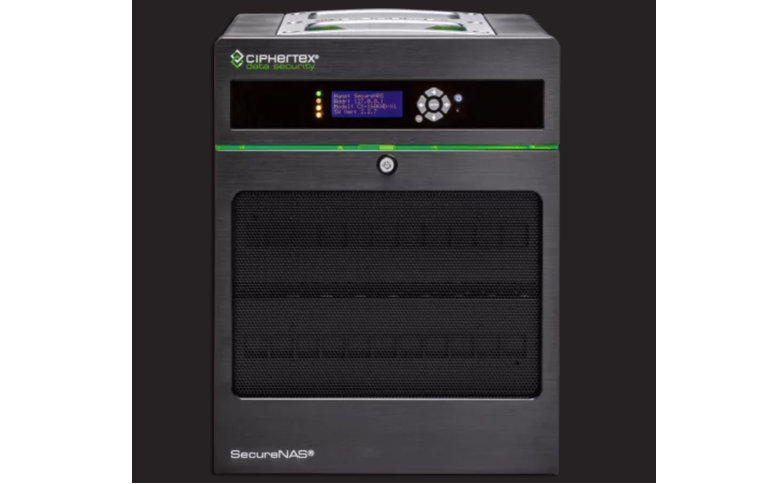 Ciphertex Unveils SecureNAS CX-160KSSD-X with Up To 490 TB
Ciphertex Data Security®, a GSA contract holder (GS-35-487DA), introduces the new durable SecureNAS® CX-160KSSD-X to contribute to the advancement of data security.
The SecureNAS CX-160KSSD-X storage unit is powered by an Intel® Xeon® D processor (4, 8, or 16 Core) and supports up to sixteen hot-swappable 2.5" SSDs and two internal 2.5" SSDs and can store up to 490TB, while improving security and endurance. The system meets the maximum-security standards of the US government. The ultra-high-capacity SAS SSD offers faster read and write speeds that reach up to 400,000 IOPS and 50,000 IOPS. It can achieve up to 2,000 MB/s sequential write speed at 13.5W power, making it four times more power efficient than 15K RPM HDDs while providing six times the performance.
Features:
Maximum capacity of up 490TB
Pre-installed CiphertexOS with no renewal fee
Centralized storage, backup, sharing and disaster recovery
5-year warranty (3-year included)
FIPS 140-2 Level 3 certified
NIST 800-88 compliance
AES-256 Encryption
HIPAA compliance
Two hardware encryption keys
Key Lifecycle Management
Multi-Factor Authentication
Instant Secure Erase (ISE) Enabled
Rsync Supported
USB blocker for enhanced security
VMware, Citrix, and Microsoft Hyper-V supported
2 Enclosure keys
Benefits
Provides professions the right equipment to observe strict protocols in collecting and preserving data to facilitate field investigations, no matter where they take place
Meets all military guidelines and standards for data encryption, security and data storage
Durable metal chassis to handle any missions in the most challenging environments
Metal locked doors to prevent user error and any possible theft
Provides all the tools needed to protect highly confidential and proprietary digital data, including documents, videos, emails, applications and mission briefs/electronics warfare
PCI compliance protects any and all financial records
Conquer any common virtualization woes with more than 100TB of storage that can grow as your data needs change
"We spent an enormous amount of time focusing on the issue of cybersecurity and the associated costs of cyber-attacks on the US and European economies. We are talking about many billions of dollars each year for each sector," says Jerry Kaner, CEO of Ciphertex.
Organizations globally have been spending at least $150 billion in cybersecurity since 2021, a cost increase of 12.4 percent annually. Ciphertex is stepping up to address these issues.
"Ciphertex has been our go-to company for encrypted storage for nearly two decades. Jerry Kaner and the Ciphertex team were able to get us the equipment needed in a very short amount of time," says Joseph Greenfield, Ph.D., VP and Chief Forensic Examiner of Maryman.
About Ciphertex
Ciphertex Data Security® is a leading provider in data security solutions trusted by the US Military, FBI, government agencies, hospitals, forensic, media, and entertainment companies. Learn more at https://ciphertex.com/ as well as on YouTube and LinkedIn.