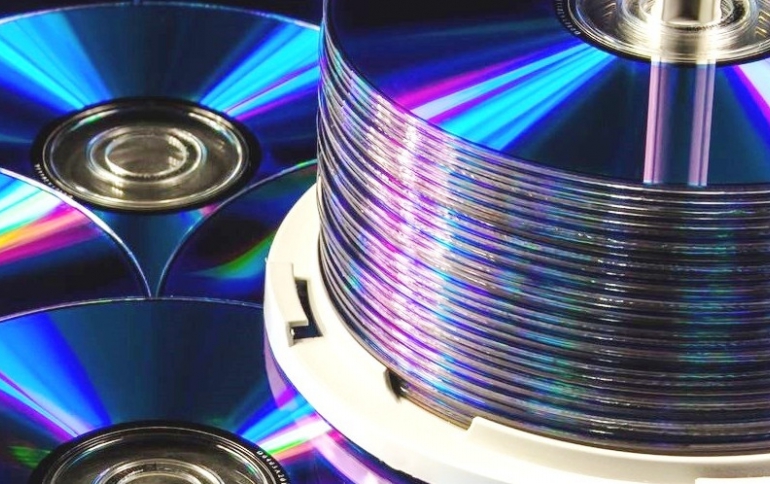 CMC Magnetics Sees Future in Holographic Optical Discs
Holographic storage technology has been in discussed for a few decades, there has been no commercial production. But Taiwanese optical disc maker CMC Magnetics says that actual holographic optical discs will eventually be released in the years to come.
The company's chairman Robert Wong wa quoted by Digitimes.com as saying that his company is developing high-capacity holographic optical discs and expects to be massively produced within five years from now.
The holographic technology is equivalent to vertically piling conventional optical discs with 3-4 storage layers to as many as 100 layers to expand storage capacity, Wong said. High capacities are achieved by recording hundreds of pages of data through the depth of the material, not just on the surface like all other recording technologies.
The holographic optical storage concept is not new, as many companies had created holographic storage prototype systems during the last 15 years, but they almost never reached the market.
Back in 2005, US-based InPhase Technologies unveiled prototype, photopolymer-based holographic optical discs with storage capacities of 300-400GB per disc.
NHK and Nippon Steel & Sumikin Chemical Co., Ltd, have also developed a high-density holographic memory for long-term storage of 8K Super Hi-Vision (8K) programs.
Researchers at General Electric GE have also been experimenting with holographics storage technology. In 2011, they managed to burn data on a 500GB holographic disc at the same speed as Blu-ray discs.
Holographic data storage is a challenging technical problem at the interface of chemistry, materials processing, optics and electrical engineering. Commercial viability of a micro- holographic material hinges on two performance parameters - Hologram reflectivity and material sensitivity in addition to the ease of handling and processing into the disc form-factor. Hologram reflectivity represents how much data can be recorded and the material sensitivity characterizes how fast the data can be recorded into the material. The higher the sensitivity, the faster the recording speed.
In 2015, researchers at the Tokyo University of Science Graduate School of Engineering Science announced that they had developed a technology that could lead to a holographic storage disc with a capacity equivalent to 2TB - about 400 DVDs. The "hologram memory" technology enabled data to be written in three dimensions rather than simply etching data on the surface of discs.
The system used a "3D cross-shift multiplexing method". A series of holograms were recorded with shift multiplexing and rotating recording material with the axis of rotation being perpendicular to the material's surface.
Both CMC and Ritek have started production of archival optical discs featuring large storage capacities and storage life of 50-100 years. These discs are meant to be used for cold data storage from data centers and enterprises.
CMC and Ritek are currently the top blank optical disc makers, with CMC having a market share of over 50%.
CMC has offered several models of archival optical discs, with the largest storage capacity per disc reaching 300GB, which will increase to 500GB in 2020, Wong noted. However, 100GB models take up the largest proportion of all archival optical disc shipments, Wong indicated.
CMC expects archival optical discs to account for 5-10% of 2019 consolidated revenues and 20% in 2020.