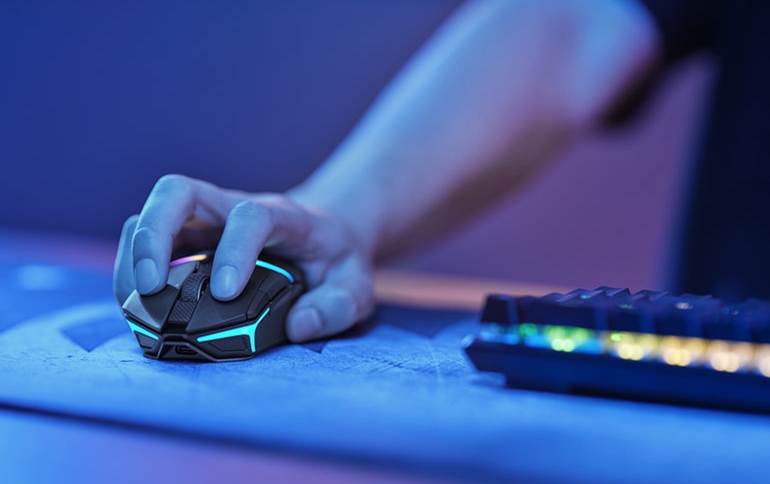 CORSAIR Launches High-Performance Peripherals to Boost Your Game
CORSAIR announced the launch of two showstopping PC gaming accessories that enhance even the most intense play: the NIGHTSABRE WIRELESS Gaming Mouse and K65 PRO MINI Optical-Mechanical Gaming Keyboard. On their own, each delivers superior responsiveness and performance needed to ascend to the top of any leaderboard. When wielded together, these premier products complement each other perfectly, enabling you to endure any challenge and achieve more in today's most competitive FPS, Battle Royales, MOBAs, and more.
The NIGHTSABRE wireless gaming mouse delivers the powerful features and versatile play to satisfy the most demanding gamers from any genre. NIGHTSABRE's exquisite symmetrical shape fits any grip style, putting pro-player performance comfortably in your hand and keeping it secure with remarkable textured side grips.
NIGHTSABRE boasts 11 buttons, including a left and right scroll wheel tilt, to program to your exact gaming specifications. Save custom settings on up to five onboard profiles, so you can deftly switch between vastly different games in an instant, even on-the-go. Gain true wireless freedom as you play over sub-1ms SLIPSTREAM WIRELESS or Bluetooth®.
Take advantage of this freedom of movement to make game-winning masterstrokes with utmost ease and precision, all captured by an ultra-sharp CORSAIR MARKSMAN 26K DPI optical sensor. Click faster with super-responsive primary left- and right-click CORSAIR QUICKSTRIKE buttons, activating the mouse's instantaneous optical switches. Your shots and actions are registered with zero debounce or delay, so they always outpace your opponents.
The K65 PRO MINI gaming keyboard proves your keyboard can be stylishly compact without compromising your best plays. Its 65% layout offers a space-saving footprint that allows sweeping mouse movements, while including all-important arrow and utility keys essential for navigating games and apps with ease.
Experience refined, responsive gaming and typing on silky-smooth CORSAIR OPX optical switches as your keystrokes land with ultra-satisfying accuracy, sound, and feel. The OPX switches are quick too, with a short 1.0mm actuation that gets actions into the game insanely swiftly, bolstered by AXON hyper-processing technology to register inputs up to 8x faster than standard gaming keyboards.
Typing on the K65 PRO MINI sounds fantastic, thanks to two layers of integrated sound dampening that significantly reduce internal pings, echoes, and reverb. The result is precisely tuned, soft acoustics that keyboard enthusiasts seek. Say goodbye to endless modifications and tampering to achieve that perfect "thock" sound – the K65 PRO MINI offers satisfyingly dampened acoustics right out of the box.
Both devices light up in a dazzling assortment of RGB lighting, endlessly customizable with CORSAIR iCUE software. Use the power of iCUE to synchronize NIGHTSABRE and the K65 PRO MINI to the rest of your gaming space's RGB, and integrate their lighting with select games for the most in-depth, immersive gaming experience available. With iCUE, you can also control key and button remaps, DPI adjustment, iCUE Murals lighting profiles, and much more, to sharpen your setup even further.
Equip the compelling combination of the NIGHTSABRE wireless mouse and K65 PRO MINI 65% keyboard to boost your game, no matter your genre or play style.
Availability, Warranty, and Pricing
The NIGHTSABRE WIRELESS gaming mouse and CORSAIR K65 PRO MINI gaming keyboard are available immediately from the CORSAIR webstore and the CORSAIR worldwide network of authorized online retailers and distributors. The NIGHTSABRE WIRELESS gaming mouse and CORSAIR K65 PRO MINI gaming keyboard are backed by two-year warranties, alongside the CORSAIR worldwide customer service and technical support network. For up-to-date pricing of the NIGHTSABRE WIRELESS gaming mouse and CORSAIR K65 PRO MINI gaming keyboard, please refer to the CORSAIR website or contact your local CORSAIR sales or PR representative.
Web Pages
To learn more about the CORSAIR NIGHTSABRE WIRELESS, please visit: https://www.corsair.com/nightsabre-wireless
To learn more about the CORSAIR K65 PRO MINI, please visit: https://www.corsair.com/k65-pro-mini
For a complete list of all CORSAIR gaming mice, please visit: https://www.corsair.com/us/en/c/gaming-mouse
For a complete list of all CORSAIR keyboards, please visit: https://www.corsair.com/us/en/c/keyboards