CORSAIR's New VENGEANCE 5180 Gaming PC
CORSAIR is launching the first in its new line of fully built gaming PCs: the CORSAIR VENGEANCE 5180.
The system used the full array of CORSAIR hardware, CORSAIR peripherals and integrated RGB lighting controlled by iCUE software.
Powered by a liquid-cooled 8th Generation Intel Core i7-8700 Processor, the VENGEANCE 5180 delivers six-core performance at speeds up to 4.6GHz. This is complemented by a powerful GeForce RTX 2080 graphics card, based on the NVIDIA Turing architecture and suppoort for real-time ray tracing.
The VENGEANCE 5180 also comes equipped with 16GB of CORSAIR VENGEANCE RGB PRO performance DDR4 memory, a CORSAIR K55 RGB Gaming Keyboard, and a CORSAIR HARPOON RGB Gaming Mouse. In total, the VENGEANCE 5180 boasts 95 customizable RGB LEDs controlled by CORSAIR iCUE software throughout its compact Micro-ATX cube case, complete with tempered glass side, front and roof panels that offer a full view of the light show.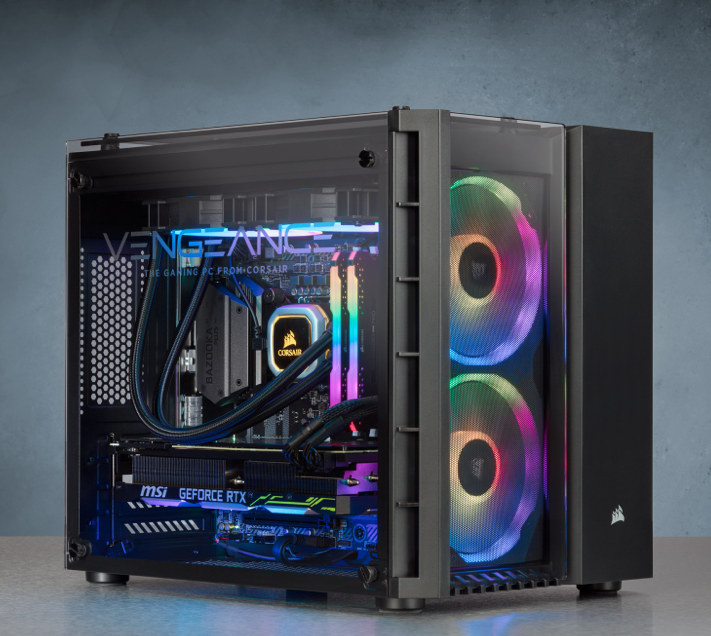 CORSAIR iCUE software is at the heart of the VENGEANCE 5180, connecting all your CORSAIR iCUE compatible products together in a single interface and giving you control of everything from lighting and macros to system monitoring and cooling control. iCUE also powers limitless synchronized patterns and lighting effects to play across your components, and even allows your system to react dynamically to in-game events like gunfire and alarms when playing iCUE-integrated games.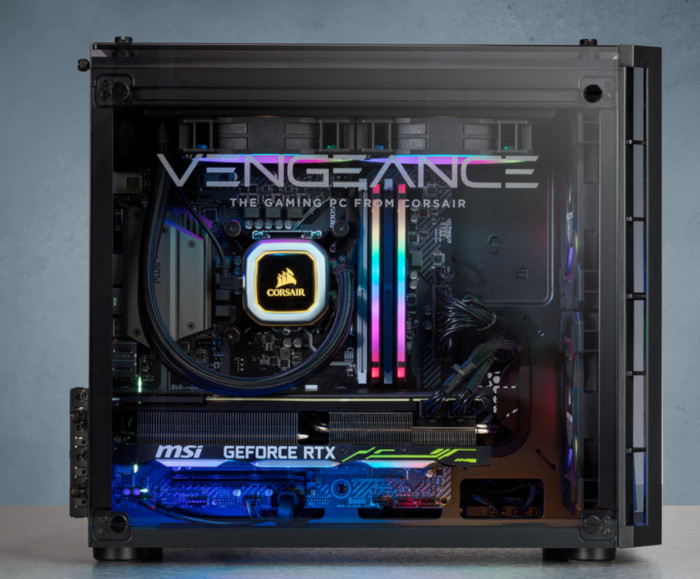 You can even push your CPU faster, with less fan noise, thanks to a CORSAIR Hydro Series H100i PRO liquid CPU cooler. A CORSAIR 480GB Force MP300 SSD offers fast boots while a 2TB hard disk drive provides the space you need for all your files and media. The system also comes pre-installed with a Windows 10 Home operating system.
The CORSAIR VENGEANCE 5180 is available immediately in North America from the CORSAIR website. It is backed by a two-year warranty and starts at $2,399 (MSRP) Exc. tax.
Technical Specifications
CPU: Intel Core i7-8700
GPU: NVIDIA GeForce RTX 2080
CPU Cooling: CORSAIR Hydro Series H100i PRO
Motherboard: Intel B360 Chipset
DRAM: 2x8GB CORSAIR VENGEANCE RGB PRO DDR4-2666
Storage #1: 480GB CORSAIR Force MP300
Storage #2: 2TB 7200RPM 3.5" HDD
PSU: CORSAIR CX750
Chassis: CORSAIR Crystal 280X RGB
OS: Microsoft Windows 10 Home 64-bit
Keyboard: CORSAIR K55 RGB
Mouse: CORSAIR Harpoon RGB
Cooling Fans: 2x CORSAIR LL120 RGB 120mm & 2x CORSAIR LL140 RGB 140mm
Lighting: 1x CORSAIR RGB Lighting Strip
iCUE Control: CORSAIR Lighting Node PRO Digital RGB Lighting Controller