DJI Unveils Mavic Mini Drone
DJI's Mavic Mini drone is a small as a smartphone but powerful enough to shoot video cinematic it looks like it came from a Hollywood soundstage.
Weighing less than 250g, the Mini is a foldable, go-anywhere drone you can carry with you at all times. Not only does its compact size make it convenient, the Mini's small footprint frees it from restrictions. Certain drones that fall into higher weight categories require government registration and, in some cases, a pilot's license to operate legally. But, because the Mini is so small, it doesn't require either. This means that pilots in countries like the U.S. and Canada are allowed to fly the Mavic Mini without having to adhere to special restrictions.
For starters, the new drone features a 3-axis gimbal-stabilized camera that shoots 2.7K video and captures 12MP stills. To support this setup, DJI included a bevy of Hollywood-esque shooting modes. The first is the company's patented QuickShots feature. A signature mode in DJI's most sophisticated drones, QuickShots allow pilots to capture complex shots through camera-based subject tracking and pre-programmed flight patterns. A new CineSmooth mode is also available, which regulates the Mini's speed and movements to achieve extra smooth shots. These modes and more can be accessed easily through DJI's new Fly app, which is designed to make capturing and sharing images easy.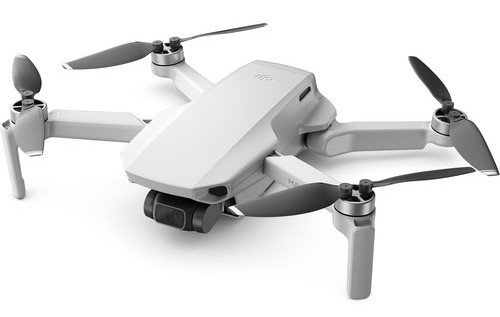 Key Features
12MP/2.7K Quad HD 3-Axis Gimbal Camera
Up to 30 Minutes of Flight Time
Stream HD Video From up to 2.5 Miles
Remote Controller Included
The Mini also features one of the best battery performances we've ever seen in a commercial drone: up to 30 minutes on a fully charged battery.
Because it's designed for the masses, the DJI Mavic Mini includes several safety features that make it suitable for novice pilots and veterans alike. For starters, it's equipped with a prop guard on each of its four propellers that deliver 360-degrees of protection from accidental bumps, crashes, and hard landings. Thanks to its downward vision system and onboard GPS sensor, the Mini can hover precisely in place in case you need to pause or get your bearings. On top of those features, the DJI Fly app also provides an interactive tutorial mode that will teach new pilots the ropes in no time.
The Mini will be available starting from Nov 11 for $400.