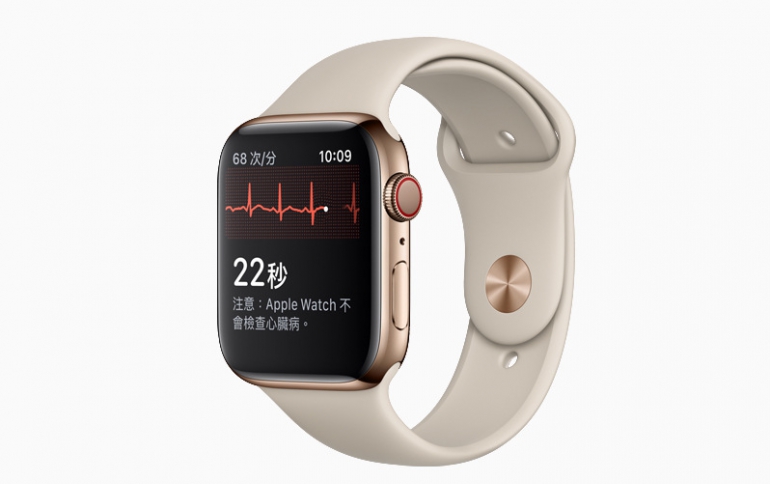 ECG App and Irregular Rhythm Notification on Apple Watch Available Across Europe and Hong Kong
The ECG app on Apple Watch Series 4, a direct-to-consumer product that enables users to take an electrocardiogram right from their wrist, is available in Hong Kong and 19 European countries, including France, Germany, Italy, Spain and the United Kingdom.
In addition to receiving De Novo clearance in the US from the FDA, the ECG app1 and irregular rhythm notification are now CE marked and cleared in the European Economic Area.
Part of the free watchOS 5.2 software update, the ECG app can capture heart rhythm on demand in a moment when users experience symptoms such as a rapid or skipped heart beat and help provide clinically important data to physicians. The irregular rhythm notification feature on Apple Watch occasionally checks heart rhythm in the background and sends a notification if an irregular heart rhythm that appears to be atrial fibrillation (AFib) is identified.
The ECG app and irregular rhythm notification feature can alert users to signs of AFib. Left untreated, AFib is one of the leading conditions that can result in stroke, the second most common cause of death around the world.
New electrodes built into the back crystal and Digital Crown on Apple Watch Series 4 work together with the ECG app to enable users to take an ECG similar to a single-lead electrocardiogram. Taking an ECG recording is as simple as launching the ECG app on Apple Watch Series 4 and touching the Digital Crown, which completes the circuit and allows electrical signals across the user's heart to be measured. After 30 seconds, the ECG app can classify the user's heart rhythm as AFib or sinus rhythm.
Animated illustration of heart rhythm and Apple Watch.
All recordings, their associated classifications and any noted symptoms are stored in the Health app on iPhone, from which users can share a PDF of the results with physicians.
Available on Apple Watch Series 1 or later, the irregular rhythm notification feature will occasionally check the user's heart rhythm in the background for signs of an irregular heart rhythm using the optical heart sensor. If an irregular rhythm is detected on five rhythm checks over a minimum of 65 minutes, Apple Watch alerts the user with a notification.
watchOS 5.2 will be available today. Apple customers must also update their iPhone to iOS 12.2.
Apple says the accuracy of the ECG on Series 4 is almost exactly as good as a patch a hospital might give you. It also says that in its Heart Study with more than 400,000 participants, false positives were very low – around 0.5%.