First Jolla Smartphone Coming This Month
Finnish startup Jolla will enter the smartphone market later this month with a pricey handset that relies on Nokia's MeeGo mobile operating system. The company started working on a smartphone two years ago as its founders were looking for a new project amid a massive downsizing at Nokia. Jolla was founded by a group of former Nokia employees who wanted to continue the development work the phone maker had done on the MeeGo operating system.
Operator DNA is organizing a Nov. 27 launch event in central Helsinki.
The Jolla phone and has a 4.5-inch screen, an 8-megapixel back camera and LTE. There is also 16GB of, which can be expanded using a microSD card.
The phone runs on Jolla's Sailfish operating system, which will be able to run Android applications. On Wednesday, Jolla announced users will be able to download Android apps from the Yandex.Store. The company will also use map technology from Nokia's Here unit.
Jolla's interface features the Home view, which shows you what matters. From there you can access app shortcuts with a swipe – from switching music tracks to opening a new browser window.
To get back to Home from any app, you can swipe from either side of the screen. To close the app, you just swipe from top to bottom.
In the Events view you can check your social updates without having to stop what you're doing.
By pulling down the Pulley Menu, you can quickly start the camera, make a call and more.

The Jolla phone will cost €399 (US$535) without a contract.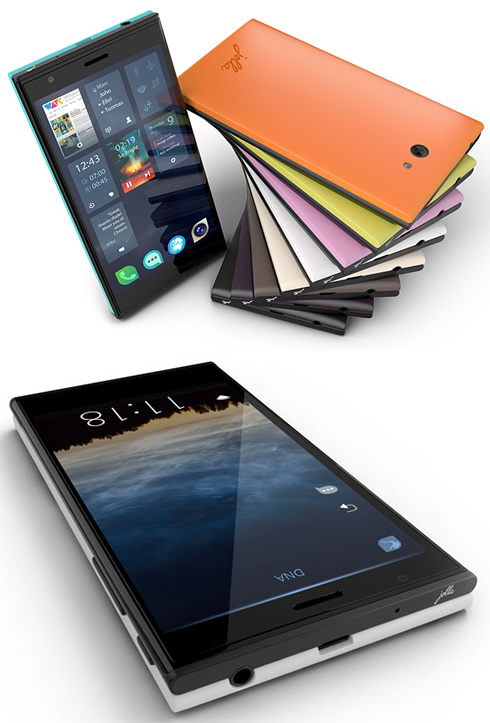 Speciffcations
Price: €399
Height: 131 mm
Width: 68 mm
Thickness: 9.9 mm
Weight: 141 g
Processor: Qualcomm Dual Core 1.4GHz
GSM/3G/4G LTE (Works on 6 continents)
WLAN802.11 b/g/n 2.4GHz
Bluetooth 4.0 EDR HS
AGPS & GLONASS
USB2.0 HS
Standard 3.5mm 4-pin audio jack
Micro SIM
Standard MicroUSB connectivity and charging
Extension interfaces for wireless NFC, power in/out and I2C data connectivity

16GB storage
1GB RAM
MicroSD slot
4.5" IPS qHD (960x540) display
5-point multi-touch with Gorilla 2 Glass
8MP AF camera with LED flash
2MP front-facing camera
Proximity sensor
Accelerometer
Gyro
E-compass
Ambient light
Talk & stand-by time (approx.): 9 / 10hrs (GSM/3G) & 500hrs
User-replaceable battery (2100mAh, 3.8V, 7.98Wh)