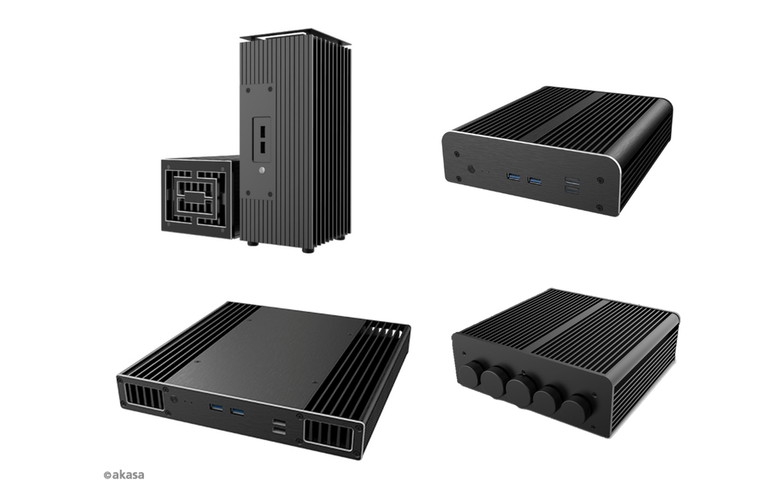 Give a roar of excitement for the Tiger Canyon: compatible with Akasa's newest line of fanless cases!
Akasa, a leading provider of fanless NUC (Next Unit of Computing) cases, have recently released four premium, high quality cases in response to the Tiger Canyon release; namely updating the Turing, Plato, Pascal, and Newton cases for full compatibility. Along with the sleek, futuristic design, these cases can be used as the centrepiece of a setup or can be hidden away for a clean, truly silent aesthetic.
Intel has released a new line of NUCs under the Pro moniker, using the Tiger Canyon chipset – named NUC 11 Pro. Versions of the Core™ i3, i5 and i7 processors are integrated on the high-quality motherboard, which is suitable for home and office use, as well as edge computing and light gaming applications. With this release, the improved performance allows these powerful machines to keep up with the increasingly intensive applications required.
The NUC 11 Pro comes with Intel's latest integrated Xe Graphics, which have enough computing power to support one 8K or four 4K displays at 60Hz. This focus on graphical performance shows changed approach towards the small form factor PC, as program requirements become more demanding. It also comes equipped with Intel vPro™ technology, which protects the board from security threats – built directly into the hardware for an added layer of defence. This generation has improved protection against certain attacks, such as ransomware and crypto mining attacks. vPro™ technology also includes the remote manageability feature, allowing professionals to diagnose and repair problems with PCs, even if the devices are powered off.
The new TN line of fanless cases at Akasa can cater for varied applications, such as different sizes, and the ability to mount the case to the back of a monitor. The shadowy aluminium effect is discreet and minimalist and provides excellent cooling for the NUC 11 Pro. Installation of the motherboards is quick and easy, the PC can be operating within half an hour.
With its stylish classical-inspired panels and silk-like design, the Turing TN case is made to be displayed. It comes with four premium rubber feet and can be exhibited in either a vertical or horizontal position. The case can be used as a statement piece in a home theatre, desktop setup, or recording studio, but can also be hidden away due to its small form factor (95 x 113.5 x 247.9 mm).
If size is of most concern, the Newton TN is the solution – with a volume of less than 1.9L (176.6 x 200 x 53.6mm), its small profile makes it discreet and great for smaller desktop setups. However, its size does not mean it compromises on heat dissipation, as it easily handles the power from the high end NUC 11 Pro i7.
The Plato TN is another case made for the small form factor, geared to thinner applications (a mere 38.5mm in height). Its slim body allows it to be mounted to wall racks, cabinets, or server boards, or to the back of TVs, monitors or commercial displays. With the wider length and width, the Plato TN is still efficient in its ability to dissipate heat and stay completely silent.
The Pascal TN is a case designed for more niche applications, geared towards operation in harsher environments such as outdoors. The case is dustproof and splashproof, rated IP65 by the international standard EN 60529. An example of where the Pascal TN excels is inside workshops, where dust remains a major problem for computer components.
Akasa's fanless cases have proved to be an excellent addition to Intel's small but powerful NUCs, the newest additions to the family have been no exception. If size, style, and sound are all important factors for your new NUC 11 Pro, look no further than the TN range at Akasa!
PRICING AND AVAILABILITY
• The Turing TN, Plato TN, Pascal TN, and Newton TN start at €184.95, €160.95, €643.50, and €134.95 respectively (prices may vary by reseller)
• The Turing TN, Plato TN, Pascal TN, and Newton TN are available to order throughout Europe and the US. Contact sales@akasa.co.uk to find a reseller near you.