Google Brings High-end Gaming to Your Browser With 'Stadia' Online Gaming Platform
Google is shaking up the gaming industry with 'Stadia,' a cloud-based online gaming platform that brings quality gaming instantly to your web browser and Android device.
Stadia is a unifying platform that aims to allow you to play any game on any platform, whether it's a TV, laptop, phone or tablet. As Google's Phil Harrison puts it: this is not a platform, the data center is your platform. The company showed off a chromecast streamer that allows you to use the platform on a TV.
Stadia is taking advantage of Google's massive data center infrastructure and global network that powers Google's other services such as search. Each Stadia instance delivers 10.7 GPU teraflops of power, powered by AMD GPUs with 56 compute units and HBM2 memory, a custom-x86 processor, and 16GB of total RAM. Of course, many Stadia instances are connected together through Google's backend network to stream games a resolution of 4K /60fps, HDR color and surround sound, with future updates to bring support for 6K/120+ fps.
One of the first games to launch on the Vulkan and Linux-based Stadia service will be Doom Eternal, which will support 4K resolution, HDR, and 60 fps game play. Doom Eternal doesn't have a firm launch date just yet, but it will also be available on PC, Nintendo Switch, PS4, and Xbox One.

During a presentation, Google showed off a player moving the same session of Assassin's Creed Odyssey from a laptop to a PC to a phone and to a tablet and TV with essentially zero lag.
One of the company's most convincing arguments had to do with multiplayer: the concept essentially sidesteps the public internet by running an entire multiplayer instance at a single data center rather than on dozens of devices connected through the internet, allowing for superior and potentially much larger experiences.
On the other side of things, Stadia promises to make split-screen couch multiplayer possible on even demanding games again.
Stadia will allow developers to sell their games in new ways, including directly via YouTube and Twitch live streams. For example, load up a trailer for Assassin's Creed: Odyssey on YouTube and, at the end, click the "Play" button and the game will load in as little as five seconds in your Chrome browser, ready to play.
Leading game-engine companies including Unreal and Unity, and studios like Doom creator id Software, are partnering with Google on Stadia as well.
Stadia's Crowd Play feature allows people watching a YouTube livestream to jump in line and actually join that streamer's game. State Share, meanwhile, lets folks to send links to specific sections of a game, and their friends can then simply click and play from there in the Chrome browser.
Google also talked about a "play now" button that would allow people to instantly start playing any game they are watching on Youtube, or even to be able to join a streamer in their game session, so long as the streamer is alright with that. You could also, for example, watch a video of someone solving a puzzle in Rise of the Tomb Raider--they chose not to use Shadow as their example, for some reason--and then to jump right into that moment on your own play.
Stadia isn't just using the cloud to make games playable anywhere -- it's also using the technology for some clever artistic tricks. A Style Transfer feature uses machine learning to apply art styles to the game world in real time, turning even a drab landscape into a colorful display. It's not clear just how easily developers will integrate Style Transfer into their titles, and it won't always make sense.
Google says that Stadia works with any controller, but Google also announced its own controller that you can use to, again, play these games on any given screen.
The controller supports Google Assistant and is responsible for the connection to the Stadia platform and Google's datacenters. The wireless gamepad connects over WiFi, not Bluetooth, giving it access to the internet, and makes use of that through its dedicated buttons. You can press a "capture" button to save and share gaming moments, while a Google Assistant button can provide help when you're stuck. The company didn't share pricing or availability for the gamepad, although a 2019 release alongside Stadia itself seems likely.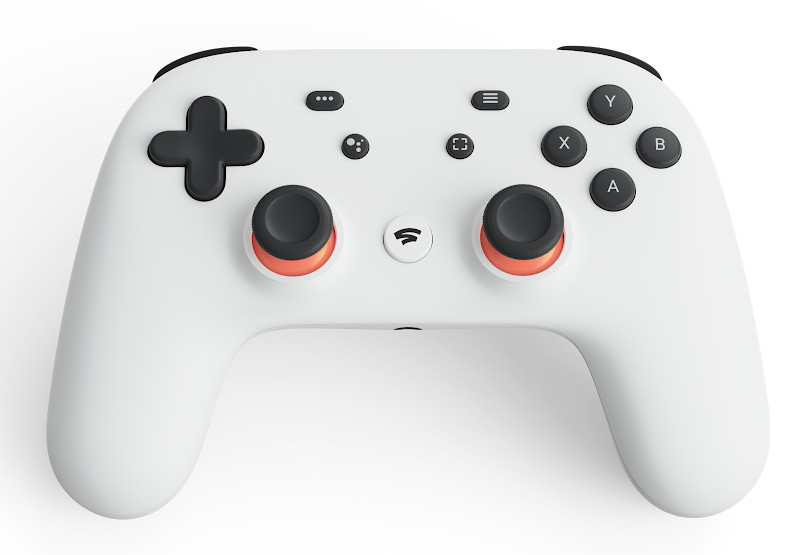 Google says Stadia will launch in 2019 in the US, UK Europe and Canada. Google wouldn't say how much it will charge users, or whether it will be funded through advertising like most of its other businesses.
Google also said it's forming a studio to create its own games, led by Jade Raymond, a former executive for gaming company Ubisoft Entertainment SA. Google didn't say how much it would spend on that initiative.
For its part, besides offering its GPUs for the Stadia hardware, AMD is offering software tools to enable developers to optimize their games and other applications for the AMD Radeon GPUs. The company offers Linux-based drivers and supports the low-level Vulkan API that provides broad control over the performance, efficiency and capabilities of AMD Radeon GPUs.
The open-source AMD Linux drivers allow Google and its development partners to inspect the code and understand how the driver works, enabling them to better optimize their applications to interface with AMD Radeon GPUs. The driver also contains an application tracing component that, together with the AMD Radeon GPU Profiler (RGP), provides access to detailed, low-level information about how workloads run on AMD Radeon GPUs. Identifying timing issues that might suggest potential optimizations, this capability dramatically improves developers' ability to create applications that deliver great performance on AMD Radeon GPUs.
The AMD Radeon GPU Profiler allows game developers to visualize exactly how their application is utilizing the GPU, including how graphics and compute thread groups occupy the GPU. Developers are then able to track event timing and optimize their games for Google Stadia. RGP also interoperates with the open-source RenderDoc graphics debugging tool to give developers deeper real-time insights into the rendering of each frame, reducing the time required to debug and profile frames during the development process.
RGP operates the same way in a virtualized environment as it does when running on a dedicated PC client, making it easy for developers to optimize their applications for virtualized GPUs in large scale environments as they would for any other gaming platform.
As a note, the high-end streaming quality Google claimed in its announcement will only be accessible for people with fast internet connection. This is a valid concern because the internet infrastructure in the U.S. lags behind Europe and other regions. Project Stream, Google's beta for what became Stadia, required gamers to have a 25Mb/s pipe in order to enjoy Assassin's Creed: Odyssey at 1080p/60fps. However, Google VP Phil Harrison notes that since the beta, Google has made improvements to its compression and encoding that, with Stadia, can deliver 4K/60fps with a 30Mb/s connection.
Stadia makes Google the first major company to launch the new era of game streaming, but it won't be the last. Amazon, Microsoft, and Sony are all expected to make moves, and Apple is always waiting. Even Valve is expanding its Steam Link game-streaming feature to allow you to stream your Steam games from a PC to anywhere through the Steam Link hardware or the Steam Link app.