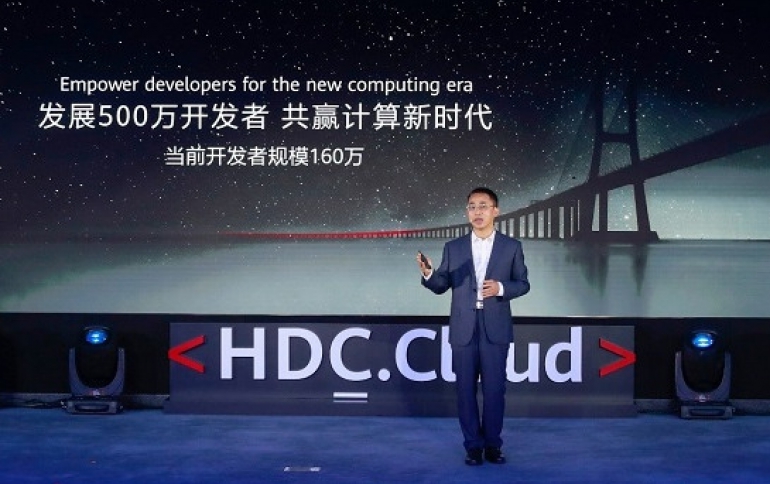 Huawei to Develop Cloud Game Platform With Tencent, Outlines Kunpeng Cloud Plan
Tencent Holdings launched a co-innovation lab with Huawei to develop a cloud game platform, the world's biggest game company said in a statement Friday.
The collaboration will tap the computing power of Huawei's Kunpeng processor to build Tencent's GameMatrix cloud game platform, and the two sides will explore more possibilities in areas such as artificial intelligence and augmented reality in games, Tencent said in the statement.
Huawei sad that the homogeneous device-cloud architecture of ARM-based Kunpeng processors will be the catalyst for this joint innovation.
Ma Xiaoyi, Senior Vice President of Tencent, said, "We are glad to have the strategic collaboration with Huawei and have set up a joint innovation lab as testimony to our long-term goals. We will combine our strengths in mobile cloud gaming and game engines. For example, at Tencent we have built the GameMatrix platform designed for mobile cloud gaming. In the future we will leverage Huawei Kunpeng processors to build quality, cost-effective mobile cloud gaming solutions."
The announcement was made at the Huawei Developer Conference 2020 (Cloud) ( HDC.Cloud), is Huawei's annual flagship event for global developers in the ICT space.
Huawei Developer Program 2.0
Throughout 2020, Huawei said it would invest USD200 million with detailed programs for universities, startups, individual developers, and partners, driving new milestones in the Kunpeng computing industry.
Huawei is partnering with Kylinsoft, iSoft, Uniontech, and the Institute of Software Chinese Academy of Sciences (ISCAS) and announced commercial OS editions powered by openEuler. Huawei hopes that Kunpeng will become the foundation for future IT development in multiple markets.
These heterogeneous cloud-edge-device collaborations could delivers pervasive, diversified computing power.
In the keynote speech titled 'Grow with Developers for a New Computing Era', Hou Jinlong, President of Cloud & AI BG, Huawei, said, "Developers are the key to changing the computing world. They are the engine of enterprise innovations, and the soul of new industry ecosystems. In 2019, we released Huawei Developer Program 2.0 with the goal to develop five million developers over five years.
"Currently, we have 1.6 million developers working on HUAWEI CLOUD. We will continue to work with global developers and industry partners to provide robust, economical computing power by leveraging the multi-core, high-concurrency advantages of Kunpeng processors. Together, we will unlock the trillion-dollar blue ocean market of the computing industry and share the success of the digital economy."
Kunpeng Tools and Platforms
At HDC.Cloud, Huawei released the CloudIDE, Kunpeng acceleration library, and developer community to provide developers with easier access to Kunpeng.
CloudIDE: A component of the HUAWEI CLOUD development platform DevCloud, CloudIDE is a lightweight, web-based integrated development environment that streamlines development and runtime. It supports Kunpeng native and multiple languages, and currently empowers over 400,000 users in over 500,000 projects. CloudIDE will provide all Kunpeng instances for free through 2020.
Kunpeng acceleration library: By providing basic, compression, encryption and decryption, storage, and multimedia functions, the acceleration library boosts performance by at least 10%, and even by over 100% in encryption/decryption scenarios, with less than 1% code change.
Kunpeng Community: This community is a developer stronghold that integrates full-stack software and hardware knowledge, updates, policy release, and certification query, as well as 24/7 online expert services.
In 2019, Huawei released Developer Program 2.0, which proposed a huge USD1.5 billion investment over five years to promote industry development. This is the foundation to the package announced by Huawei today, which includes a USD200 million investment in 2020 and detailed support for universities, startups, developers, and partners.
Huawei Developer Program for Universities: Huawei will provide CNY100 million for universities, including talent development, cloud resources, and prototypes. In addition, Huawei and China's Ministry of Education signed a three-year agreement to invest CNY1 billion to jointly cultivate the next generation of talent.
Huawei Developer Program for Startups and Individuals: Huawei provides grants worth a total of CNY100 million for startups and individual developers in the form of cloud resources and onsite activities. Each startup can obtain cloud coupons worth up to CNY750,000.
Huawei Developer Program for Partners: Huawei provides partners with a total support amounting to CNY600 million, including a one-time R&D subsidy of CNY300 million, and cloud resources worth CNY300 million.
Kunpeng Computing Industry Ecosystem
Huawei emphasizes a business sphere covering open hardware, open source software, and partner enablement.
Open hardware: Huawei focuses on processors, cards, and motherboards to enable the company'a partners to develop their own integrated computing products. Currently, 11 server vendors worldwide have launched their own servers and PC products based on Kunpeng motherboards.
Open source software: On December 31, 2019, the openEuler community officially went live. Today, the openEuler long-term support (LTS) 20.03 edition was officially released. A number of partners have launched commercial OS editions based on openEuler, including Kylinsoft, iSoft Infrastructure Software, Uniontech Software, and ISCAS.
Enabling partners: Up to now, Huawei has established 15 Kunpeng ecosystem innovation centers and worked with over 600 independent software vendors (ISVs) across the globe, helping launch more than 1500 products and solutions certified for Kunpeng. The offerings span industries such as finance, government and public utilities, carriers, and energy.